Who: Chelsea FC vs. Galatasaray SK
What: UEFA Champions League, Round of 16 (Leg 1)
Where: Turk Telekom Arena, Sisli, Istanbul, Turkey
When: Wednesday, February 26, 2014
Weather: The Weather Channel forecast Istanbul
Time: 19:45 GMT/2:45 p.m. ET/11:45 a.m. PT
Worldwide Livestreams and TV Channels: LiveSoccerTV.com
TV: Fox Sports 1, Fox Soccer 2Go (US); Sky Sports 1/HD, Sky Sports Red Button (UK)
Radio: SiriusXM FC Sirius 94 (Internet 94), BBC Radio 5
3-Way Odds: Galatasaray +350, Chelsea -120, Draw +260
Total: Over 2½ +115, Under 2½ -140
Decimal Odds: Galatasaray 4.50, Chelsea 1.83, Draw 3.60
Decimal Total: Over 2½ 2.15, Under 2½ 1.71
Fractional Odds: Galatasaray 7/2, Chelsea 5/6, Draw 13/5
Fractional Total: Over 2½ 23/20, Under 2½ 5/7
Pick Odds: Galatasaray Pick +220, Chelsea Pick -275
First Half: Galatasaray Pick +160, Chelsea Pick -210
Odds To Advance: Chelsea -450, Galatasaray +350
Odds To Win Champions League: Chelsea 12/1, Galatasaray 200/1
Source: Bovada (Kahnawake, Canada)

3-Way Odds: Galatasaray +330, Chelsea +115, Draw +250
Total: Over 2½ +110, Under 2½ -130
Source: LVH SuperBook (Las Vegas, Nevada USA)



On Wednesday, we all start pretending Didier Drogba is Darth Vader.
It must be done for the good of the Rebel Alliance, Chelsea fans. Sorry to be the bearer of such bad news. For now—and until the second leg on March 18—Drogba is a member of the Evil Empire. On March 19th we can all go back to loving our little Ivorian talisman, but until then my friends, please only fear and an awful lot of loving loathing.
When the Blues reunite with their former legend at Istanbul's Turk Telekom Arena against Galatasaray in the first leg of their UEFA Champions League round of 16 series midweek, a great deal will be at stake with the tone of the series being established and the final scoreline mattering in setting up the second-leg's final possible dramatic scene back in West London three weeks later.
In short, a two-game series like this can be won or lost in this first leg—as we may have seen in the Bayern Munich-Arsenal (2-0), Barcelona-Manchester City (2-0) and Paris Saint-Germain-Bayer Leverkusen (4-0) series—with road teams sometimes having some strange advantage.
So, two huge road goals would seem to be a pretty good objective for manager Jose Mourinho and Chelsea in Turkey, while holding the dangerous hosts to two or less of their own before heading back to Jolly Old England. Much easier written than done, O Especial.
Obviously, the Drogba reunion will be the big thing here, but mostly in the media and for Blues fans watching him as an opponent in person or on television for the first time in that new capacity and for Gala fans watching the 35-year-old go against his old club for the first time.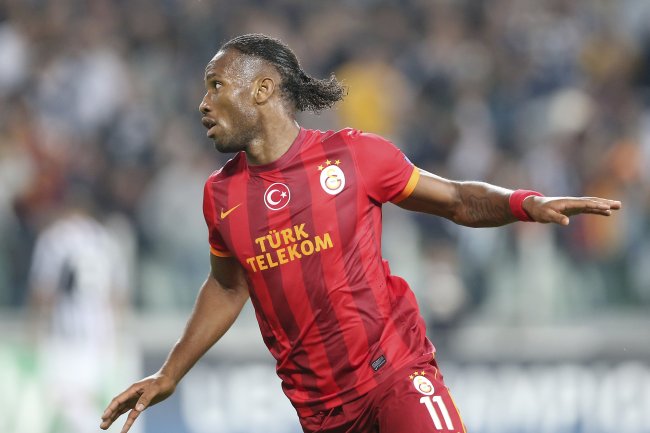 Antonio Calanni/Associated Press
It will also be pretty weird those first couple of minutes when the game starts when Drogba's former beloved teammates John Terry, Frank Lampard, Petr Cech and all the others strangely realize they are actually playing against him and that he is the deadliest striker on the field.
Drogba trying to score on Cech? Perish the thought.
Defending Turkish Super Lig champions Galatasaray (12-8-2) head into this game in second place, and the Cimbom haven't lost a league game since Nov. 10 (at Super Lig leaders Fenerbahce), so first-year manager Roberto Mancini is doing something right at TT Arena.
Galatasaray also hasn't lost in a game in all competitions since Nov. 27—at Real Madrid in the first phase of the Champions League—so Chelsea had better head into this one with a healthy amount of respect for the home team, which has some real talent besides Drogba in Wesley Sneijder, Felipe Melo, Burak Yilmaz, Selcuk Inan, Ceyhun Gulselam and goalkeeper Fernando Muslera, among others.
And the no doubt semi-hostile environment in Istanbul will mean the Blues will have to be on their best behavior and have their offense really clicking in The City Formerly Known As Constantinople to eventually be heading back on that westbound plane to London in at least a somewhat good mood.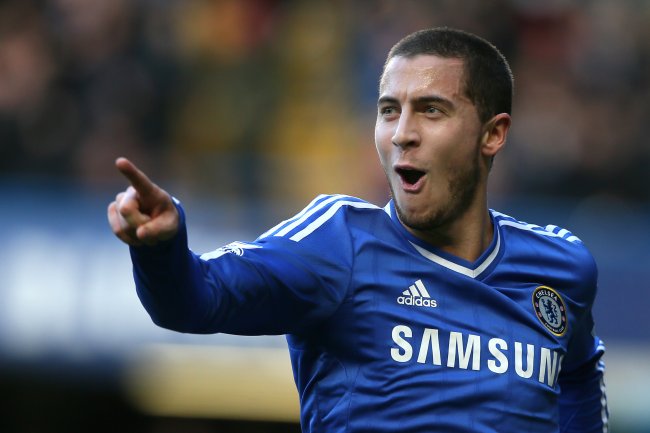 Alastair Grant/Associated Press
Luke Skywalker (Eden Hazard) and English Premier League leaders Chelsea (18-6-3) also head into this important showdown a bit beat up, with Oscar reportedly suffering from fatigue and fellow midfielders Ramires, John Obi Mikel and David Luiz also knocked up some, though fortunately, not pregnant.
But fatigue is just fatigue and don't let Mourinho fool you with his pregame baiting. All of these guys could be available and/or play against Galatasaray and nobody would even blink an eye.
One pretty big problem for the Blues heading in here is the unavailability of cup-tied midfielder Nemanja Matic so who knows what combination Mourinho decides to go with in the pivot, but his presence will sorely be missed in such a big game after Chelsea has been on such a role since acquiring the 25-year-old Serbian from Benfica over the January transfer window.
Because players can't play for two separate clubs in the same competition, attacking midfielder Mohamed Salah (formerly on FC Basel) will also be unavailable for the Blues.
Jon Super/Associated Press
Chelsea goalkeeper Cech—who spearheads the Premier League's best defense (21 goals allowed)—could have a now fairly familiar four of Terry, Gary Cahill, Branislav Ivanovic and Cesar Azpilicueta in front of him. Hazard and Willian should start in the attacking midfield and will have to be two of the visitors' most aggressive players on the ball in this game.
Fernando Torres, who came in during the second half of Chelsea's dramatic 1-0 extra-time win over Everton at Stamford Bridge on Saturday, may get the call at striker but Mourinho could go with some funky 4-3-3 look. The beauty of this deep roster for Mourinho is now being able to use other guys like Ashley Cole, Nathan Ake, Andre Schurrle and Demba Ba in whatever way he needs against whoever, whenever.
It's pretty simple, right?
With a chance to advance to the quarterfinals of the Champions League at stake, and this game being in Gala's TT Arena and no Matic on hand, it's just too hard to recommend the Blues in this situation, so the wisest thing to do is avoid fading Drogba or anybody and just watch the game in peace.
It has to be memorable with Drogba and Mourinho—who brought the beloved striker to Stamford Bridge in 2004, when the now 51-year-old Portuguese maestro was first Chelsea manager—getting together once again (smiles for miles) and it is significant because the die will be cast for the second leg and the series could theoretically even be won on Wednesday.
Toss in the reality that Chelsea has only lost one game—Manchester City in the fifth round of the FA Cup—since its Dec. 17 setback at Sunderland and that Galatasaray hasn't lost since November, and there is absolutely no way this game can be boring unless The Powers That Be decide to fill the old soccer ball up with concrete instead of air.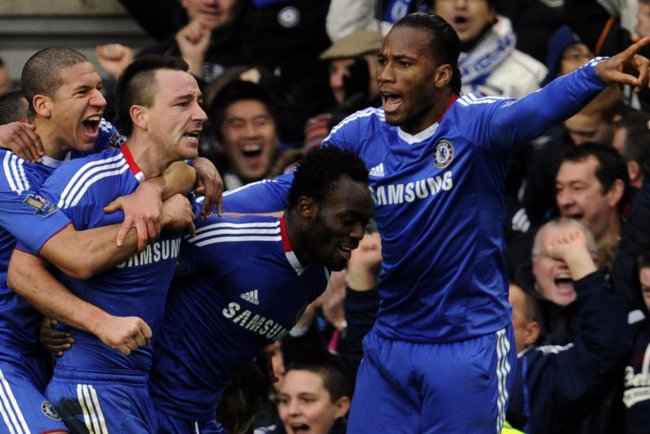 Tom Hevezi/Associated Press
With Drogba and Terry and Cech and Sneijder and Lampard and Torres, this will truly be a Star Wars of European football, but I'm still unsure who plays the part of Chewbacca in this mindless literary Internet fantasy. No list of potential candidates would be complete without the fuzzy Luiz and Willian and Ake and the statuesque Cech and Ivanovic.
And no doubt Eva Carneiro is Princess Leia and Mourinho is Obi-Wan "Ben" Kenobi, but when Hazard (Luke Skywalker) finds out that Drogba (Darth Vader) is his father, some heads are really going to turn and the referees may assess Didier a red card or possibly a little lightsaber to the old striker's head. Diving and writhing will surely ensue.
But know that both of these fates are much, much better than a Serbian-flavored Ivanovic elbow or forearm or maybe even a little taste of the long knuckle. Especially on a cloudy Turkey Wednesday. Hey, Didier, may the force be with you. We'll love you again in the spring.

PREDICTION: Galatasaray 1 Chelsea 1
BETS: None
>Follow me on Twitter: @KevinStott11

WRITER'S NOTE: I have obviously changed my predicted final score of 2-2 from my last Bleacher Report story, "Chelsea FC: Previewing and predicting the Next 6 Games on the Blues Schedule."