Did the New York Knicks Miss a Golden Trade-Deadline Opportunity?
Use your ← → (arrow) keys to browse more stories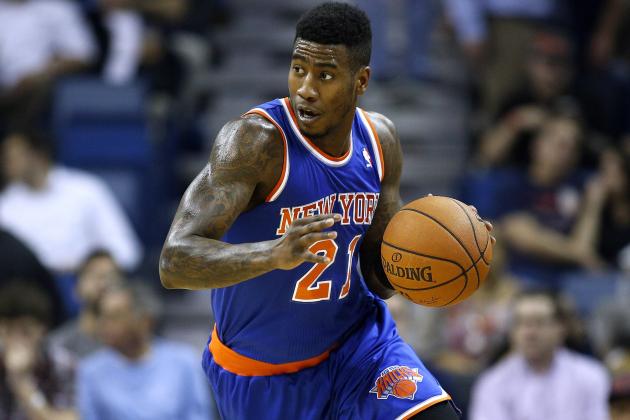 Jonathan Bachman/Associated Press

As the trade deadline came to a close, the New York Knicks—sinking ever more quickly beneath the playoff picture—chose to stand pat with the hand they had.
The common denominator for the two trades on the table: third-year guard Iman Shumpert, whose well-documented struggles and precarious relationship with Knicks management had long ago landed him on the block.
In the end, the Knicks decided to hold onto their precocious shooting guard—for now.
But the sigh of relief expelled by Shumpert's supporters betrays an important point: The Knicks—having tallied two of the most dispiriting losses of the season immediately after the trade deadline—may have missed a golden opportunity.
Mind you, we're not talking about the much-discussed deal to send Shumpert and Raymond Felton to the Los Angeles Clippers for Darren Collison and Matt Barnes—which, as it turns out, went down to the wire.
Rather, the move in question would've given New York something with which it has lately been far too quick to part: a draft pick.
According to ESPN's Chris Broussard, the Knicks had discussed dealing Shumpert to the Oklahoma City Thunder in exchange for a 2014 first-rounder.
Lots riding on Shumpert MRI: in addition to possibly going to LAC, source says possible he goes to OKC for 1st round pick. If mcl not torn!

— Chris Broussard (@Chris_Broussard) February 20, 2014
While the pick in question is almost certain to be in the high 20s, it at least would've put the Knicks into this year's draft, which by all accounts stands to be one of the deeper crops in recent memory.
Granted, there's a serious, inherent risk in jettisoning a known quantity—in Shumpert's case, a top-notch wing defender with the rudiments of an efficient offensive weapon—on another roll of the die.
At the same time, the Knicks could've conceivably used the pick as a means of either moving up in the draft (by packaging it with another asset) or facilitating a trade during the summer.
Take Tyson Chandler. With one year and $14.6 million remaining on his contract after this season, Chandler would've been exactly the kind of expiring contract that teams—be they rebuilding or on the edge of contention—would be looking to land.
By adding a first-round pick into the mix, the Knicks might well be able to leverage a pair of young, relatively expensive assets, as opposed to just another expiring.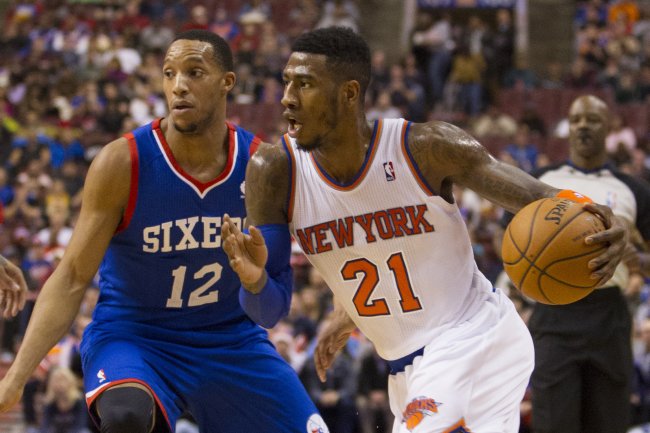 Chris Szagola/Associated Press
Which brings us to another reason why the Knicks may have blown a golden opportunity: Assuming the Knicks and Thunder were already on the phone with one another, why wasn't the possibility of trading Shumpert and Chandler seriously discussed?
To wit: Chandler and Shumpert for Kendrick Perkins, Nick Collison, Thabo Sefolosha, along with OKC's first and second-round picks (one each, that is).
The Thunder get the big upgrade at center they've been fishing for—along with a versatile wing defender with upside to boot—while the Knicks get two bigs for the price of one, together with a ticket to draft day.
The move wouldn't have made much of a dent in New York's precarious financial picture, but it at least would've given the team another pick—which, as we know, is precisely the kind of commodity good teams must make use of under the new collective bargaining agreement.
There is, of course, a flip side to all of this: If teams like the Clippers and Thunder are interested in an asset you've long since resigned yourself to flipping, might there be a chance that you're undervaluing said asset?
It's a fair question, one whose answer likely won't be known for years. Although, according to the New York Daily News' Frank Isola, more than one NBA executive entered this NBA season believing the Knicks would end up on the wrong side of it: "'The rest of the league seems to value Iman more than the Knicks do,' said one Eastern Conference executive. 'And his value is high.'"
That was before the season started, however. Since then, Shumpert's disappointing play—a product of internal strife and a slew of nagging injuries—has yielded regression across the advanced-stat board.
It'll likely be years before we have a clearer picture of whether or not the Knicks accurately assessed Shumpert's potential, or whether they missed out on a rotation-ready prospect.
Regardless of where the judgment falls, Knicks Knation has to be feeling at least a bit of trepidation toward ownership's shaky trade-day trigger finger.