The 2014 Winter Olympics are over, and the focus was thankfully on the action rather than the off-field turmoil that many felt would sabotage the international celebration.
Day 16 of the Sochi Games was the lightest on action, with only three medal events remaining. As the tournament ended, we saw the hosts Russia finish strongly to run away with the medal count and Canada thrill the nation with a double-gold in hockey. The final medal count stands as follows:
Below are the full results from the final day of the Olympics, as well as notable highlights.
Men's Ice Hockey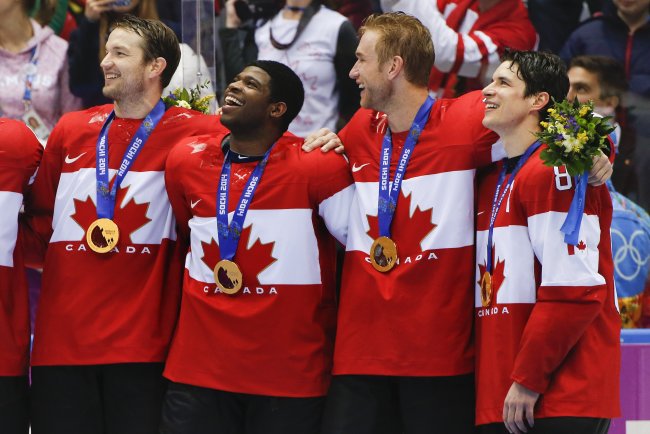 Julio Cortez/Associated Press
Men's Hockey Gold Medal Game

| | |
| --- | --- |
| Game | Score |
| Canada vs. Sweden | CAN, 3-0 |
via ESPN.com
Canada dominated a decimated Swedish team, 3-0, en route to their second consecutive gold medal. While not as dramatic as their overtime victory over the United States four years ago, this Canadian team was one of the most clinical champions in Olympic history:
Canada: 1st men's hockey team to go unbeaten through Olympic tournament since Soviet Union in 1984

— ESPN Stats & Info (@ESPNStatsInfo) February 23, 2014
Indeed, the gold medalists conceded a meager three goals the entire tournament, with goalie Carey Price holding a save percentage north of 97 percent. As Canada.com's Bruce Arthur notes, the country is truly experiencing a golden age in the sport:
This is a golden generation of Canadian players; the ones who won five straight world junior titles, starting with the 2005 squad that featured six members of this team, and it's still young.

We aren't rich in goalies, and the next generation may not match this. But this Team Canada may have completed the most dominant defensive run at a best-on-best tournament ever recorded, and isn't likely to immediately fade. After the breathtaking semifinal win over the United States, Canada rendered the gold-medal final boring, almost; they bled it of suspense, puck battle by puck battle. GM Steve Yzerman will step away after this. His replacement will have much to work with, starting with a blueprint.
Facing a Sweden team reeling off Nicklas Backstrom's sudden drug suspension, the Canadians simply overwhelmed an overmatched opponent with ruthlessly constant and efficient pressure. Sweden wore down by game's end, putting just four shots on goal in the final period, compared to 13 from Canada.
The victory gives Canada its second consecutive gold medal in the event, and with a world-class corps firmly in its prime, there is little reason to believe they will not be the clear-cut favorites in Pyeongchang.
Men's Bobsled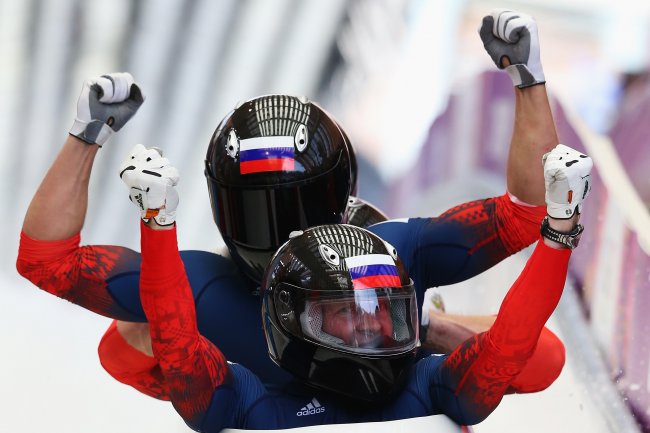 Alex Livesey/Getty Images
Men's 4-Man Bobsled Results

| | | | |
| --- | --- | --- | --- |
| Medal | Team | Time | Country |
| Gold | Dmitry Trunenkov, Alexander Zubkov, Alexey Voevoda, Alexey Negodaylo | 3:40.60 | RUS |
| Silver | Janis Strenga, Arvis Vilkaste, Oskars Melbardis, Daumants Dreishkens | 3:40.69 | LAT |
| Bronze | Steven Holcomb, Steven Langton, Curt Tomasevicz, Chris Fogt | 3:40.99 | USA |
via ESPN.com
The Russians claimed gold in the four-man race, with 39-year-old flag-bearer Alexander Zubkov stealing the show. Zubkov became the sixth pilot to sweep the four-man and two-man gold medals at a single Olympics, mastering a course many found difficult.
Among those who had trouble were American pilot Steve Holcomb, who nevertheless steered the USA to a bronze medal. In doing so, Holcomb broke a 62-year drought for the Americans in Olympic bobsled:
Steve Holcomb is first American since '52 to medal in 4-man/2-man in same Games. #SochiSMG http://t.co/74UXhqeQ39 pic.twitter.com/XF9nyQDQwS

— Jeff Zillgitt (@JeffZillgitt) February 23, 2014
Holcomb expressed satisfaction after winning two medals despite injuring his calf during the two-man run and failing to win a race during this year's World Cup circuit. According to Tim Reynolds of the Associated Press (via Yahoo!), Holcomb's Sochi showing disproves the notion that he cannot win away from North American tracks:
Ever since winning the gold in Vancouver, Holcomb has fought the notion that he's only good on North American tracks.

His bronze in Russia not only disproved that theory, again, but also ensured that Germany —perennially the world's top sliding nation—would be shut out of the medals in four-man for the first time since 1968. Germany was dominant in winning five medals in luge to lead off the Sochi Games, then left skeleton and bobsled empty-handed.

'We wanted gold,' Holcomb said. 'But we're not complaining about bronze.'
With six medals in bobsledding at Sochi, the US has taken a large step forward in a sport they have traditionally struggled in. The 33-year-old Holcomb plans to come back for the 2018 games, according to the USA Today's Jeff Zillgitt, so he and the rest of the American bobsledding team have a solid foundation upon which to build.
Men's Cross-Country
Ryan Pierse/Getty Images
Men's 50K Cross-Country Results

| | | | |
| --- | --- | --- | --- |
| Medal | Skiier | Time | Country |
| Gold | Alexander Legkov | 1:46:55.2 | RUS |
| Silver | Maxim Vylegzhanin | 1:46:55.9 | RUS |
| Bronze | Ilia Chernousov | 1:46:56.0 | RUS |
via ESPN.com
The icing on the cake for Russia was the first event of the final day, the men's 50-kilometer cross-country race. After earning just two medals over the first two weeks in the sport, Russia swept the podium to end on a decisive high note.
Alexander Legkov led the trio, with fourth-place Martin Johnsrud of Norway finishing a painfully tight two-tenths of a second off the podium. Defending champion Petter Northug finished 18th to cap a poor showing for the Norwegian who won four medals in Vancouver.
The three medals clinched the overall medal count for Russia, a distinction that led the three victors to receive their medals at the closing ceremonies. The sweep was a fitting way to end a flurry of recent medals for Russia, who used a late surge to take home both the most overall and gold medals on home soil. The Russians became the first host nation to win the medal count since Norway in 1984.