They say revenge is a dish best served cold.
However, the only thing that came out particularly cold was the UConn offense, as the Huskies couldn't avenge their Jan. 4 loss to SMU in Sunday's 64-55 loss at Gampel Pavilion.
The Huskies struggled from the field from the opening tip, as the hosts didn't score until the 13-minute, 46-second mark in the opening half.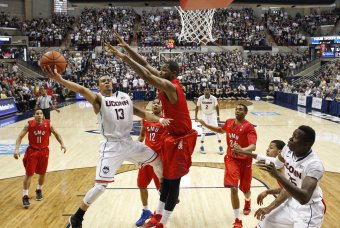 David Butler II-USA TODAY Sports
"The crowd's supposed to stand up until we make our first basket," said UConn guard Ryan Boatright. "It felt like they were standing up forever.
"Whenever you put the ball up and it's not going in repeatedly, it's frustrating."
UConn's shooting woes continued throughout the afternoon. The Huskies shot just 29.6 percent against an SMU defense that has proved to be one of the toughest defenses in the American Athletic Conference.
"You can't shoot 29 percent," said UConn coach Kevin Ollie. "I look at my starters and, man, it was just a lot of missed shots… You just can't win like that.
"They are tough defensively," Ollie said. "They're long and aggressive… They play hard and they know the system."
Huge win for SMU knocking off #21 UConn on the road!

— Dan Pitts (@DanPitts15) February 23, 2014
Reading the SMU tweets, kind of forget how special it is for them. UConn was there 25 years ago. Larry Brown is building something special.

— Back In Storrs (@BackInStorrs) February 23, 2014
The victory over UConn gave SMU four wins over ranked teams in one year for the first time since the 1955-56 season.

— Eric Prisbell (@EricPrisbell) February 23, 2014
Pretty big week for SMU...Swept UConn...Got a visit from @Original_Turner ...and got a commitment from 2015 PG @SedrickB_2

— Adam Zagoria (@AdamZagoria) February 23, 2014
The Mustangs worked hard to limit easy baskets for star guards Boatright and Shabazz Napier, who were a combined 8-of-28 on the afternoon. The Huskies only scored 14 points in the paint, while only scoring 11 on the fast break.
"You don't give those guys opportunities in transition," said SMU coach and basketball Hall of Famer Larry Brown. "It's hard for anybody to score against a set defense."
Ollie was disappointed with his team's ball movement, but the second-year head coach understands that shooting performances like the one against SMU are more the exception than the norm.
"We won't shoot like this ever again," Ollie said. "Hopefully, if we face them in the tournament, we'll be better prepared."
With the loss, the Huskies fall to 21-6 overall and 9-5 in the conference. UConn will look to rebound Feb. 26 when they travel to Tampa, Fla., to take on USF.
Did SMU expose the Huskies, or are the Mustangs just a bad matchup? Share your thoughts below, or tweet @R_Tolmich with your viewpoint.
*All quotes obtained firsthand.*