The NFL combine is four days old and many of the potential impact players have already run the 40-yard dash and competed in other drills. With each passing day, it becomes more clear who the hottest names will be as we get closer to the draft on May 8.
This mock draft will focus on the player who would best fit each team's biggest need.
A special focus is being placed on players with the potential to make the biggest impact in their rookie seasons.
1. Houston Texans: Johnny Manziel, QB, Texas A&M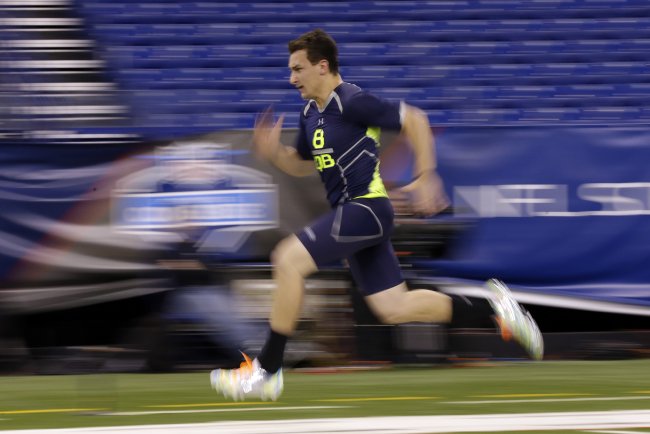 Michael Conroy/Associated Press
If a quarterback is taken No. 1 overall, there is an understanding that he will start from Day 1. If the Texans make Manziel the top pick in the draft—as they should—he will make an impact immediately.
Pay no attention to his sub-six-feet height, or his 40-yard-dash time that came in at 4.68 seconds.
Manziel is a player who will not only make the Texans a more formidable offense, but he'll make the team more exciting to watch and to follow. Manziel knows about the possibilities of teams being scared off by off-the-field issues.
Per NFL on ESPN, Manziel said:
"I...made some goofball decisions...Maybe it's part of the Johnny Football deal that I'm trying to get away from.'' - Johnny Manziel

— NFL on ESPN (@ESPNNFL) February 17, 2014
Nobody is perfect, especially not college kids. To use a WWE phrase, drafting Manziel is what's best for business.
2. St. Louis Rams (via Washington): Sammy Watkins, WR, Clemson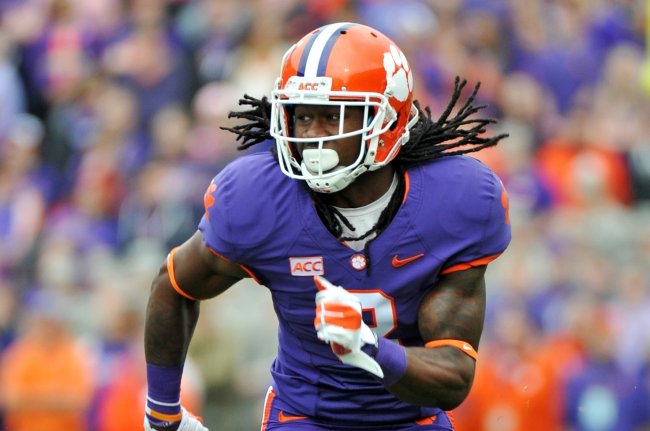 Rainier Ehrhardt/Associated Press
If the Rams didn't have multiple first-round picks, the smartest selection here would be Auburn's Greg Robinson. Because the Rams have another pick later, St. Louis can't afford to pass on the draft's most dynamic and NFL-ready wide receiver.
Sam Bradford needs an unquestioned No. 1 receiver, and that's what Watkins is.
Bleacher Report's NFL guru Ryan Riddle is clearly high on Watkins:
Trying to find things Sammy Watkins doesn't do well on a football field yet game after game I'm failing.

— Ryan Riddle (@Ryan_Riddle) February 24, 2014
Watkins made a major impact as a freshman at Clemson and he'll make his presence felt as a rookie.
3. Jacksonville Jaguars: Derek Carr, QB, Fresno State
Carr isn't getting the respect he deserves as a top-notch quarterback prospect. The difference between Carr and other signal-callers who have originated from pass-happy offenses is work ethic and arm strength.
Draft Breakdown's Ryan Lownes gives credit where it is due:
Derek Carr possesses tantalizing talent with excellent arm strength, as well as strong leadership qualities and the requisite mobility...

— Ryan Lownes (@ryanlownes) January 7, 2014
The Jags need a leader under center, and Carr could be the answer.
4. Cleveland Browns: Teddy Bridgewater, QB, Louisville
The gap between Carr and Bridgewater is small. The Browns could do well with either one. The team needs a new look at quarterback as the Brandon Weeden experiment is officially a failure.
Bridgewater has great intangibles and leadership skills. He would be a fine choice to lead the Browns into a new era.
5. Oakland Raiders: Greg Robinson, OT, Auburn
Robinson is too good to slip out of the top five. He has the most potential to become dominant of any of the top-rated offensive tackles.
For the Raiders, this is the smartest selection. Robinson can help solidify the run and passing game in Oakland.
6. Atlanta Falcons: Jadeveon Clowney, DE, South Carolina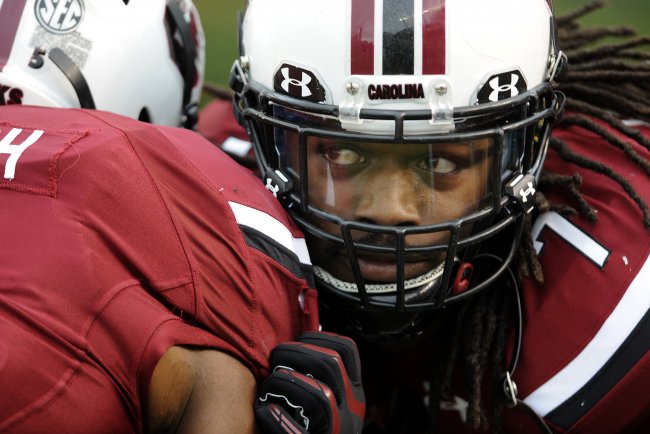 Stephen Morton/Associated Press
At 6'5", 266 pounds, Clowney undoubtedly has the size to play defensive end in the NFL. The explosion we watched from him for three years at South Carolina makes him look like the most exciting young pass-rusher in years.
Bleacher Report's NFL Draft guru Matt Miller says Clowney was running a 4.46 40-yard dash in practices. If he's anywhere close to that at the combine, the Falcons might have to trade up to get him.
If that's the case, Atlanta would be wise to do just that. The team has had just 59 sacks in the last two years combined. The Carolina Panthers had 60 in 2013 alone.
The Falcons need Clowney in a major way.
7. Tampa Bay Buccaneers: Jake Matthews, OT, Texas A&M
Blake Bortles will be on the board here, but Mike Glennon was good enough as a rookie to get another shot at being the franchise quarterback. The best thing Tampa Bay can do is draft a stud tackle like Matthews to protect him.
8. Minnesota Vikings: Blake Bortles, QB, Central Florida
Minnesota also needs a quarterback. Bortles is still a top-notch talent and a great pick for the Vikings at No. 8. His mobility and arm strength prove he has the talent to succeed in the NFL.
If the Vikings are hoping to compete in the NFC North, they will need to find a quarterback who can win games for them.
9. Buffalo Bills: Khalil Mack, OLB/DE, Buffalo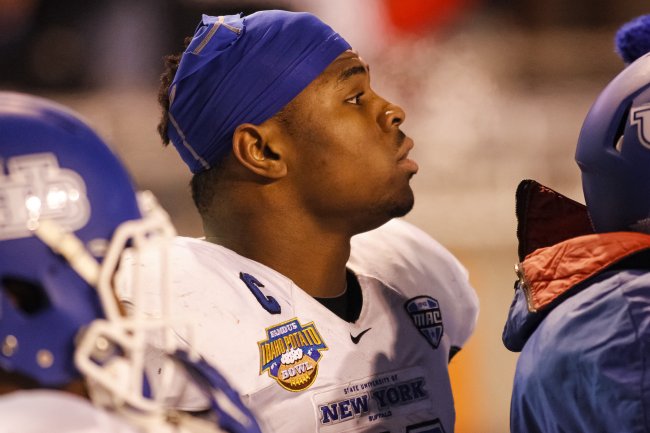 Otto Kitsinger/Associated Press
Is there a difference between Clowney and Mack? Probably not a very big one.
Experts are especially high on Mack. NFL.com's Mike Mayock says he'd take Mack first overall.
That's a major compliment from someone who has been evaluating talent for decades. Mack's speed, motor and intangibles all seem to check out. He did play at a smaller program, but there's a long list of players who have proven that doesn't mean anything.
The Bills could add another dominant pass-rusher to play with Mario Williams.
10. Detroit Lions: Justin Gilbert, CB, Oklahoma State
Two of the Lions' rivals in the NFC North have formidable passing offenses (the Chicago Bears and Green Bay Packers). Detroit must improve their secondary if they hope to contain them.
Gilbert has great ball skills and the swagger that big-time cover corners need. He had six picks in 2013 and great ability as a kick returner.
Detroit could help two areas of their team with a win.
11. Tennessee Titans: Anthony Barr, OLB/DE, UCLA
Barr's speed has been clocked as fast as 4.44 in the 40-yard dash, per Daniel Jeremiah of NFL.com.
Tennessee needs an explosive player on its defense. Barr has the versatility to play outside linebacker or defensive end. He's a player that the Titans should bring into the fold.
12. New York Giants: C.J. Mosley, LB, Alabama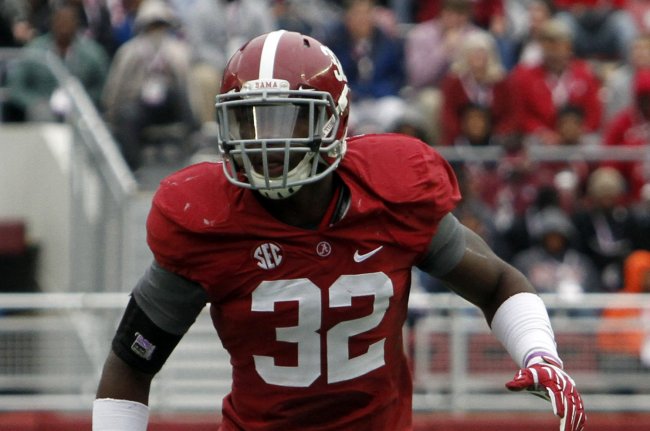 Butch Dill/Associated Press
The most NFL-ready defensive player in the draft is Mosley. For the last two years, he has led one of the best defenses in college football.
His football IQ and instincts make Mosley a great candidate for Defensive Rookie of the Year.
Per Miller, teams are very high on him:
Name I keep hearing a lot of buzz about is C.J. Mosley. One team source flat-out told me I had him rated too low (No. 16 overall)

— Matt Miller (@nfldraftscout) February 20, 2014
The Giants need to get younger on defense. Mosley is one of the rare rookies who will also bring leadership skills and presence. Look for him to be the most consistent rookie performer in 2014.
13. St. Louis Rams: Taylor Lewan, OL, Michigan
With Watkins already selected, the Rams can now target one of the top-notch offensive tackles. Lewan is a big, nasty dude whose temperament is a great match for Jeff Fisher's physical style.
The Rams could lock up two of the most difficult positions to fill on a NFL roster within the first 13 picks.
14. Chicago Bears: Timmy Jernigan, DT, Florida State
The Chicago Bears had the worst run defense in the NFL in 2013. This was partially due to a lot of injuries to the front seven. In 2014, the Bears will get some players back, but they will also have to make decisions on a few free agents.
It would behoove them to add a potential star to help improve the run defense, no matter who returns.
Jernigan is the type of presence in the middle that makes the game easier for the linebackers behind him. By absorbing blockers, Jernigan lets linebackers into the backfield easier.
The Bears haven't had a player like that since Tommie Harris' rookie season. Taking Jernigan is the smartest choice the team can make.
15. Pittsburgh Steelers: Darqueze Dennard, CB, Michigan State
Pittsburgh's defense also needs to get younger. Adding youth to the secondary is the wisest move.
Dennard is physical, competitive and a good fit for the Steelers. Gilbert might be rated higher on most draft boards, but Dennard is a better fit in the Steel City.
16. Dallas Cowboys: Kony Ealy, DE, Missouri
At times last season, no NFL defense looked worse than the Cowboys.
Because of Dallas' futility on that side of the ball, the team has to take the best defensive player available.
In this scenario, it's Ealy. He's one of the best pass-rushers in the draft, and Dallas needs as much help as it can get.
17. Baltimore Ravens: Mike Evans, WR, Texas A&M
Anquan Boldin was badly missed in Baltimore in 2013. Torrey Smith is a great speed option and deep threat, but for him to be most effective, he must have a physical receiver on the other side of the field.
The Ravens have never had a receiver with the size and ball skills that Evans possesses. He's the best thing that could happen to the Ravens' offense.
18. New York Jets: Marqise Lee, WR, USC
On pure speed and big-play ability, perhaps only one receiver compares to Lee.
Geno Smith and the Jets offense need a playmaker like Lee to stretch the field. Because of his abilities as a kick and punt returner, Lee could also help establish better field position for the team.
19. Miami Dolphins: Cyrus Kouandjio, OT, Alabama
Ryan Tannehill is supposed to be the Dolphins' franchise quarterback, but if he gets sacked 58 times again in 2014, he may not be healthy enough to fulfill his duties.
Kouandjio has great upside. He's only 20 years old, yet he has good experience working on a premier college offensive line. He projects as a right tackle, but the Fins still have to draft someone to at least add depth to a unit in need.
20. Arizona Cardinals: Zack Martin, OT, Notre Dame
The Cardinals are so close to becoming a really good team.
The team can still stand to improve its pass protection. Arizona allowed 41 sacks in 2013. It was an improvement over the 58 it allowed in 2012 but still not ideal.
Drafting Martin won't give the team one of the three elite tackles in the draft, but it does represent shoring up the area of the team that represents the biggest need.
21. Green Bay Packers: Eric Ebron, TE, North Carolina
Ebron's speed and pass-catching ability are exciting. He ran a 4.60 40-yard dash at the combine. That performance just further drove home the concept that Ebron can be a valuable weapon for a team up the seams.
The Packers would be adding an invaluable weapon to its passing game by tabbing Ebron.
22. Philadelphia Eagles: Calvin Pryor, S, Louisville
Philly could improve their run and pass defense by selecting Pryor.
At 6'1" 210 pounds, Pryor is big enough to be a factor against the run. He also had three interceptions in 2013. This isn't a great crop of safeties, but Pryor is the best of the bunch.
23. Kansas City Chiefs: Odell Beckham Jr., WR, LSU
Short passing games like the Chiefs' need athletic wide receivers who can turn short completions into big gains.
Beckham is that type of an athlete. He could quickly become Alex Smith's favorite target.
24. Cincinnati Bengals: Lamarcus Joyner, CB, Florida State
The Bengals are the first team that can take the proverbial "best player available" route. Cincinnati doesn't have a ton of glaring weaknesses. It could look to add depth on the defensive line, but Joyner could immediately make an impact as a nickel cornerback.
He's only 5'8", but he's feisty and could match up well with many of the league's best slot receivers.
25. San Diego Chargers: Louis Nix III, DT, Notre Dame
The only defensive tackle in Jernigan's class as a run stuffer is Nix.
He has the girth, strength and first step to wreak havoc at the point of attack. The Chargers gave up 4.6 yards per carry in 2013. Nix's skill set would be much-appreciated in San Diego.
26. Cleveland Browns (via Indianapolis): David Yankey, OG, Stanford
The Browns need to improve their running game to take pressure off of what figures to be a young quarterback.
The team hasn't ranked higher than 20th in the NFL in rushing yards since 2009.
Yankey is a grinding, physical and mean interior O-lineman. Those types of players are essential to establishing dominant run games.
27. New Orleans Saints: Morgan Moses, OT, Virginia
Losing left tackle Jermon Bushrod in free agency was a bigger deal for the Saints than it was made out to be. Drew Brees was sacked 37 times in 2013. Many times he didn't look comfortable even when he wasn't sacked.
Moses doesn't appear to be the type of prospect who can replace Bushrod, but he's massive and with the proper coaching, he could become a starter on an offensive line that appears to be on the decline.
28. Carolina Panthers: Kelvin Benjamin, WR, Florida State
Steve Smith is aging and is no longer the game changer at wide receiver he once was. The Panthers must find a receiver who can be a No. 1 for Cam Newton.
Benjamin is already 23 years old, so some teams may be down on him. The fact that he only ran a 4.6 40-yard dash at the combine probably ensures the Panthers won't have to trade up to get him.
At 6'5", 240 pounds, Benjamin has the size to be a great red-zone target and potentially even more.
29. New England Patriots: Aaron Donald, DT, Florida State
Donald is a bit undersized, but his skill and height (6'1") are reminiscent of the Bengals Geno Atkins. With Vince Wilfork aging and suddenly injury-prone, drafting Donald is a smart move.
Size is one thing, but you can't teach the kind of motor he has.
30. San Francisco 49ers: Brandin Cooks, WR, Oregon State
Boldin and Michael Crabtree are very good possession receivers, and the team still has a good power running game with Frank Gore.
San Francisco's offense now needs an injection of speed. Cooks can deliver that as a slot receiver and as a kick and punt returner.
He could be one of the most impacting rookies and a steal for the Niners late in the first round.
31. Denver Broncos: Jason Verrett, CB, TCU
Champ Bailey at 35 years old gets burned more often than he makes plays. Denver needs a younger, faster cornerback to match up with the league's speedsters.
Verrett isn't the biggest guy at 5'10", but he's fast and competitive. Rams Herd breaks down some of Verrett's best qualities.
Watching some Jason Verrett tape vs OSU. Remarkable how adaptive he is to multiple coverage assignments. Also, how few throws go his way.

— RamsHerd (@RamsHerd) February 23, 2014
32. Seattle Seahawks: Jace Amaro, TE, Texas Tech
Tight end is the only offensive position where the Seahawks don't have a dangerous weapon.
Amaro isn't as fast as Ebron, but the 4.74 40-yard dash at the combine says he's fast enough to be a threat in the passing game.
Giving Russell Wilson another weapon to throw to just doesn't seem fair.
Follow me. Sports are what I do.