5 Players with a Chance to Shine During Milwaukee Bucks' Stretch Run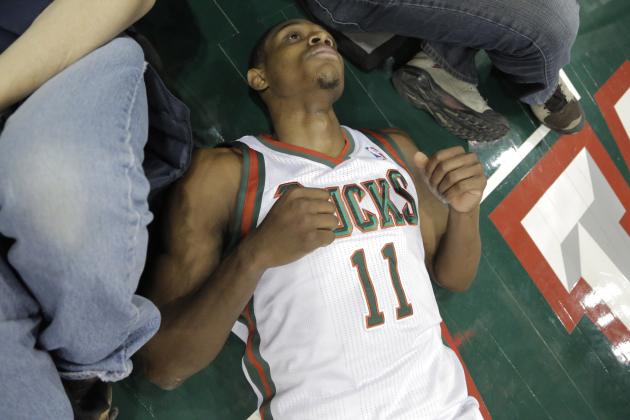 Darren Hauck/Associated Press

With the league's worst record, the Milwaukee Bucks don't have a lot to play for coming down the stretch. However, for certain players, the final slate of games could prove to be extremely beneficial.
Despite the extreme struggles, the Bucks have a handful of talented pieces in place for the future.
Whether it's rookie standout Giannis Antetokounmpo or the likes of Brandon Knight, who's still trying to prove his worth as a franchise point guard, there are plenty of productive, important minutes left in the season.
But aside from the aforementioned Antetokounmpo and Knight, who on the roster can shine in an expanded roll to finish out the year?
Some players will see an increased roll due to injuries, while head coach Larry Drew will just want to allow other youngsters to gain experience.
The following players, presented in alphabetical order, will have ample opportunity as the 2013-14 season winds down.
* All statistics courtesy of Basketball-Reference (unless otherwise noted) and accurate through Feb. 23 *
Begin Slideshow

»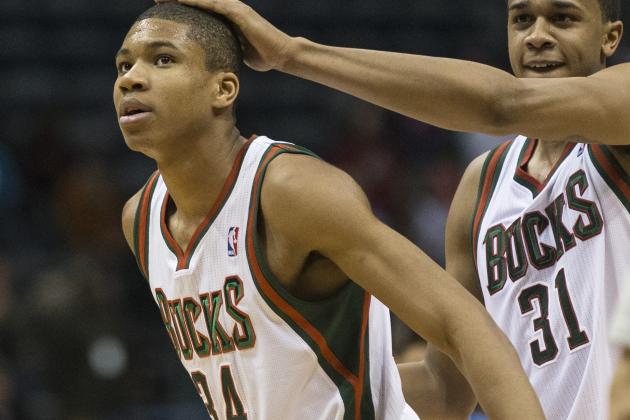 Tom Lynn/Associated Press

The Greek Freak has surprised many with his play in 2013-14 and should get ample opportunity to continue that trend down the stretch.
Averaging 7.1 points, 4.6 rebounds and 1.8 assists while shooting 42.8 percent from the floor, Giannis Antetokounmpo has not only played more than expected, but he has also produced at a higher level than many probably imagined.
Given the state of the small forward position for the Bucks—Carlos Delfino is out for the season and Caron Butler has battled nagging injuries—Antetokounmpo should continue to see consistent minutes.
With his combination of length, athleticism and seemingly positive attitude, the heights Antetokounmpo can reach as as high as anyone in the league.
And while the Bucks might be out of contention and lacking things to play for, you had better believe the Greek Freak will still be giving 100 percent effort.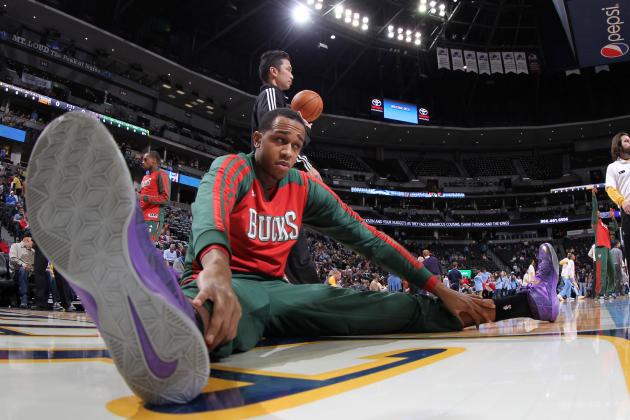 David Zalubowski/Associated Press

The poor play of Ersan Ilyasova, the injuries and off-court issues Larry Sanders has dealt with and the team's general lack of a post presence have all given John Henson a tremendous opportunity to shine.
As 2013-14 continues to progress, those opportunities will still be there.
Playing in 43 games thus far, Henson has battled some injuries of his own, but you'd never be able to tell looking at his numbers.
In those appearances he's averaging 11.7 points, 8.0 rebounds, 1.5 assists and 2.1 blocks while connecting on 53.1 percent of his field goals.
Keep in mind, that's all in just 27.8 minutes of playing time per game.
If he were getting starter's minutes at the power forward position and head coach Larry Drew's rotations weren't so odd, chances are his numbers would look even more impressive.
Staying healthy will be his primary objective, and if he can do that, look for Henson to standout as the Bucks finish out the year.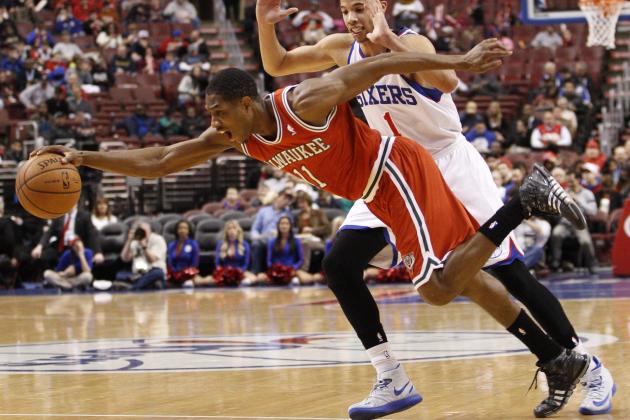 Chris Szagola/Associated Press

The term for Brandon Knight this season is a simple one: progression.
And it's exactly what the young point guard has done all year in Milwaukee.
Even since suffering a hamstring injury in the team's first game against the New York Knicks, Knight has put together a pretty impressive run.
Since Dec. 3, the point guard is averaging 18.8 points, 3.7 rebounds, 5.2 assists and 1.0 steals while shooting 41.9 percent from the field and 34.0 percent from three-point territory.
And really, it's only the latter that is of concern—it's his percentage for the season as well.
Why is it concerning? That answer can be found when looking at his two-point field-goal percentage.
For the year, Knight is connecting on 44.9 percent of his two-point attempts, which is easily the best of his career.
It also proves that as soon as he learns how to be more selective, he can be quite the efficient scorer for the Bucks moving forward.
If he can continue to learn to limit those threes and attack more, he'll not only shine in the season's second half, but well into the future.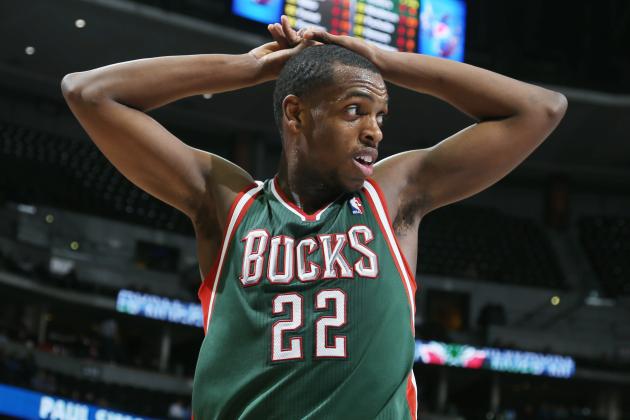 David Zalubowski/Associated Press

You probably won't find too many people who thought Khris Middleton would produce at this level for the Bucks in 2013-14.
Averaging 11.4 points, 4.0 rebounds, 2.0 assists and 1.0 steals while shooting a solid 44.4 percent from the field and very good 42.2 percent from three-point range, Middleton has arguably been the team's most consistent player.
With a quick, smooth delivery, the second-year man has proven he can shoot the ball, defend, and that he may have a spot on the team's roster in the future.
Aside from Giannis Antetokounmpo, the only thing standing in Middleton's way of getting more minutes and continuing to showcase his skills down the stretch is Butler.
And who knows, if he can continue to build upon this successful season, maybe he can log minutes at shooting guard in 2014-15.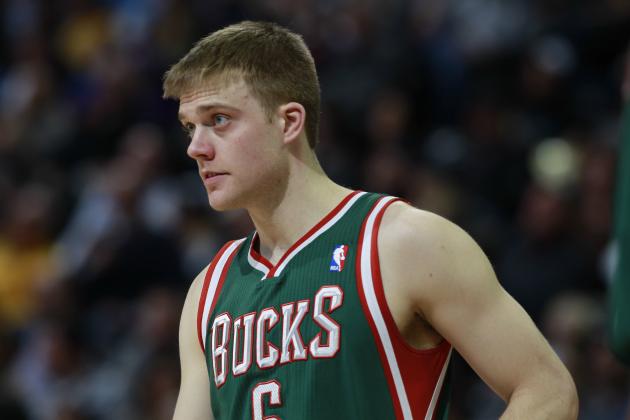 David Zalubowski/Associated Press

Watching Nate Wolters play, you'd never realize he was a rookie.
In fact, he has poise well beyond his years.
Appearing in 44 games and logging 22.4 minutes per game, the rookie out of South Dakota State is averaging a minuscule 0.9 turnovers.
Other than the fact that he's great at not making mistakes, Wolters is posting averages of 6.9 points, 2.5 rebounds and 3.5 assists.
If there's one area in which he could improve, it's his efficiency.
He's shooting just 41.0 percent from the floor and a horrendous 19.0 percent from three-point territory. Though, to his credit, he's aware he's not a long-range shooter and has limited himself to taking 42 on the year.
The more and more he's on the court, the more Wolters proves that he should have been a first-round pick in last summer's draft.
That'll likely continue through the stretch run.