Another Premier League matchday is in the books, and the table remains just as clustered as it was before. All of the title contenders won, meaning only four points separate the top four. Near the bottom of the table, the relegation fight looks like it will go right down to the wire, as only six points separate 11th-place Hull City from 18th-place Sunderland.
It's as open as the Premier League has been in years.
Despite there only being three matches on the afternoon, Sunday provided a few surprises that shook up the standings a bit.
Liverpool 4-3 Swansea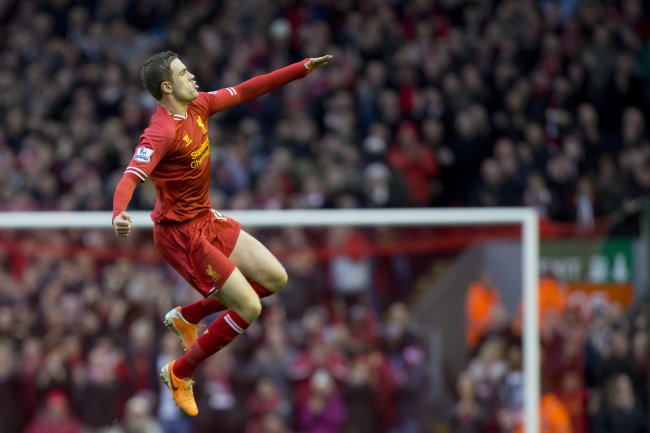 Jon Super/Associated Press
Liverpool's back four nearly turned what should have been three easy points into a draw, and not for the first time this season.
The Reds were first up 2-0 before Jonjo Shelvey and Wilfried Bony scored within four minutes of one another to tie the game. Daniel Sturridge put Liverpool on top, 3-2, before Bony equalized in the second half. Jordan Henderson found the winner in the 74th minute.
Liverpool's defending was extremely poor, as Shelvey and Bony both had acres of space for their goals. The defenders weren't closing down on the ball at all.
After the match, Brendan Rodgers acknowledged that improvements must be made, per ESPN FC's Richard Jolly:
"We did not defend anywhere near well enough in any aspect.

"The problem is it is not coaching. Some of the things we concede goals in, you can't coach that. There's a feel when you are in the game of how to defend and you have to use your experience to defend properly.

"We concede poor goals. It isn't so much structurally. It's mistakes or decision making that cost us."
Sturridge is on a great run of form, and Luis Suarez is one of the best strikers in the world, but they can't keep bailing Liverpool out like they are at the moment.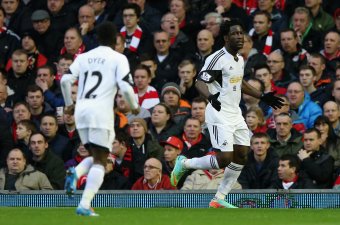 Clive Brunskill/Getty Images
Take nothing away from Swansea's performance. Once they went down 2-0, the Swans could have easily let the game get away from them like Arsenal and Everton did at Anfield. Instead, they hung around and showed the kind determination that seemed absent under Michael Laudrup this season.
Swansea should avoid relegation, and with a few more performances like this, they could sneak back into the top half of the table.
Norwich City 1-0 Tottenham Hotspur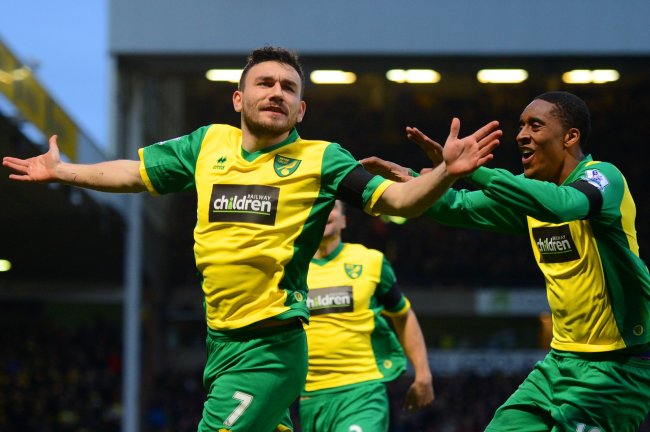 Michael Regan/Getty Images
Liverpool's win was made all the more important by Tottenham Hotspur's 1-0 road loss to Norwich City. With Tottenham's loss, the Reds move six points clear of Spurs in the battle for the top four.
Tim Sherwood has been criticized for his tactical naivete, and this result will do nothing to quash that discussion.
Spurs were lined up in what seemed to be a 4-1-4-1, with four central midfielders—Etienne Capoue, Paulinho, Nabil Bentaleb and Moussa Dembele. The AFP's Tom Williams pointed out that the strategy was a marked change from how Tottenham lined up when Sherwood first took over:
Having initially eschewed central midfielders altogether, Tim Sherwood has now found a way of cramming four into the same team.

— Tom Williams (@tomwfootball) February 23, 2014
James Maw of FourFourTwo thinks the larger concern is that Spurs can come undone when facing a team that has a consistent tactical plan:
All very well and good beating disorganised sides, but Sherwood has had problems every time he's faced an opponent with a plan.

— James Maw (@JamesMawFFT) February 23, 2014
This is the problem when hiring somebody who lacks managerial experience. There will be growing pains as he adjusts to the job.
Sherwood tried to deflect any sort of blame after the match.
This is a huge win for Norwich. With the three points, the Canaries move four points clear of the drop, with Sunderland having a game in hand. Should the Black Cats win, Norwich will remain three points ahead of West Brom, who are in 17th.
Chris Hughton needed this victory to calm the storm at Carrow Road and secure his own position for the time being.
Newcastle 1-0 Aston Villa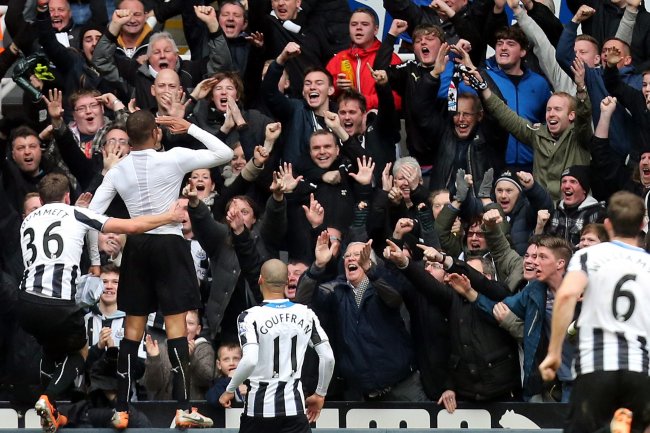 Scott Heppell/Associated Press
Norwich's next opponent, Aston Villa, were on the wrong end of a 1-0 scoreline. The Villans have an impressive road record, so Newcastle notching the three points following their poor run of results is a major positive.
The fact that Loic Remy scored the winner is all the more better. The Frenchman scored a little over a month ago in Newcastle's 3-1 win over West Ham. Before that, he was in the middle of a barren patch after starting the season on fire.
If Remy can find a way to consistently score again, Newcastle could sneak into the top six.
The effect Yohan Cabaye's absence is having on the side is clear for all to see, though. Cheick Tiote and Vurnon Anita are capable midfielders, but neither has the creativity and passing of Cabaye. Nooruddean Choudry of the Daily Mirror thinks that his talent will be especially appreciated now that he's left for Paris Saint-Germain:
It's increasingly apparent how good Cabaye was for Newcastle. Like lots of players who play that far north he was very underrated.

— Nooruddean (@BeardedGenius) February 23, 2014
Villa had 10 shots in the match, only two of which were on target. They countered very well, but when it came to finishing, they lacked the great passing necessary to set up goals.
Christian Benteke did well to hold the ball up and win 50/50 balls in the air. On the wings, Gabby Agbonlahor and Andreas Weimann provided little support, which really hurt the Aston Villa attack.
All things considered, it's not a bad loss for the club.
By the end of the season, Villa should find themselves in the top half of the table.