One of the crown jewels of any Winter Olympics is the men's ice hockey tournament, and the 2014 Sochi Games were no different.
While Canada's star-studded lineup took home gold for the second consecutive Olympics, the top performers were scattered across the field. Even with no country playing more than six games, a few players racked up points at impressive levels. These players represent the points leaders at the conclusion of the men's tournament:
Olympic Men's Hockey Top Scorers

| | | | |
| --- | --- | --- | --- |
| Rank | Player | Country | Pts |
| 1 | Phil Kessel | USA | 8 |
| 2 | Erik Karlsson | SWE | 8 |
| 3 | Mikael Granlund | FIN | 7 |
| 4 | James van Riemsdyk | USA | 7 |
| 5 | Michael Grabner | AUT | 6 |
| T-6 | Drew Doughty | CAN | 6 |
| T-6 | Teemu Selanne | FIN | 6 |
| 8 | Alexander Radulov | RUS | 6 |
via NHL.com
Of the top eight, only Radulov does not play for an NHL team, meaning that some of those performances might have ramifications for the post-break NHL stretch. With that in mind, let's dissect a few of those top performers and what their hot streaks might mean going forward.
Phil Kessel, RW, USA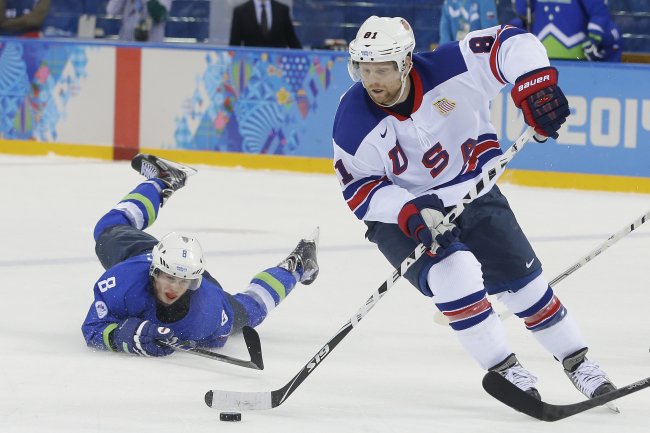 Matt Slocum/Associated Press
The Maple Leafs forward was the Americans' biggest star for much of the tournament, tallying five goals in the first four games before being held scoreless (along with the rest of his team) against Canada and Finland:
Phil Kessel scored his fifth goal, most by a U.S. Olympian in a tournament since John LeClair scored six during the 2002 Games. #Olympics

— NHL Public Relations (@PR_NHL) February 19, 2014
For his effort, the IIHF named Kessel the top forward of the tournament. In reality, the Olympics were just a continuation of his hot pre-break NHL stretch, as he scored eight goals in the last 10 games for Toronto. With the Leafs on the edge of the playoff race, Kessel and fellow American linemate James van Riemsdyk must continue their stellar finishing back in the Western Hemisphere.
Long term, the 26-year-old Kessel represents one of several young forwards in or approaching their prime for the USA. Along with 25-year-old Patrick Kane and 29-year-old captain Zach Parise, the Americans are well-positioned for the future up front.
Erik Karlsson, D, Sweden
Bruce Bennett/Getty Images
It's not often a defensemen is among the point leaders, even in an abbreviated tournament like the Olympics. Nevertheless, the former Norris Trophy winner is the NHL's best scoring defenseman when healthy and demonstrated his skill at Sochi.
With the Swedish team losing Henrik Sedin and Henrik Zetterberg before the tournament, Karlsson's scoring outburst was a necessary tonic. Canada placed a clear emphasis on containing the Senators defenseman, and without the team's star defenseman wreaking havoc in the offensive zone, Sweden and Karlsson were both left scoreless and frustrated:
Sorry if I'm late. Erik Karlsson, on what the silver medal is worth to him (via Olympic News): "You will see when I put it out on eBay."

— SeanFitz_Gerald (@SeanFitz_Gerald) February 23, 2014
Despite the letdown in the gold-medal match, Karlsson returns to an Ottawa team that currently sits one point behind the Detroit Red Wings for the final Eastern Conference playoff berth. If he can carry over his Sochi performance, he may boost a young Senators squad to its second consecutive postseason.
Mikael Granlund, C, Finland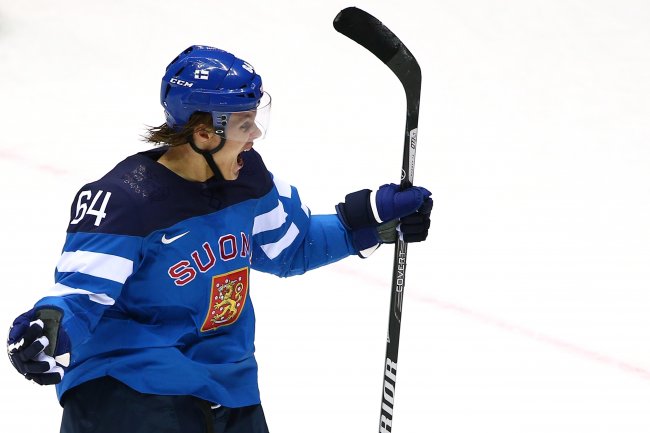 Clive Mason/Getty Images
The 21-year-old Finnish forward used the Olympics as his coming-out party, with seven points for the bronze medalists. Granlund's breakout performance earned high praise from his country's greatest forward:
Teemu Selanne from Sochi after today's Finland win:"Playing aside [Mikael Granlund] on the first line is a dream come true for me." #mnwild

— Michael Russo (@Russostrib) February 19, 2014
The Wild center has just seven goals in 73 career NHL games, but the former ninth overall pick certainly possesses the potential that should have Minnesota fans salivating. Playing with Selanne and Aleksander Barkov on the first line, Granlund exhibited what he could do when surrounded by top-level talent.
Granlund's tournament is especially encouraging for a Finland squad lacking in young forwards. Stalwarts like the 43-year-old Selanne, 30-year-old Mikko Koivu and 30-year old Jussi Jokinen will not be able to carry the team in 2018. Granlund's performance was not only impressive but also vital to a long-time international hockey power.