New York Yankees outfielder Brett Gardner will remain with the Bronx Bombers for the foreseeable future, as he has signed a four-year contract extension worth $52 million.
Jack Curry of the YES Network reported the news on Sunday and outlined some specifics regarding the fresh deal New York drew up to secure the 30-year-old standout:
Gardner on verge of signing 4-year, $52 million deal w/ Yankees. Includes 5th year club option for $12.5M or $2M buyout. Deal starts in 2015

— Jack Curry (@JackCurryYES) February 23, 2014
CBSSports.com's Jon Heyman also reported on the extension agreement:
Brett gardner agrees to yanks extension. $52M.

— Jon Heyman (@JonHeymanCBS) February 23, 2014
Curry added there is not a no-trade clause included:
Gardner said the contract doesn't include a no-trade clause. He asked about it, but the Yankees didn't want to do it.

— Jack Curry (@JackCurryYES) February 23, 2014
The Yankees confirmed the deal on Monday via their Twitter account:
#Yankees sign OF Brett Gardner to a four-year contract beginning in 2015 and extending through the 2018 season, with a club option for 2019.

— New York Yankees (@Yankees) February 24, 2014
Gardner wasn't slated to become a free agent until 2015 and is due $5.6 million in salary this coming season, per Spotrac.com. This is quite the substantial increase in pay to say the least, but it's not a surprising move by general manager Brian Cashman.
Did the Yankees make the right move in extending Brett Gardner?
Considering how valuable Gardner is, it makes sense that the Yankees elected to secure his services for the long term. A combination of speed on the basepaths, patience at the plate and a high rate of contact makes him a dangerous threat whenever he steps in the batter's box.
But after stealing 47 and 49 bases in 2010 and 2011, respectively, an elbow injury sidelined Gardner for all but 16 games in 2012. Although he hit a career-high 52 RBI and eight home runs this past season, Gardner stole just 24 bases and was caught eight times.
As Gardner ages, his speed is likely to decrease, which is a bit of a concern in committing to him long term considering that is his greatest asset. Even if that does happen, though, few in the MLB will still be as fleet of foot as Gardner, and he should continue to be a strong contributor at the core of this Yankees club.
Pete Abraham of the Boston Globe weighed in on Gardner's game:
Brett Gardner, from college walk-on to a $52 million deal with the #Yankees. Well-earned, too. Liked his game from the jump.

— Pete Abraham (@PeteAbe) February 23, 2014
Since he's also versatile in terms of being able to play both center and left field, Gardner's role in New York's future should remain prominent. The veteran can rotate over if health or performance is ever an issue, and his speed makes him a rangy center fielder. He's plenty capable of robbing the opposition of extra-base hits.
When the Yankees signed Jacoby Ellsbury as the new center fielder this offseason from the rival Boston Red Sox, though, Gardner was a little surprised at the move. It even prompted trade rumors, but manager Joe Girardi assured Gardner he would still be on the team.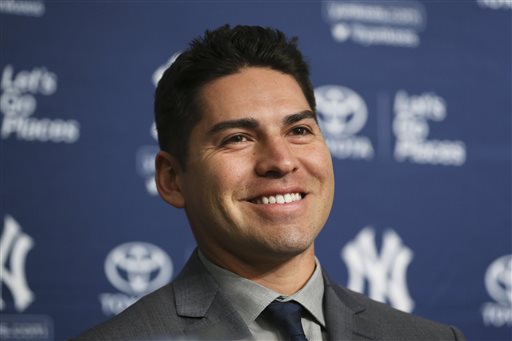 John Minchillo/Associated Press
"He just told me not to worry about all the trade rumors going on, that he still envisioned me playing a big role on this team," said Gardner, per Jorge Castillo of the Star-Ledger. "I've always been a big believer in trying not to get too caught up in things I can't control, especially in the offseason."
That notion was confirmed with Sunday's reported deal, as Gardner figures to move to a more permanent role in left field. He'll join a loaded outfield featuring him, Ellsbury and Carlos Beltran.
The pressure is on for the Yankees to win now. This is a franchise that deals with constant championship expectations, and after winning three of the previous four American League East division titles, New York missed the playoffs this past season.
Gardner represents part of the contingent that can aid the Yankees' effort for an instant turnaround and a hopeful shot at their first World Series triumph since 2009.