The Russian quartet piloted by Alexander Zubkov won the men's four-man bobsled and extended the hosts' lead atop the medals table in the penultimate event of the 2014 Sochi Winter Olympics.

A foursome of Zubkov, Alexey Negodaylo, Dmitry Trunenkov and Alexey Voevoda finished ahead of the teams from Latvia and the United States, who finished in second and third place, respectively.
The Russians put together two excellent runs in the third and fourth heats on the final day of these Olympic games to cap off what has been a fine Winter Olympics for the host nation.
Men's Four-Man Bobsled Results

| | | | | |
| --- | --- | --- | --- | --- |
| Position | Team | Heat 3 Time | Heat 4 Time | Overall Time |
| 1. | Russia 1 | 55.02 | 55.39 | 3:40.60 |
| 2. | Latvia 1 | 55.15 | 55.31 | 3:40.69 |
| 3. | United States 1 | 55.30 | 55.33 | 3:40.99 |
| 4. | Russia 2 | 55.29 | 55.21 | 3:41.02 |
| 5. | Great Britain 1 | 55.31 | 55.26 | 3:41.10 |
| 6. | Germany 1 | 55.47 | 55.60 | 3:41.42 |
| 7. | Germany 3 | 55.50 | 55.53 | 3:41.51 |
| 8. | Switzerland 1 | 55.60 | 55.60 | 3:41.75 |
| 9. | Canada 2 | 55.60 | 55.38 | 3:41.76 |
| 10. | Germany 2 | 55.81 | 55.41 | 3:41.80 |
Sochi2014.com
Prior to the final heats, USA pilot Steven Holcomb paid tribute to the quality of the teams on show at these Games, per the Associated Press (via CBS News), saying, "There's a lot of good teams out here. I knew it was going to be a battle like this."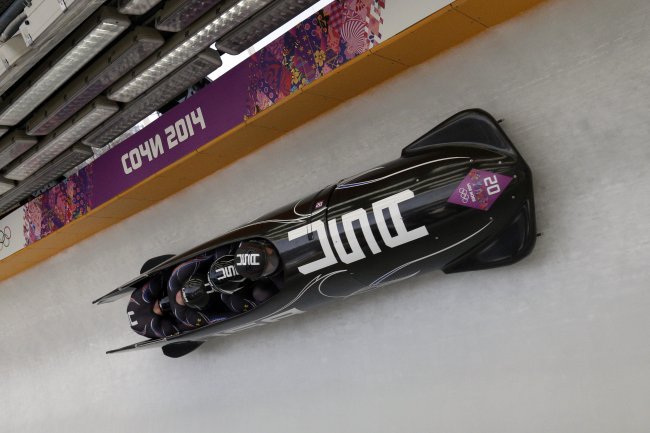 Michael Sohn/Associated Press
After the first two heats of the bobsled were completed Saturday, the 30 crews went head-to-head over the course of three enthralling hours Sunday to determine who would be on the podium.

Heat No. 3 saw the teams go out in descending order, with the leading Russian team given an excellent opportunity to set a strong precedent for the day. Led by Zubkov, they did exactly that with a brilliant run of 55.02 seconds—the fastest run of the third heat.

They were closely followed by the teams from Latvia (55.15) and the United States (55.30), and those two teams were placed just 0.13 and 0.28 seconds off the lead, respectively.

The squad that would have been most disappointed with its performance in the penultimate session was the German team, who posted a time of 55.47 and relinquished its grip on third place. They fell back into fifth and were sandwiched between Russia 2 in fourth and the Great Britain team in sixth position.

At the end of heat No. 3, the slowest 10 teams dropped out. And it was wonderful to see the Canadian third squad cross the line after it crashed in its second run on Saturday. Australia also fell out of contention, but it was determined it would be back better and stronger next time around:
One final message from @aussiebobsleigh #Sochi2014 pic.twitter.com/wROyNnFzx0

— R.J. Rico (@RJRico62) February 23, 2014
Ahead of the final run, there was concern that with the final heat taking place later on in the day, the track could start to deteriorate as the day progressed. And while Russia obviously took advantage of going off first in the third heat, would it pay the price in the fourth when setting off last?

Team GB was certainly hoping the degrading ice would play into its hands as it started the last session in sixth place, still within touching distance of a bronze medal:
So @JohnJacksonGB & #TeamGB 1 sit 0.18secs off @USOlympic in #Bronze but they will have better Ice than those above for final run #bobsleigh

— Team GB (@TeamGB) February 23, 2014
Medals of every color were still up for grabs in the final session with the excitement set to unfold when we got into the top 10. And as Germany 2 rattled down in a swift time of 55.41, it was apparent that the ice was still in pretty good shape. Even more so when Canada 2 bettered that pace with a time of 55.38.

Team GB put together a superb run (55.26) to give itself a great chance of a medal, and it would have been hopeful of bronze after the German team failed to better its overall time:
4.79 start for @JohnJacksonGB & #TeamGB 1.Fast. 55.26, they go 0.41s in the lead for now. 5 teams to go, is it enough? #GoTeamGB #bobsleigh

— Team GB (@TeamGB) February 23, 2014
But Russia's second squad recovered from a poor start to go 0.08 seconds ahead of team GB with three squads left to run. Much to the hosts' second squad's dismay, however, Holcomb's United States team pipped them to guarantee themselves at least a bronze medal:
The Russians are furious after Holcomb beat RUS-2's time by 0.03 seconds. USA-1 has clinched at least a bronze medal pic.twitter.com/eGLoOAuSXo

— R.J. Rico (@RJRico62) February 23, 2014
Latvia was the penultimate team to run, and it heaped the pressure on Zubkov's Russia squad by going 0.30 seconds clear of the United States.

But Zubkov is a class act, and while it was tight, his Russian team finished 0.09 seconds ahead of the Latvians. At 39 years of age, he becomes the oldest man to ever win an Olympic bobsled gold medal.
Looking a little further down the line, this can only be a good thing for the sport. The German monopoly seems to be over—this was the first time the Germans haven't picked up a medal in the four-man since 1964—and that is to the credit of the developments and progressions made by other nations.
For the winners Russia, it remains to be seen how they'll look to develop with both Zubkov and Voevoda in the twilight of their careers. But with two squads in the top four here and two in the top four in the two-man format, they are clearly making purposeful strides, and the depth is there for them to exploit and flourish.
Expect the Russians to feature heavily once again at the next Winter Games in Pyeongchang, South Korea, in 2018.