It's an amazing thing when an Olympic silver medalist is predicted to lose in a grappling contest, yet that was the case when Sara McMann stepped into the cage opposite Ronda Rousey at UFC 170.
When the competition and expertise gathered in one place is that high, things just seem bound to explode.
Many expected McMann to put up a fight before falling to the Rousey armbar, as has been the case with all of the champion's previous competition. It's not that anyone really thought McMann wasn't elite; to doubt that she was a thoroughbred would have been foolish.
But to doubt the Judo and ferocity of Rousey seemed like it would go beyond folly and into insanity.
Before the fight got underway, fans and writers took to twitter to tell the story of Rousey-McMann in their own words, both the good and the bad.
For those fans that are making fake credential please don't put my name on them. Two people got popped. pic.twitter.com/aueQEPfgwq

— Jacob Stitch Duran (@StitchDuran) February 23, 2014
Big night for the sport of #WMMA Regardless of who wins, the sport has come a long way. #TeamRousey #TeamMcMann #UFC170 @ufc

— InvictaFights (@InvictaFights) February 23, 2014
It's time. The title is on the line and @RondaRousey's training will be put to the test. Lets do this. http://t.co/vAgnNp8Mue

— Rener Gracie (@RenerGracie) February 23, 2014
To say anticipation was high is an understatement. Just seeing two Olympians in an MMA cage was one thing, but two women, in the UFC? It was an historic moment, without question.
After the first round and the sudden stoppage, shock was the predominant expression of those who saw and were left wanting more. The pace was high from the get-go and McMann came out strong, some heavy punches and knees.
Dam, bad stoppage, such a tough line to toe being a ref but that was too quick

— Brian Stann (@BrianStann) February 23, 2014
Herb normally does a great job, but that stoppage was really bad. McMann was coming back up.

— Pat Miletich (@patmiletich) February 23, 2014
Ronda comes out and both throw some strikes. Mcmann drops from a knee to the body but herb steps in way too soon #ufc170

— Sarah Kaufman (@mmasarah) February 23, 2014
Then, almost as soon as it started, Rousey landed a hard knee to the body that hurt McMann, dropping her to the floor. Dean quickly moved in and stopped the fight just as it was starting, much to the dismay of the crowd, and McMann.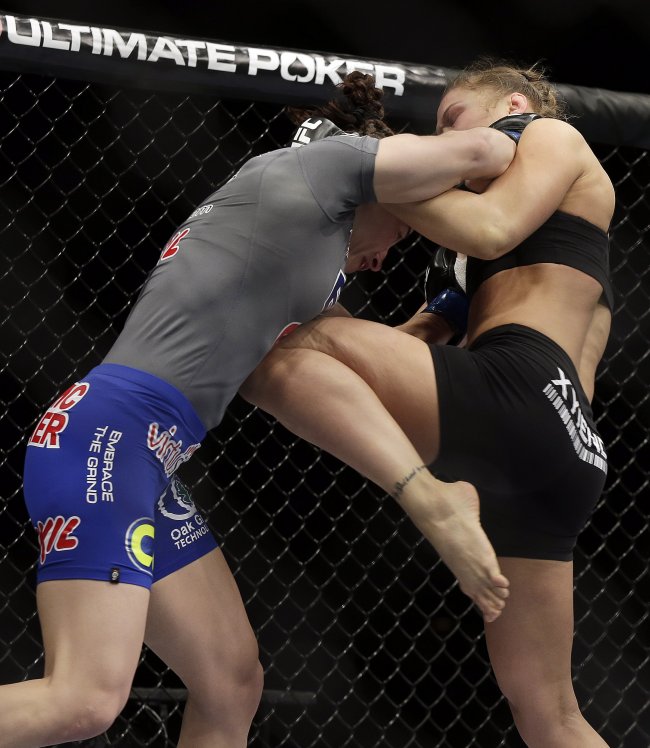 Isaac Brekken/Associated Press/Associated Press
Great job to the fighters! I called the last one all wrong! I thought she had her! @RondaRousey is a beast! I have to give her her credit!

— Rashad Evans (@SugaRashadEvans) February 23, 2014
Once again, Rousey notched a first round stoppage while McMann suffered her first loss. Given the nature of the ending, a rematch wouldn't be out of the question. It may not have been the fight we expected but, for now, Rousey remains at the top of the heap.