Wichita State Shockers Become First 29-0 Division I Men's Team Since 2004-05
Use your ← → (arrow) keys to browse more stories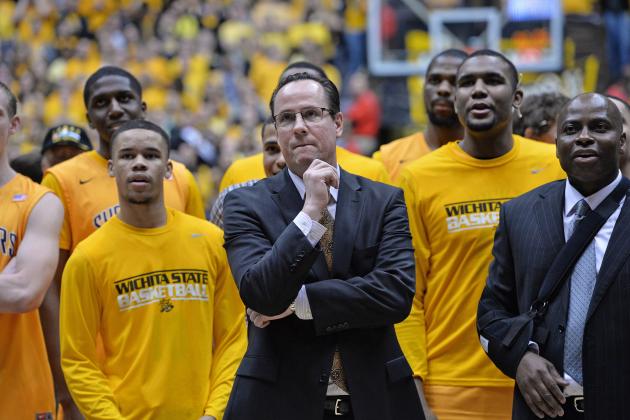 Peter Aiken/Getty Images

With Saturday's win over Drake University, the Wichita State Shockers men's basketball team improved to 29-0, a record that hasn't been achieved by any Division I men's team since Illinois accomplished the feat in 2004-05.
Following last season's surprise run to the Final Four as a No. 9 seed, the Shockers are hoping to repeat the feat as an undefeated No. 1 seed.
With just two games remaining, Wichita State has an excellent chance to become the first team since St. Joseph's in 2003-04 to complete an unblemished regular season. The Shockers simply need to make it past Tuesday's road game against Bradley (12-17, 7-9 MVC) and Saturday's home game against Missouri State (18-10, 8-8 MVC). Neither game looks all that tricky on paper, but Missouri State already took the Shockers to overtime earlier this season.
If Wichita State handles those two games as it should, the Shockers will have a chance to do something that the 2003-04 St. Joseph's squad could not: enter the NCAA tournament with an undefeated record. St. Joe's took its first loss of the season in the Atlantic 10 tournament that year, before ultimately losing in the Elite Eight. While the Shockers will obviously be favored in the Missouri Valley Conference tournament this year, triumph is hardly assured.
No team has entered the NCAA tournament with an unblemished record since the 1990-91 UNLV Runnin' Rebels—defending Division I champions—won their first 34 games, before bowing out with a Final-Four loss to Duke. However, the Shockers have their eyes set on a bigger prize: the 1975-76 Indiana Hoosiers, best known as the last team to finish an entire season undefeated, including the NCAA tournament.