After four trips to the Basque Country this season, Barcelona are without a single victory. The Catalans have struggled in Northern Spain and were absolutely outplayed in their latest 3-1 loss to Real Sociedad at Anoeta.
There will be a lot of finger pointing after the disappointing loss, but just who should be taking the brunt of the blame?
Surely, the defense was not up to par as Gerard Pique made his fair share of errors, while the rest of the back line failed to deal with threats. At the same time, the forwards struggled as well as Lionel Messi, Neymar and Co. only managed a single goal.
The Blaugrana midfield could also be to blame. Sergio Busquets did not quite look like his normal self, and Alex Song was a liability to say the least.
Yes, the entire team is to blame for the loss. Barcelona as a whole were outplayed by Real Sociedad. But there is one person who should be taking the blame above anyone else.
That man is of course Tata Martino, and the reason is his once-praised rotational policy.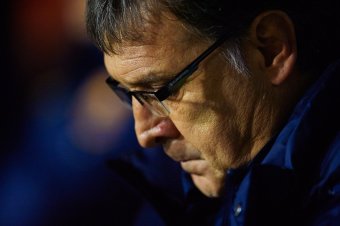 Manuel Queimadelos Alonso/Getty Images
At the beginning of the season, it looked as though Barcelona would see a new trend that was missing in previous years. Players like Messi and Andres Iniesta were actually receiving rest as new boss Martino looked to keep a steady rotation going to keep every player as fresh as possible.
In theory, the rotational policy seemed like a wonderful thing. The idea was to have players fit and in good form in the last weeks of the season, and it was definitely working early on.
However, this same policy looks to be what is costing Barcelona over recent weeks and may need to be looked at in a different light after Saturday's poor result.
So just how can rotating players be damaging to a team? Well, in all truth, rotations must be done the right way. A manager can't just put random lineups on the pitch and expect to get results.
Rotation should be done by planning ahead while also looking to put the best XI on the pitch whenever you can.
That is something Martino has gotten away with. After a successful 2-0 victory over Manchester City midweek, Martino put five new players in the lineup in Barcelona's biggest away game left in the season (not counting El Clasico of course).
Martino discovered his best XI, then used a line-up without 5 of them in the most difficult away game left on the league schedule.

— Andres Cordero (@DreCordero) February 22, 2014
Changing five players in a lineup makes sense when playing a weak opponent or in a game that you could afford a bad result. Neither of those things were the case on Saturday.
Barcelona were playing on the road at Anoeta against a very deadly Real Sociedad side right after Real Madrid had gone top of the table. This was the type of game that a team fields their strongest XI possible.
As stated earlier, rotation requires planning ahead. As important as it is to rotate players, the policy must never stand in a team's way of winning games.
But it isn't just the way that Martino has been rotating his lineup, it is the specific decisions that have fans puzzled.
For instance, Martino opted to play Pique and Marc Bartra as the center-back duo, which is something that should have been done more often. Yet, the two defenders have only started together three times in 2014, and their lack of chemistry showed at the back.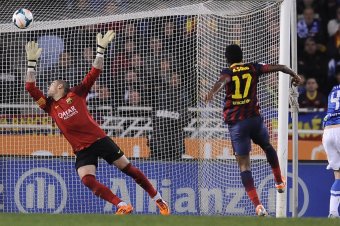 Alvaro Barrientos/Associated Press
If Martino believes that they form the best center-back pairing, then they should have been given more chances to grow together before now.
At the same time, Martino elected to star both of his second-choice fullbacks against Real Sociedad. This might not sound like that bad of a decision knowing their quality, but La Real possesses the most deadly winger duo in all of Spain, and it came back to hurt the Catalans.
The midfield selection may be the most questionable decision surrounding the entire game.
Barcelona started the game with both Busquets and Song in midfielder with Iniesta the lone attacker. This was the first time all season these three started together.
It was clear that Martino wanted to put defensive quality in the middle of the pitch. However, the emphasis was misplaced as La Real love to play on the wings and do not normally attack from the middle.
The decision to play with two holding midfielders was not the only curious move. Barcelona also began the game without a true playmaker who can orchestrate as both Xavi and Cesc Fabregas started on the bench.
Though Iniesta is one of the best midfielders in the world, he is an attacker, not a pure creator or the type of player who can build up possession in the middle of the pitch. There was no one on the pitch able to get the ball to the attackers as evidenced by Barcelona only managing one shot on target in the entire first half.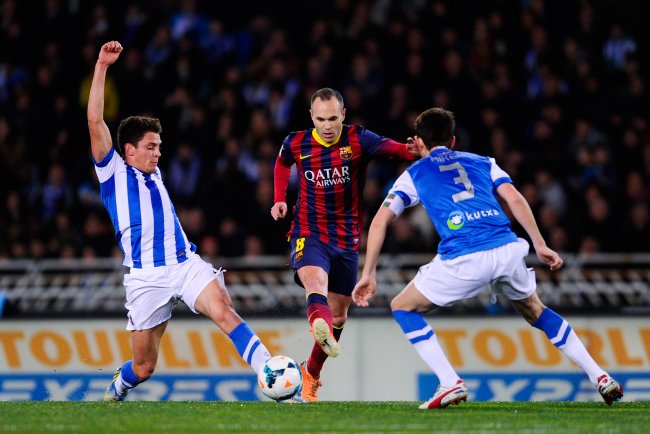 David Ramos/Getty Images
It is easy to understand why Martino left out both Fabregas and Xavi. The two playmakers have played a lot of minutes lately and needed a rest.
The issue is, why did Martino wait until now to give both players time to rest when Barcelona needed one of them on the pitch?
It seems as though Martino's love for rotating his lineup is starting to cost the Catalans valuable points. This was a must-win game for Barcelona, and they did not field their best lineup by any means.
That is a problem.
Are Tata Martino's rotations to blame for Barcelona's problems?
There was a lack of chemistry in important areas of the pitch and even a lack of intensity from a club that had to win. The players deserve part of the blame while Real Sociedad deserves all the praise in the world. But this result will ultimately fall on the shoulders of Martino.
Barcelona can't afford to play the same players every match, but they also can't afford to play without consistency and familiarity. Martino has to rethink his strategy; it's back to the drawing board.
The La Liga race just got a lot more difficult for Barcelona, and Martino has no one to blame but himself.
*All statistics are courtesy of WhoScored.com.