Saturday was huge for the home team, as Russia's big day propelled the country to the top of the medal standings, effectively surpassing the United States. After some disappointing finishes on Day 15, the Americans saw the overall medal lead slip from their grasp.
The race atop the overall medal standings is still a close one despite the movement on Saturday. There are still five teams within five total medals of each other. However, it may be a little to late for some contenders, as only three events will award medals on Sunday—the final day of the 2014 Olympics.
The Winter Games in Sochi continue to become increasingly dramatic by the day. Saturday showcased some intense action in multiple events, and Sunday figures to do the same.
After the dust settled on Day 15, here's how the overall medal standings look:
Let's take a closer look at some of the day's most exciting action.
Men's Ice Hockey Bronze-Medal Game: United States vs. Finland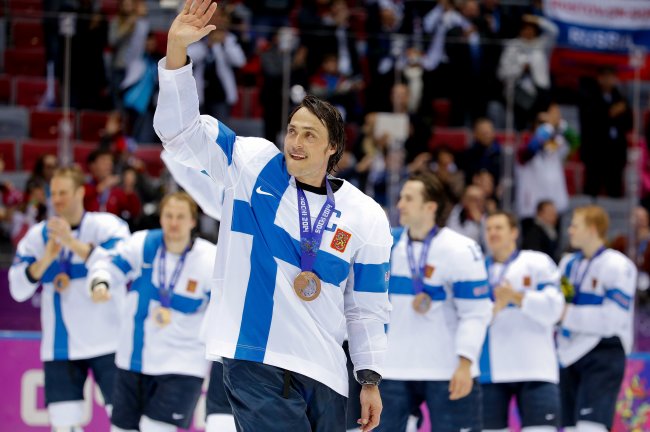 Julio Cortez/Associated Press
USA vs. Finland: Bronze-Medal Game Comparisons

| | | | | |
| --- | --- | --- | --- | --- |
| Team | Shots | Goals | Saves | Save % |
| United States | 27 | 0 | 24 | .827 |
| Finland | 29 | 5 | 27 | 1.000 |
Sochi2014.com
This was perhaps the most disappointing conclusion to any event in which the United States participated. After a hot start to the tournament in the preliminary round, Team USA fell apart during the playoffs.
Through the first three games of the tournament, the United States looked to be one of the tournament's powerhouses. The team flourished in all phases, scoring 15 goals while allowing just four.
However, in its past two games, Team USA failed to score a single goal and allowed six—including Saturday's 5-0 clobbering at the hands of Finland.
Linda Cohn of ESPN tweeted a brutal stat regarding the last time the United States men's Olympic hockey team was shut out in back-to-back games:
USA hockey was last shutout in back to back OLY games in 1936, Yet at #sochi2014 they were highest scoring team heading into semis vs Can.

— Linda Cohn (@lindacohn) February 22, 2014
Head coach Dan Bylsma was obviously upset after his team's struggles, but he still spoke highly of his time in Sochi, according to a tweet from USA Hockey:
Bylsma: It was an honor and privilege to represent our country and coach this team … It was the biggest honor of my career #DawnsEarlyLight

— USA Hockey (@usahockey) February 22, 2014
This was the United States' best chance for a medal on Day 15. Unfortunately, the men's ice hockey team—and the country as a whole—went empty-handed.
Snowboarding: Men's Parallel Slalom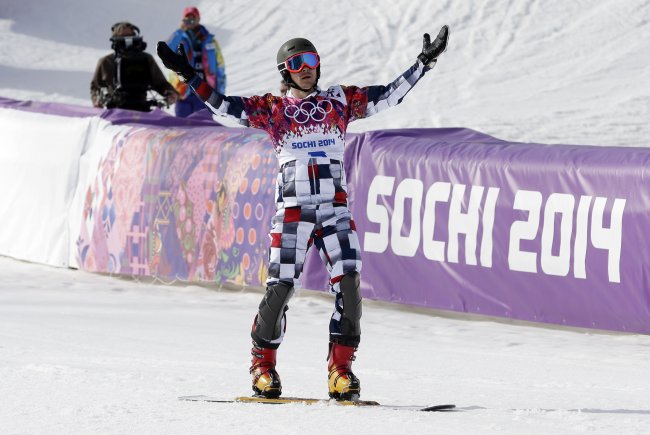 Andy Wong/Associated Press
Snowboarding: Men's Parallel Slalom Podium

| | | | |
| --- | --- | --- | --- |
| Medal | Athlete | Country | Total Differential |
| Gold | Vic Wild | Russia | -- |
| Silver | Zan Kosir | Slovenia | +0.23 |
| Bronze | Benjamin Karl | Austria | -- |
| Fourth Place | Aaron March | Italy | +16.51 |
Sochi2014.com
Russia's big day reached its peak during the men's parallel slalom. Vic Wild was at it again, earning the gold medal in the event, marking his second of the 2014 Olympics—he also earned the gold in the men's parallel giant slalom.
WATCH LIVE: USA-born Russian snowboarder Vic Wild aims for history and his 2nd gold in Sochi. http://t.co/HVUzc9Oy20 pic.twitter.com/PiZ16woqYv

— NBC Sports (@NBCSports) February 22, 2014
Wild was given a close chase from Norway's Zan Kosir. After the first run of the finals, Wild was only ahead by 0.12 seconds and it was still anyone's game. However, Wild managed to edge out Kosir once again in the second run of the finals by a total of 0.11 seconds.
Austria's Benjamin Karl made easy work of Italy's Aaron March in the bronze-medal heat. Karl showboated across the line in the second run after leading by 16.25 seconds due to March losing his line mid-run.
The interesting story here is that Wild is competing for Russia, yet he was born in America. He switched allegiances after marrying Russian snowboarder Alena Zavarzina. With Russia leading the United States by two medals in the Winter Games, Wild's two golds become immensely important.
Jeremy Schaap of ESPN summed it up on Twitter:
Thanks to Vic Wild, Americans have won 11 gold medals in Sochi, but the US has won only 9.

— Jeremy Schaap (@JeremySchaap) February 22, 2014
It will certainly be interesting to see how this all plays out once the 2014 Olympics come to a close.
Speedskating: Men's and Ladies' Team Pursuit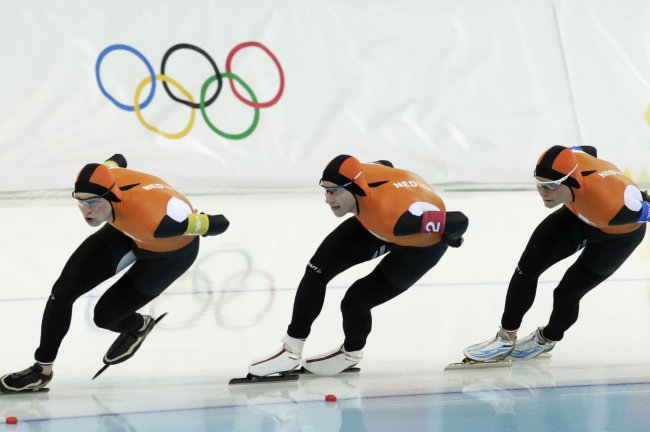 Matt Dunham/Associated Press
Men's Speedskating Team Pursuit Podium

| | | |
| --- | --- | --- |
| Medal | Country | Finals Time |
| Gold | Netherlands | 3:37.71 |
| Silver | South Korea | 3:40.85 |
| Bronze | Poland | 3:41.94 |
Sochi2014.com
Ladies' Speedskating Team Pursuit Podium

| | | |
| --- | --- | --- |
| Medal | Country | Finals Time |
| Gold | Netherlands | 2:58.05 |
| Silver | Poland | 3:05.55 |
| Bronze | Russia | 2:59.73 |
Sochi2014.com
The Netherlands has done it again. Saturday featured the final two speedskating events—the men's team pursuit and the ladies' team pursuit. To very little surprise, the Dutch won the gold medal in both events.
The men's team, led by Olympic record-holder Sven Kramer, dusted the field with yet another Olympic record of 3:37.71. Their closest competitor was South Korea, who finished over three seconds behind the gold-medal winners.
Hey, look at that, yet another gold for the Dutch in speed skating. We should just cut and paste these tweets. http://t.co/CWlBHm4LIG

— theScore (@theScore) February 22, 2014
Poland's team rounded out the podium, earning the bronze medal with a time of 3:41.94.
The American team led by Brian Hansen reached the finals but simply could not hold up against such a talented field and finished seventh with a time of 3:46.50.
On the ladies' side, the Dutch were equally as dominant.
Ireen Wust, winner of five medals in Sochi, led the ladies' Dutch team to an Olympic record of its own, posting a blazing time of 2:58.05. Not only did the Netherlands finish as just one of two teams with a finals time of under three minutes, but it beat the silver-medal winning Polish team by a full 7.5 seconds.
Rounding out the podium in the ladies' event was Russia. Led by Olga Graf, the team recorded a time of 2:59.73 in the race for the bronze medal.
Paul Carr of ESPN summed up the Netherlands' powerful skating with one simple tweet:
Netherlands won 23 of the 36 speed skating medals. No other country won more than 3. #Sochi2014

— Paul Carr (@PCarrESPN) February 22, 2014
Absolutely astonishing.
Even though it looks like the Dutch won't come away with the overall medal lead, their prowess on the speedskating track simply cannot be denied.