The U.S. Olympic hockey team has had a rough two days in Sochi, losing a pair of games to finish without a medal, but there are some lessons to be learned from their latest disappointment.
Finland pretty thoroughly dominated the Americans in their 5-0 victory to claim the bronze medal, but that doesn't mean that the game was worthless.
It's got to be disheartening for Team USA to leave these games empty-handed given how well they played at the start of the tournament, but going scoreless over the last six periods they played will produce those kinds of results.
But instead of being too disappointed, the Americans should look at this as a learning experience for 2018.
Quick a Constant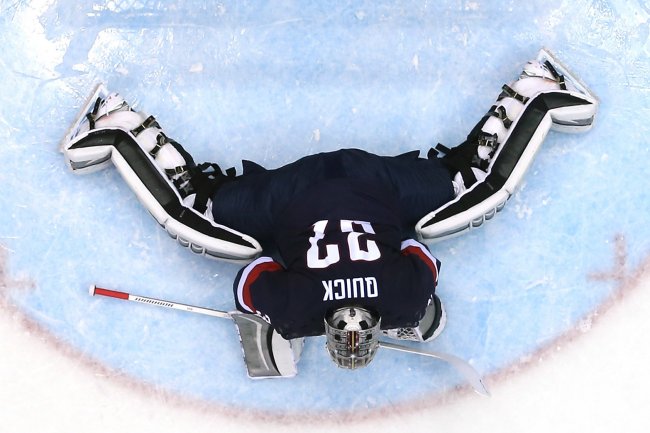 Martin Rose/Getty Images
If there's anything that the U.S. can learn from Sweden, it's that the Americans shouldn't be afraid to ride one dominant goalie.
Henrik Lundqvist helped the Swedish win gold eight years ago, and he's got them in the gold-medal game once again.
Jonathan Quick isn't necessarily on "King Henrik's" level just yet, but he's getting there.
He's been dominant during his time in the NHL, basically singlehandedly carrying the Los Angeles Kings to the Stanley Cup in 2012, and he was just as good in these Olympics.
His huge 36-save performance against Canada in the semifinals—with the game's only goal coming on a truly fluky shot—should prove that he's a big-time performer in net.
While the final score against Finland might look bad, the five goals he allowed in this game shouldn't reflect poorly on him—his defense is more to blame for some mental lapses and the unrelenting power plays had to wear him down.
Instead, the brain trust for the U.S. hockey program should recognize what they have in Quick and make sure he doesn't go anywhere.
However, that might be easier said than done given what he told Pro Hockey Talk's Jason Brough after the game.
Jonathan Quick, not happy: "We're professionals. We play back-to-backs all year long. There's no reason we show up and not piss a drop."

— Jason Brough (@JasonPHT) February 22, 2014
Quick will be 32 by the time the team heads for Pyeonchang, South Korea in 2018, meaning that barring any major drop off or the rise of some young phenomenon, he'll be able to be the starter once more.
If he is, the Americans will be in good shape.
Offensive Aggression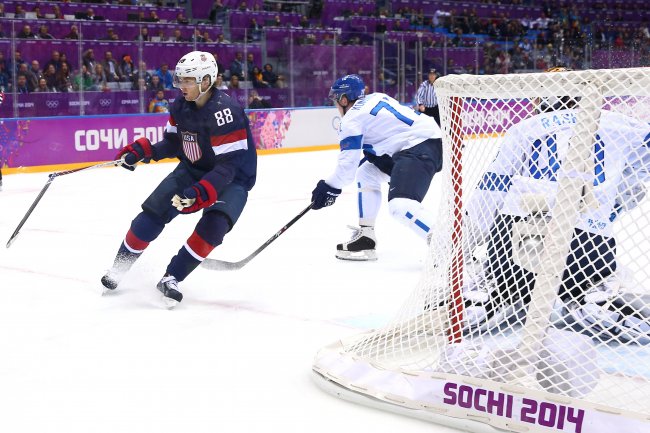 Streeter Lecka/Getty Images
After being one of the best offensive teams during the start of the tournament, the U.S. really dropped off in their last two games.
Canada and Finland certainly presented a pair of imposing defenses anchored by excellent goaltending, but getting shut out entirely is still puzzling.
The exact reasons for the team's offensive ineptitude still don't seem totally clear, but Zach Parise shared his thoughts on it with Rogers Sportsnet's Chris Johnston.
More strong words from U.S. captain Zach Parise, who said his team was "too passive" offensively. "To leave on this note was pretty ugly."

— Chris Johnston (@reporterchris) February 22, 2014
The team did certainly lack aggression at points in the Finland game, letting the Finns dominate the puck for minutes at a time.
The Americans played better in the Canada game, but still just couldn't finish.
Patrick Kane was particularly guilty of being unable to finish, even if his inability to score belies how well he actually played, as The Pittsburgh Tribune-Review's Dejan Kovacevic observed.
Kane another penalty shot … ping! Crossbar. He actually hasn't played badly. Just not finishing at all.

— Dejan Kovacevic (@Dejan_Kovacevic) February 22, 2014
Kane will have to improve his play on the international stage going forward if the team wants to be competitive, but he wasn't the only culprit. Instead, it might've been the players that weren't on the ice that made the biggest difference.
It certainly hurt the team that Paul Martin had to miss these games, considering what he brings to the power play. It's no mistake that the team failed to capitalize on any of the four power plays they went on in his absence.
But the team might also want to reexamine their lack of goal-scoring ability.
While the value of defensive-minded forwards is immeasurable at the international level, the team also seemed to lack a dominant offensive force when Kane couldn't put anything together.
The team narrowly decided to leave sniper Bobby Ryan at home, and while he certainly has his flaws, he can score in spades.
Maybe by the time 2018 rolls around, the brain trust will be more willing to trust the scorer's skills.
Overall, Americans just can't feel too down about the Finland loss.
It was disappointing that the team didn't medal, but they still acquitted themselves well against excellent competition.
Now, if the team is able to hang onto Quick and get more aggressive offensively, they might be able to avoid more disappointment four years from now.
Similarly, some new young stars might be ready for the big stage—Nashville's Seth Jones readily springs to mind—to give what is quickly becoming an old team an infusion of youth.
But for now, Team USA will have to ponder what went wrong in Sochi after the highs of Vancouver.