The No. 16 Wisconsin Badgers (22-5, 9-5 Big Ten) defeated the No. 15 Iowa Hawkeyes (19-7, 8-5 Big Ten), 79-74, in a closely contested battle at Carver-Hawkeye Arena in Iowa City on Saturday afternoon.
BADGERS! #16 Wisconsin defeats #15 Iowa 79-74 behind Frank Kaminsky's 21 points. #onwisconsin

— FOX Sports Live (@FOXSportsLive) February 22, 2014
It was a back-and-forth contest that came down to the final moments, with the visiting team pulling away for good after Iowa's Zach McCabe air-balled a potential tying three-pointer with less than 20 seconds remaining. Free throws from Frank Kaminsky sealed the win for the Badgers.
Wisconsin was simply the better team in this one, getting stops when they counted and getting some help from the three-ball. The team hit eight of its 24 attempts from deep, while the Hawkeyes were a mere 4-of-14 from deep.
Iowa had fresh legs coming into this contest, having played just one game—against Penn State last Saturday—in the past 13 days.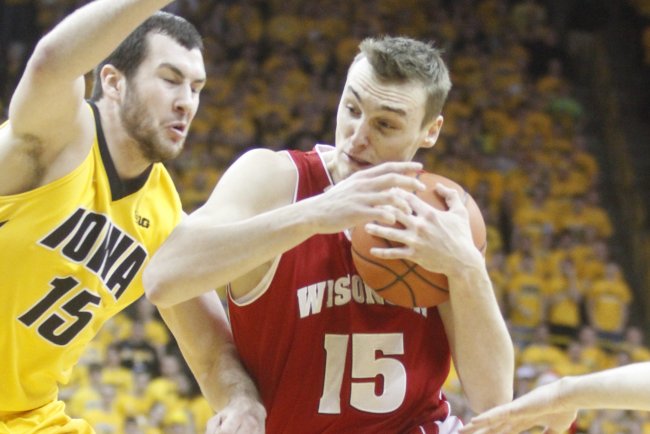 Matthew Holst/Getty Images
However, that rest might have worked against the Hawkeyes. They came out sluggish in the first half and fell behind 40-31 by the time the teams retreated to the locker room. They had connected on 14 of 33 shots from the field but hit just two of eight three-point attempts and went to the line for a mere two free-throw attempts.
Wisconsin was more dialed in over the first 20 minutes, hitting on a whopping 16 of 28 shots from the field and burying five of 11 attempts from beyond the arc. The Badgers also had the edge in rebounding (17 compared to 15) and assists (nine to eight).
The advantage the Badgers built at half would end up being the difference in the game, although Iowa did outscore the visiting team, 43-39, in the second.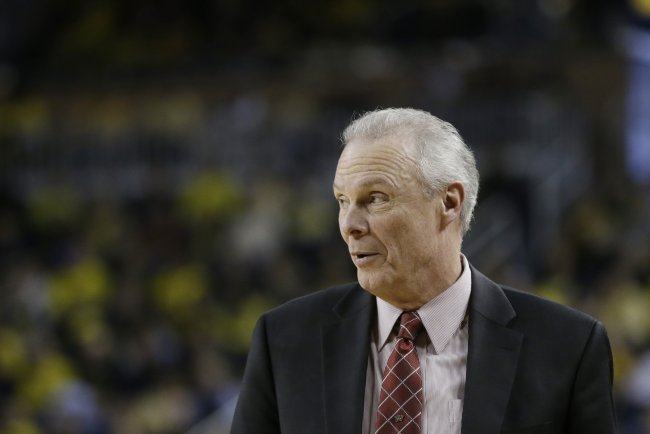 Carlos Osorio/Associated Press
This was the 159th meeting between these two historic programs, who had split the series 79-79 before Saturday's matchup. Due to their hard-fought win, the Badgers are now a hair ahead in this 105-year-old rivalry.
Iowa junior forward Aaron White described the intensity ahead of the game to Scott Dochterman of The Gazette:
You're playing an intense game between two teams that are really going to get down and compete and it's just a lot of fun. That's what it comes down to. The game of basketball is having fun, playing hard, competing and you know that's what it will be.
Wisconsin completed the sweep of Iowa during the regular season. It had won the first matchup of the 2013-14 campaign between these two Big Ten foes, a 75-71 thriller back on Jan. 5 that saw Hawkeyes head coach Fran McCaffery get ejected in the second half and also suspended for a game due to an outburst against the officials.
Let's take a look at some game grades and check out what's next for each program.
Game Grades
Frank Kaminsky, C, Wisconsin: A+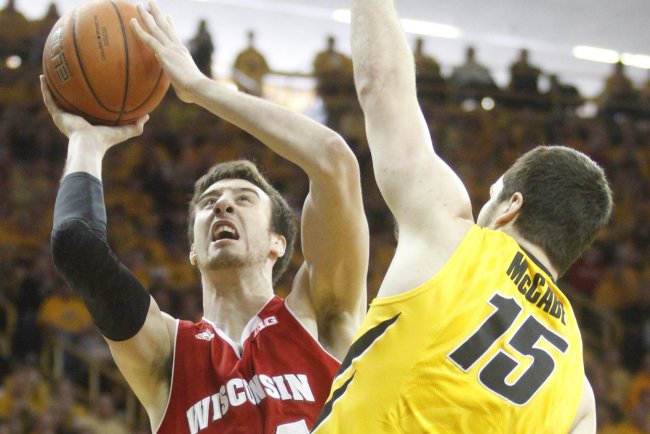 Matthew Holst/Getty Images
Kaminsky was the hero of the game for Wisconsin, scoring 21 points on 8-of-13 shooting, pulling down seven rebounds, dishing two assists, blocking a shot and swiping a steal while he was on the court.
He iced the game with free throws and avoided fouling out, although he came close with four in the contest. It was one of the seven-footer's best performances of the current season and proves that he is a force to be reckoned with.
More people will be familiar with Kaminsky if he can keep up this level of play in the Big Ten and NCAA tournaments.
Roy Devyn Marble, G, Iowa: B+
Charlie Neibergall/Associated Press
Marble did all he could to keep the Hawkeyes in the game, but ultimately his squad fell just short.
The senior guard poured in 21 points on 8-of-19 shooting, while adding 11 assists and four rebounds.
Iowa Basketball noted that Marble hit a few high notes during this contest, surpassing his career high in assists and moving up into the No. 9 spot on the school's all-time scoring list:
Marble has tied his career high in assists (8). #Hawkeyes

— Iowa Basketball (@IowaHoops) February 22, 2014
Marble has moved up to No. 9 on Iowa's career scoring list. He moves past Dean Oliver. #Hawkeyes

— Iowa Basketball (@IowaHoops) February 22, 2014
Iowa likely would have been able to win this one had the 6'6" star received a little more help from his supporting cast.
Sam Dekker, F, Wisconsin: A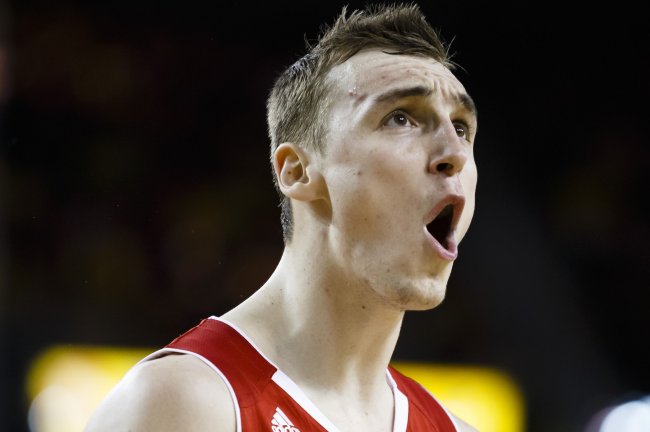 Rick Osentoski-USA TODAY Sports
Dekker was the second-leading scorer for Wisconsin during the win, putting up 15 points on 6-of-13 shooting. He also contributed 11 boards, two assists and a steal during the action, a great all-around performance from one of the team's best players.
He caught fire late in the game and helped the Badgers stave off a strong surge from the Hawkeyes down the stretch.
Dekker also threw down a monster jam off a Nigel Hayes pass, which you can see here courtesy of the Big Ten Network:
INSTANT HIGHLIGHT: What was better here, @BadgerMBB fans: Nigel Hayes' pass? Or, Sam Dekker's finish? WATCH - http://t.co/pHemmJ8HUM

— Big Ten Network (@BTN_Wisconsin) February 22, 2014
What's Next
Wisconsin is still in the running for the Big Ten regular-season title with this win, while Iowa is all but eliminated from contention. The Badgers are still behind Michigan State (11-3) and Michigan (10-3) in conference play but have an opportunity pull closer over their last four games.
The Badgers return home with a chance to extend their current winning streak to six games when they play the Indiana Hoosiers this coming Tuesday.
Which team will fare better in the Big Ten tournament?
Iowa must recover quickly, as it strikes back out on the road after returning home for Saturday's matchup with the Badgers. The Hawkeyes travel to Minneapolis to face the Minnesota Golden Gophers on Tuesday.
It's a winnable matchup for this program and represents a chance to get back on track after Wisconsin derailed its two-game win streak.
With the Big Ten tournament just around the corner, both of these schools are looking to bolster their respective resumes as the regular season comes to a conclusion.
It would be a major shock if the selection committee passed over either squad when it comes time to pick the 68-team field for the NCAA tournament, but each has a chance to improve its seeding over the next few weeks.