Have we expected too much of the Cleveland Cavaliers this season?
Many fans and followers of the NBA thought the Cavs would cruise to a playoff spot this year. After all, the last three have been spent making lottery picks and gathering trade assets. Now was the time to win, right?
The question many failed to even consider was, would adding one more lottery pick really be so bad? After all, the 2014 draft appears to be leaps and bounds above the 2013 version.
A recent win streak has inspired postseason hope, yet Cleveland still sits four games out of the Eastern Conference playoff picture. Even if it grabs one of the last spots, a first-round matchup with the Miami Heat or Indiana Pacers would await.
Obviously, the Cavs aren't going to play for the lottery, but could it actually be better than an early playoff exit?
Argument for the Lottery
Cleveland began the season as the third-youngest team in the entire NBA. Half of the roster is 23 years old or younger.
It could be unrealistic to expect a team this inexperienced to make a serious playoff run. After all, its best player could still be a senior in college.
One more season of letting these players grow and develop would have the team better prepared for the pressure that a playoff series can bring.
Looking ahead to the lottery itself, it's no wonder why zero first-rounders were swapped at the trade deadline.
Players like Jabari Parker, Andrew Wiggins and Joel Embiid could completely turn a franchise around.
The Cavaliers currently hold the ninth-best chance for winning the lottery at 1.7 percent (via ESPN.com). This seems like a long shot, but remember that the 2011 draft was won by the Cavs using the Los Angeles Clippers' pick that only held the eighth-best chance. That pick had just a 2.8 percent chance of winning, yet still landed the Cavaliers Duke point guard Kyrie Irving (via NBA.com).
With this draft, one doesn't necessarily have to get the top spot. Any of the first three picks would be considered a victory.
Even teams picking outside the first few spots can add some major talent to their squads.
Players like Julius Randle, Marcus Smart, Aaron Gordon and Gary Harris could have been top-three prospects in last year's draft, yet some might fall out of the top 10 in this one.
Ronald Martinez/Getty Images
The Cavs, at some point, have to secure a second true star next to Irving. Dion Waiters could be this guy. Even Anthony Bennett, given enough time and conditioning, could be a star. Cleveland could roll the dice and hope that they develop, or reach into the deep 2014 draft and possibly find more of a sure thing.
Cavs owner Dan Gilbert was adamant about not coming back to the lottery, but it could actually be better for his team in the long run.
Argument for the Playoffs
Right now, the Cavs face a bit of an uphill climb.
Even a six-game win streak still has them four games behind the Atlanta Hawks and Charlotte Bobcats for the eighth seed in the East.
Still, the postseason is very much attainable. The Cavs have 26 games left to play and are 6-1 since firing former general manager Chris Grant.
This firing, and the meetings that followed, brought about a complete change in the team.
Jason Lloyd of the Akron Beacon Journal gives us some more insight:
The Cavs actually held a couple of meetings after Grant was fired, including one in which acting GM David Griffin addressed the team and another in which owner Dan Gilbert spoke to the players. But Irving said it was a meeting in which players aired their grievances that helped clean what was becoming a toxic locker room.
The talent on the team has always been there. The coaching, attitude and veteran leadership has not.
It seemed as though guys were playing for themselves, not trusting teammates and settling for bad shots. It was Mike Brown's responsibility to get the players to buy in and run a healthy locker room. Up until the firing of Grant, he was failing. Lloyd goes on to say in his report:
Irving said he is back to enjoying the game again, back to trusting teammates and believing in each other. All of it was initially lost amid the pressure to win this season. "Some of us put too much pressure on ourselves, including me. I put the burden all on my shoulders," Irving said. "I feel like once my teammates saw me let everything go and be free, everyone can do that."
The difference before and after these meetings has been tremendous, as the numbers show:
| | | | | | | | |
| --- | --- | --- | --- | --- | --- | --- | --- |
| | PTS/GM | Opp/PTS | FG% | Opp FG% | +/- | AST | REB |
| First 49 Games | 96.2 | 102.5 | 42.3 | 46.0 | -6.3 | 19.9 | 43.9 |
| Last 7 Games | 102 | 94.3 | 43.7 | 41.7 | +7.7 | 23.1 | 48.9 |
Cleveland's newfound commitment to playing defense and moving the ball on offense has helped make a huge difference in the team's play.
The Cavs' work on the glass leads all NBA teams in the past seven games, and their opponent field-goal percentage ranks second only to the Indiana Pacers. The Cavaliers have proved that this is a group capable of winning, and that they just needed something to rally around.
Cleveland gave up five total draft picks to bring Luol Deng and Spencer Hawes to town, even though both can walk in free agency this summer. This was clearly an "all-in" move that will only be considered a success if the Cavaliers make the playoffs.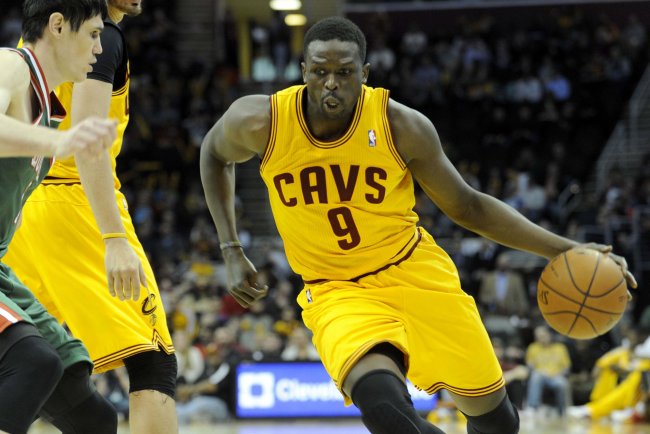 Ken Blaze-USA TODAY Sports
At some point, the organization has to win to keep Irving and other young players around. Cleveland can sign Irving to a five-year extension this summer. Making the playoffs would help make his decision to sign an easier one.
So, Lottery or Playoffs?
Despite the allure of drafting a guy like Parker or Wiggins, landing in another lottery would be terrible for the franchise.
The Cavs need to get a taste of the postseason. They need to be in the locker room popping champagne and experiencing that success as a team.
Getting a high draft pick is great, but it's a crapshoot as to where they'd actually be picking and who would even be available. Between now and June, many of the big names could actually pull out of the draft and return to college.
Will Cavs finish in playoffs or lottery?
If the Cavaliers do miss the playoffs, they'll likely end up in the 9-12 spots. Making the postseason would mean picking just slightly later, in the 15-17 range. That's not that big of a difference, considering all the positives playing some spring basketball would bring. If the Cavs are that concerned about a top-10 pick, they could always package their second-rounder or a player in an attempt to move up.
Making the playoffs would give them a great building point for next season. Irving would be more likely to sign his extension, and Cleveland would become a more attractive free-agent destination.
The Cavaliers have shown they possess the talent to defend, move the ball and score in bunches. Making the move for Hawes adds a big with postseason experience who should only help season the young roster.
The goal, as it was coming into the season, should be playoffs no matter what.
All stats via NBA.com/stats, unless otherwise noted.