JC's Dodger Snapshots | June 6: Maury Wills Steals Again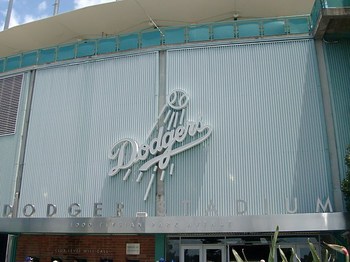 It is now my habit to take a camera along when going to visit the most beautiful piece of real estate in all of California—Dodger Stadium. I have been able to take some fairly nice shots over the years, and am happy to share some of the photos I take this year with my fellow Bleacher Report members, particularly for Dodger fans who have not had the chance to visit the home of the Dodgers in person.
Saturday, June 6 was a very nice day for Dodger fans at the Stadium. They saw some very nice pitching from returning ace Hiroki Kuroda...
Copyright © 2009, JC Ayvazi. All rights reserved.
Closeup of Dodger Logo over entrance to Dodger offices on the Club Level
They saw the home team rally to tie the game in the ninth on a pinch hit homer from Rafael Furcal, and win in the 12th on the second homer of the game by Andre Ethier. They saw some excellent fielding plays...
Shot of Dodger Diamond Vision board showing the 1959 Pennant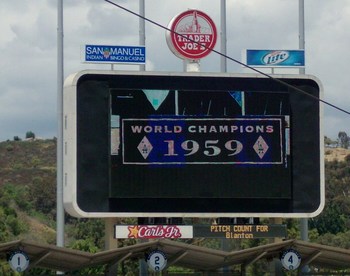 But they were also treated to a bit of nostalgia in the form of a former Dodger star, the 1962 MVP...
Tip of the cap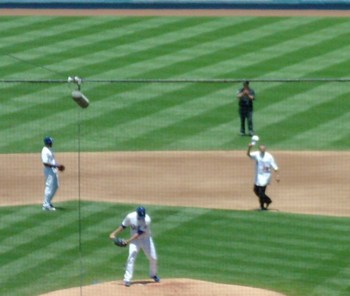 A man who's exclusion from baseball's Hall of Fame is a travesty - Maury Wills.
Thievery in Process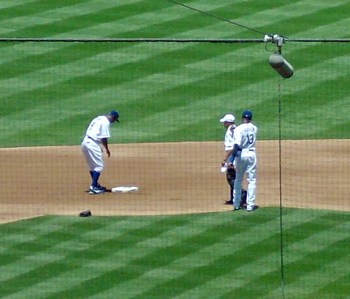 June 6 was the 50th anniversary of Wills' Major League debut, at County Stadium in Milwaukee against the Braves.
Juan Pierre hands 2nd base to Wills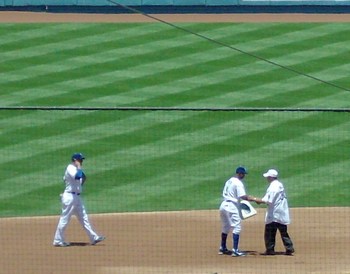 Wills would steal 586 bases in his 14 year career.
Hug from Matt Kemp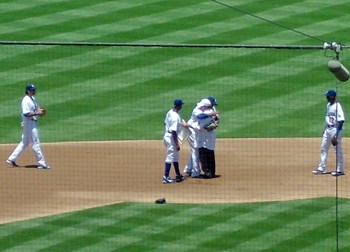 Wills is a four time World Champion.
Dodgers fielders offer support and congratulations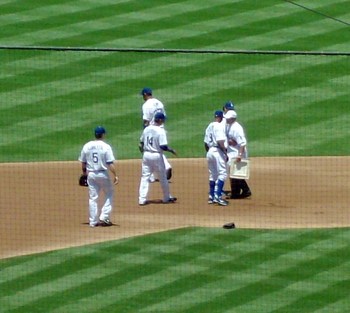 Wills is a four time All-Star
Making his break
To celebrate his career, Wills wanted to steal one more base, doing so before the start of the third inning.
On his way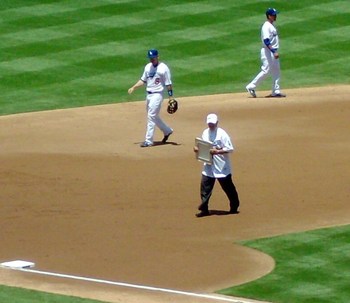 Wills was also a two-time Gold Glove award winner.
Another wave to the fans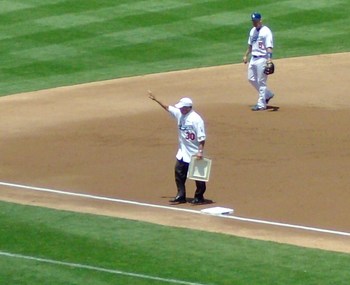 Wills played for the Dodgers, Pirates, and Expos over his career.
Then made his way to the Dodger dugout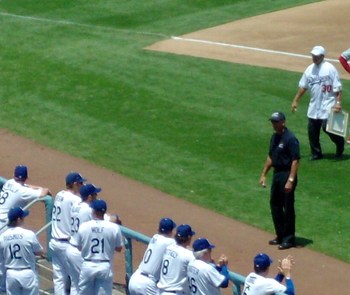 During these festivities, in the first base coaching box stood former Dodger and noted base stealer Davey Lopes.
The fans were standing and cheering for the Mouse that roared.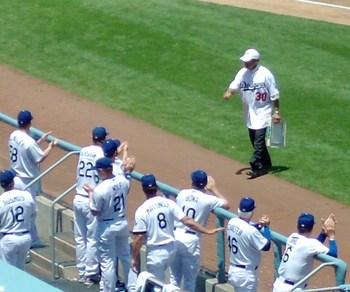 Wills was 26 when he made his debut in the Majors, wondering if he would ever get a chance in the show. An injury to Don Zimmer created the opening Wills was waiting for.
Glad hand from players and coaches
The full name of this Washington D.C. native is Maurice Morning Wills. He should be enshrined in Cooperstown.
Dodger Diamond Vision shows Maury at work.
Wills set a Major League record with 104 stolen bases in 1962.
Wills giving bunting lessons during Spring Training at Camelback Ranch in Arizona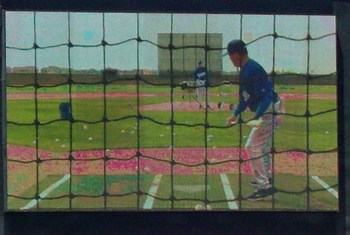 Now we must wait for the veterans committee to provide justice for this fantastic player who brought speed back to the game.
Now for some other shots from the game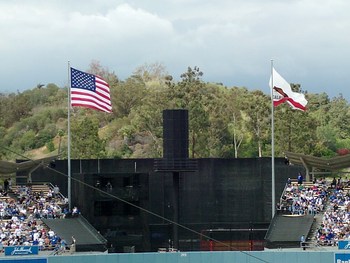 It was a breezy day in Chavez Ravine
Thunderheads beyond centerfield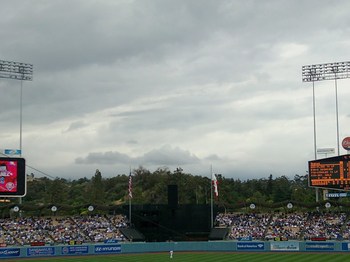 Shot of Dodger center fielder Matt Kemp with some thunderheads in the background
Sun was playing hide and seek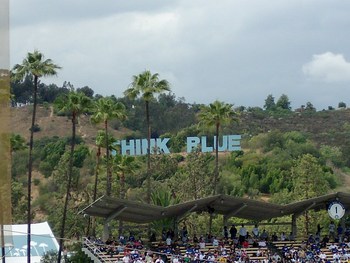 A shot of the Think Blue sign during a sunny moment during the game. The left field foul pole screen is at the far edge of this shot.
Kuroda dealing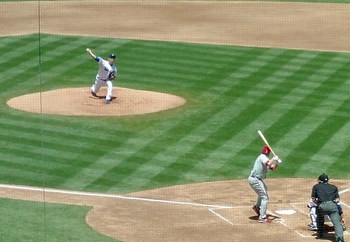 In his second start after returning from the disabled list, Hiroki Kuroda was sharp, going 6 innings in this outing. He surrendered two hits and three walks, striking out five Phillies throwing 94 pitches of which 56 were strikes
Here's the pitch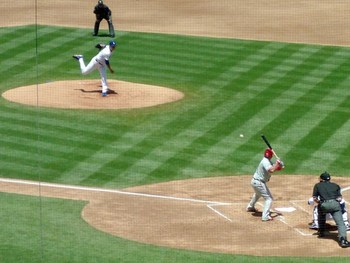 Kuroda collected eight ground ball outs and five more recorded on fly balls. He lowered his ERA to 1.62
Flashing some leather that could turn golden
James Loney made a great back-handed stab to snag a shot down the line by Phillie lead-off hitter Shane Victorino, slapping a tag on the bag just before Victorino's arrival at first.
Joe Blanton delivers a high hard one
Liked the leg kick in the follow through.
For those about to Rock, we salute you!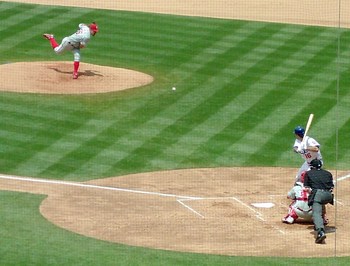 But I liked even better what Ethier was about to do to this pitch, depositing it into the right field pavilion.
Finishing the tour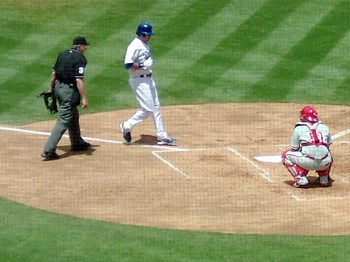 Ethier just about to touch home after touching Blanton.
Kuroda coaxes a ground out from Ryan Howard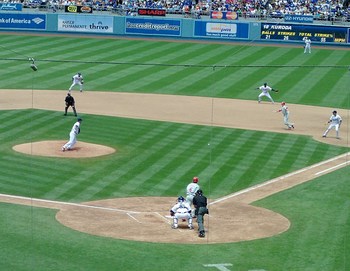 The shift has Orlando Hudson in the right place to field this grounder. Note shortstop Rafael Furcal playing up the middle and to the right of second.
Nipped at first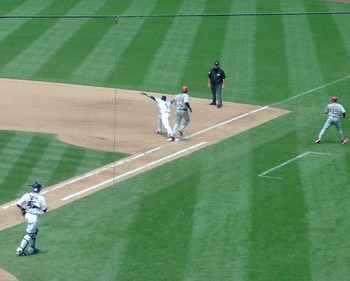 Some more slick glove work brought home a wide throw.
For those scoreboard lovers out there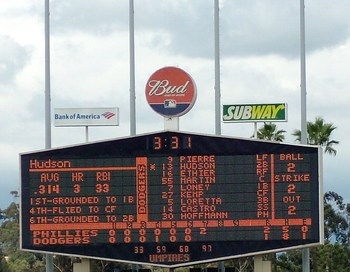 A shot of the right field scoreboard during the seventh inning.
Furcal enters game in the ninth inning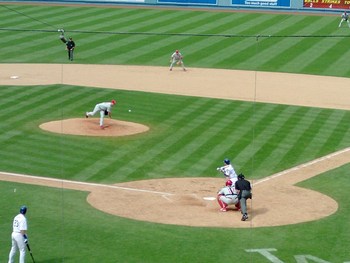 Furcal faces Phillie closer Brad Lidge, against whom he was 0-for-9 in his career until...
Bingo!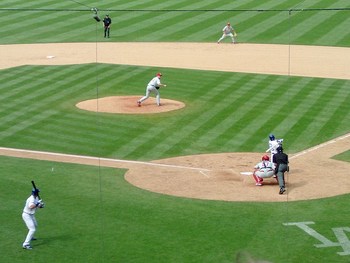 He gets a tasty slice of prime rib and gets the biggest part of the ball with his swing.
Werth back to the wall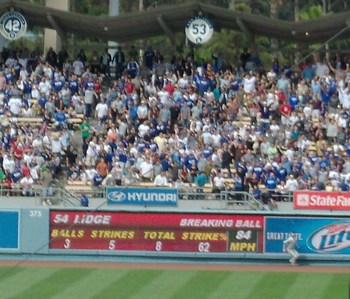 You can see the ball in the against the pavilion roof.
Dodger Diamond Vision offers a replay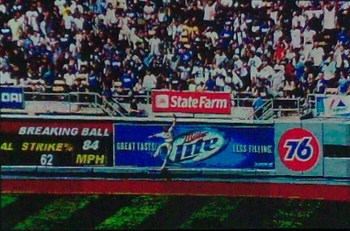 The dejected Worth lays on the ground, creating suspense and doubt among all if he actually did catch the ball.
Jonathan Broxton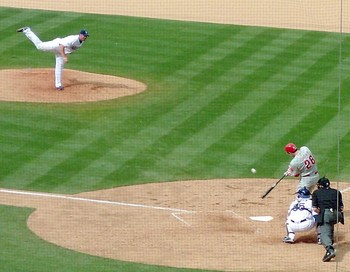 The Dodger closer strikes out Philly second baseman Chase Utley in the 10th inning.
Corey Wade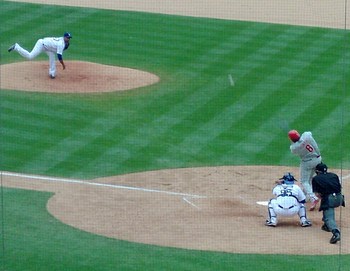 Ryan Howard smokes a deep drive to center which is caught by Matt Kemp a step away from the wall.
Copyright © 2009, JC Ayvazi. All rights reserved.
Keep Reading

Los Angeles Dodgers: Like this team?