STAMFORD BRIDGE, LONDON—Here's the irony. After a below-par performance from Chelsea against Everton on Saturday, Jose Mourinho's team appeared anything but title contenders, yet their position at the top of the Premier League is now looking all the more stronger.
John Terry's 93rd-minute winner has changed the whole look of this season's title race. It has changed Chelsea's fortunes in it, too.
Before the Blues' captain latched onto Frank Lampard's free-kick, Chelsea were staring down the barrel at another unconvincing draw, another two points dropped. Instead they came away victorious, winning 1-0 and throwing down the gauntlet to their rivals.
That his team were hardly worthy winners will not concern Mourinho one iota. It's victories that are going to win Chelsea the title, not performances against Everton. The Blues showed they know how to get at least one of those.
"When you score in minute 90 something, you can speak about being lucky or the style of your team, but the reality is that the boys did chase that. They chased a lot," reflected Mourinho in his post-match press conference.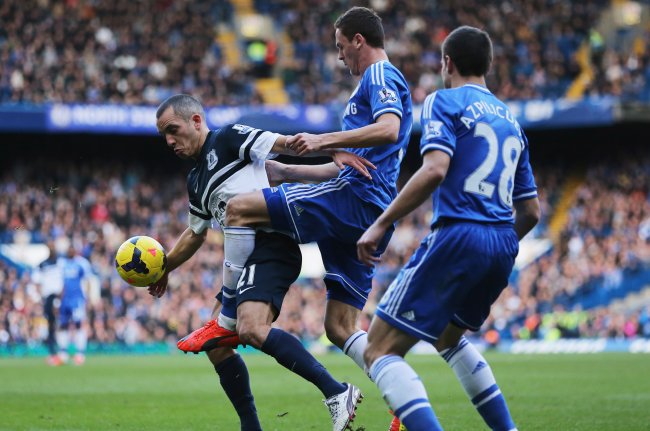 Ian Walton/Getty Images
"I feel sorry for them [Everton] because maybe a point is right for them after a good performance. But the reality is that we were the team that was really trying to win, which is our responsibility. A point for them is a good point whereas a point for us in not good. Because of that I think maybe we deserve [the win]."
We learned more about this current Chelsea crop from their scrappy display than perhaps we would have had they defeated Everton at a canter.
Facing a team eager to retain possession and make the Blues work hard to win it back, Mourinho's side had to put in the hard yards they are not necessarily used to doing at home.
To overcome Roberto Martinez's side requires character and a sheer determination to win—qualities Chelsea have shown they have in abundance.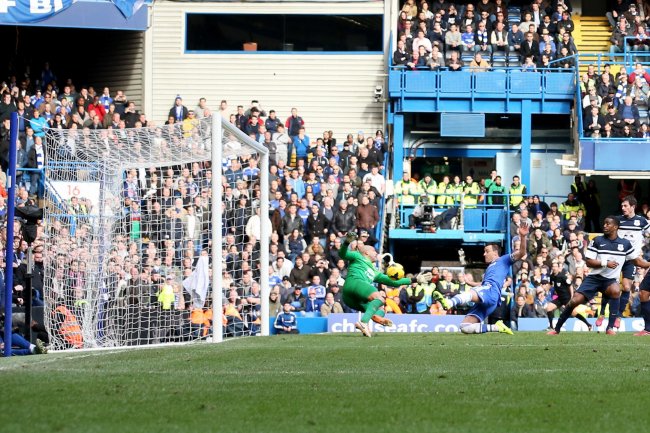 Scott Heavey/Getty Images
There are days when Eden Hazard and the Blues' other creative stars will win them games single-handed, but there will also be times when a different approach is called for and when Mourihno's players will be required to dig in and grind out three points.
They did that so often during his first years in charge, relentlessly picking up points regardless of the opposition, conditions or performance.
Indeed, the defeat of Everton harked back to a time when Chelsea were at their ruthless best, so it was no surprise the two protagonists from back then were at the heart of it once more.
Lampard loaded the gun, Terry fired it with his desperate lunge to connect with his in-swinging free-kick. It could have been 2004-05 all over again.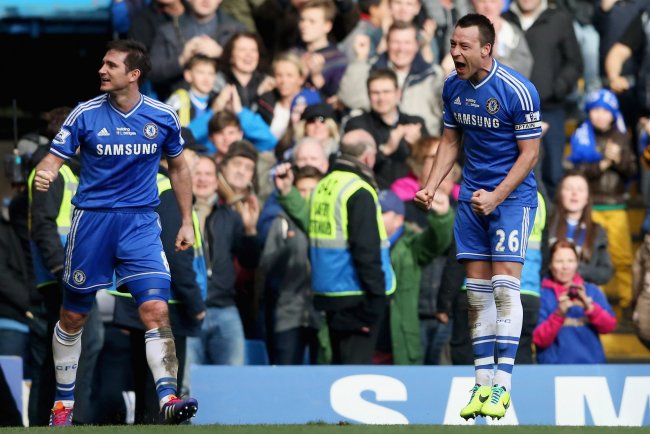 Scott Heavey/Getty Images
It may not have been a champagne performance, yet it was vintage stuff from the pair and shows just why Mourinho maintains his faith in Terry and Lampard.
There is a new Chelsea forming, although the past remains just as relevant and before this team reaches it's prime, there will be more matches when the old guard show the rest how it is done.
As we analyze the significance of Chelsea's win over Everton, everything else up to the point Terry's effort was bundled over the line hardly matters.
"Only Chelsea can lose [the Premier League] now," was Arsene Wenger's analysis last week, as per Sky Sports. Well, they look in no mood to do that.
Garry Hayes is Bleacher Report's lead Chelsea correspondent and will be following the club from a London base throughout the 2013-14 season. Follow him on Twitter here @garryhayes