The New York Knicks took the court short-handed on Saturday night as they tried to salvage the final game of their road trip against the Atlanta Hawks. During the game, MSG Network's Spero Dedes announced that two Knicks who didn't dress for the matchup—Beno Udrih and Metta World Peace—will be bought out of their contracts on Monday, when the necessary attorneys are available (h/t SB Nation's Seth Rosenthal).
The team has made quite a statement in sending away two players despite the fact that it is playing the second night of a back-to-back (its fourth game in five nights) and coming off a double-overtime loss on Friday. The first statement is that the Knicks really don't want these two guys around; the second is that they are completely incompetent as an organization.
As usual, the move backfired. The Knicks ran out of steam down the stretch, allowing the Hawks to turn a 17-point deficit into 107-98 win.
The Record's Steve Popper had a little fun with New York's decision during the game:
Knicks lack energy - in a tough spot like this they could use some veteran leadership. Put in Beno and Metta...oops.

— Steve Popper (@StevePopper) February 23, 2014
And with the crowd so quiet you can almost hear Metta and Beno laughing at the team hotel.

— Steve Popper (@StevePopper) February 23, 2014
And so another one (or two) bites the dust. As Bleacher Report's Howard Beck pointed out, New York is about to release the second and third of the six players it signed in the offseason (the first being the infamous Chris Smith).
Technically, that number could be four of seven, as the Knicks signed big man Jeremy Tyler in the summer, released him in favor of the aforementioned Smith and then re-signed him when they cut Smith two months into the season.
It's never easy to keep track of the comings and goings at MSG.
So how is it that two relatively talented veterans with championship experience didn't even manage to make a full season in New York? If anything, it might be the ultimate example of just how far the Knicks have fallen as an organization.
How It Went Wrong
The Knicks reached unexpected heights last season—winning their first Atlantic Division championship since 1994—thanks to the help of savvy veterans like Jason Kidd, Rasheed Wallace and Kurt Thomas.
All three of those players retired at the end of the season, so the Knicks went looking for capable replacements.
At the time, it seemed like Udrih and Metta would be ideal replacements. They've been around the league, but they weren't nearly as old as the likes of Kidd, Thomas and Wallace. Both players came cheap—Udrih signed for the veteran minimum and Metta had just been bought out by the Los Angeles Lakers—which is always important for the capped-out Knicks.
Udrih was supposed to take Kidd's place in the two-point guard lineups that New York used last year to great effect. And Metta seemed a natural fit for a team that consistently lacked defense, finishing the 2012-13 season ranked 18th in defensive efficiency.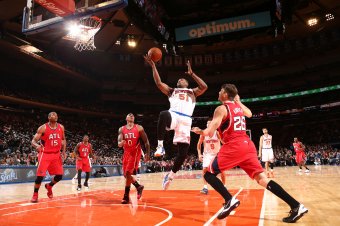 NBA Photos/Getty Images
More than that, there was a beautiful symmetry to Metta signing with the Knicks. He was the local boy who starred for the city's greatest college basketball program, St. John's. On the night of the 1999 draft, the player then known as Ron Artest was the only one the New York fans wanted. But the club passed over him to sign Frederic Weis, who would never play in the league.
The failure to draft Metta marked the beginning of the Knicks' fall from contention. But now they were back in contention, and the fans finally had their man. When Metta capped off the signing by hugging Knicks legend Walt Frazier, the fans knew their boy had come home.
Needless to say, nothing worked out as planned. Both players struggled to fit in with the club in the season's first few weeks.
Metta in particular charged every which way around the court like a moose on roller skates, falling over teammates and opponents alike, shooting the ball every time he touched it. In only 388 total minutes, Metta put up minus-0.2 win shares. He was pulled from the rotation even before he started having knee problems.
Udrih's case was more complicated. While he struggled out of the gate, starting point guard Raymond Felton was arguably worse. In fact, Udrih departs with a higher player efficiency rating (PER) than Felton: 12.5 to 12.3.
Udrih filled in several times while Felton and backup point guard Pablo Prigioni struggled with injuries, but he could never gain the trust of coach Mike Woodson.
The player and coach clearly never saw eye to eye from the very beginning. The relationship exploded into open hostility when Udirh called out the coach following a Dec. 25 loss to the Oklahoma City Thunder, per Popper and The Wall Street Journal's Chris Herring:
Beno doesn't sound thrilled with absorbing blame from Woodson: "Don't just be a coach, be a person."

— Steve Popper (@StevePopper) December 25, 2013
More unhappy Beno: "You can point fingers at me as much as you can ,but if things don't work it's not one person's fault."

— Steve Popper (@StevePopper) December 25, 2013
Beno again: Sometimes I have a feeling ilke when I do a mistake they have a feeling that I'm making the mistake on purpose.

— Steve Popper (@StevePopper) December 25, 2013
Udrih, who was sold on NY as a free agent w idea that he'd be used in 2PG lineups: "Even when [Felton] was healthy, we weren't using them."

— Chris Herring (@HerringWSJ) December 25, 2013
Udrih later asked for a trade in January, per ESPN New York's Ian Begley, but the Knicks failed to oblige. Once the trade deadline passed, it was only a matter of time before these two embittered parties negotiated a buyout.
What Happens Next?
Neither Metta World Peace nor Beno Udrih had seen much playing time of late, so their absence isn't going to affect the Knicks on the court.
The club will now turn to potential replacements. With veteran players negotiating buyouts across the league, there will be no shortage of players looking for work.
The problem, however, isn't so much finding a decent player as it is convincing him to come and play for this absolute joke of a franchise. Herring sees the Knicks' lack of playoff prospects hurting them in the race to sign players like buyout candidate Danny Granger, who was recently traded to the Philadelphia 76ers:
Folks ask about people like Danny Granger. But I kinda doubt players of his stature are gonna sign w/ a team struggling to reach postseason.

— Chris Herring (@HerringWSJ) February 23, 2014
In the end, it doesn't matter whom the Knicks sign. If they get a veteran, Woodson probably won't play him. If they get a promising D-League prospect, Woodson definitely won't play him.
The Knicks already have an intriguing young point guard in Toure' Murry who never sees minutes under Woodson. The only reason similarly intriguing big man Jeremy Tyler is playing at the moment is that Woodson's hand has been forced by the injury to Andrea Bargnani. If Bargnani comes back this season, Tyler won't see the floor again.
The New York Knicks are an inept organization that continues to employ an inept head coach. Woodson couldn't figure out how to utilize Beno Udrih or control Metta World Peace, but those failures are simply a few more links in the chain of incompetence that has throttled New York's season.
*All statistics courtesy of Basketball-Reference.