That's the last time Amir Khan listens to anything Floyd Mayweather says.
The 27-year-old Brit is fuming after he was apparently passed up when it came to being the unbeaten champion's next opponent. Khan took to Twitter to vent his frustrations:
No response from Mayweather or his team. Fights not happening. I should of taken the title fight last December against Alexander...

— Amir Khan (@AmirKingKhan) February 21, 2014
Very disrespected by his team. Wasted my time

— Amir Khan (@AmirKingKhan) February 21, 2014
Good luck to Maidana, against mayweather.

— Amir Khan (@AmirKingKhan) February 21, 2014
Can I apologies to the thousands of people who are let down. You me and everyone wanted the Mayweather fight. He's running scared.

— Amir Khan (@AmirKingKhan) February 21, 2014
This likely stems from Mayweather's decision to let fans on social media determine whether his next opponent would be Marcos Maidana or Khan:
I'm going to let the fans vote. Tell me who I should fight next. Khan or Maidana? http://t.co/342WnS26Vz

— Floyd Mayweather (@FloydMayweather) February 3, 2014
David Anderson of the Daily Mirror reported that the latter won, with 60 percent of the vote.
Despite that, Lem Satterfield of The Ring Magazine reported that Mayweather's and Maidana's respective camps were preparing for talks about a prospective fight.
Khan's tweets would seem to confirm that it is in fact the Argentine star who's next in line.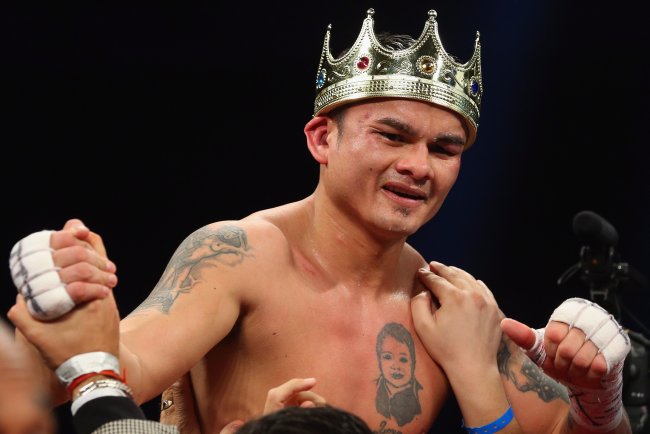 Ronald Martinez/Getty Images
There always seemed to be something fishy about the idea of Mayweather letting an outside entity decide whom he would fight next. Although he's not lacking in confidence, "Money May" is much too smart to let something so important be taken completely out of his hands.
Which opponent would you want to see Floyd Mayweather fight next?
Should Maidana be the final decision, the fight may be a while in the offing. Adrien Broner exercised his rematch clause against Maidana following his loss against the 30-year-old back in December. Any fight with Mayweather would have to be after that.
All things considered, it's hard to argue that Mayweather made the wrong decision from a fan's perspective, if he did handpick Maidana. The Argentine is a better fighter than Khan and offers a much stiffer challenge to Mayweather.
It would be a great fight, no matter how long fans have to wait.
For Khan, this is a bitter pill to swallow. It's unlikely, though, that if Mayweather came calling at a later date, Khan would pass up what would be a substantial purse.