It's hard to believe it's been a full two weeks of events in Sochi for the Winter Olympics, but as Day 14 wrapped up, that's the reality.
Seven events had medal presentations on Friday. Here's a look at the updated medal count heading into the final weekend.
Mikaela Shiffrin was the American star of the day with her historic gold medal in women's slalom.
Here are the other athletes and national teams that picked up hardware on Friday. (It was a good day for Canada.)
Men's Curling
Gold: Canada
Silver: Great Britain
Bronze: Sweden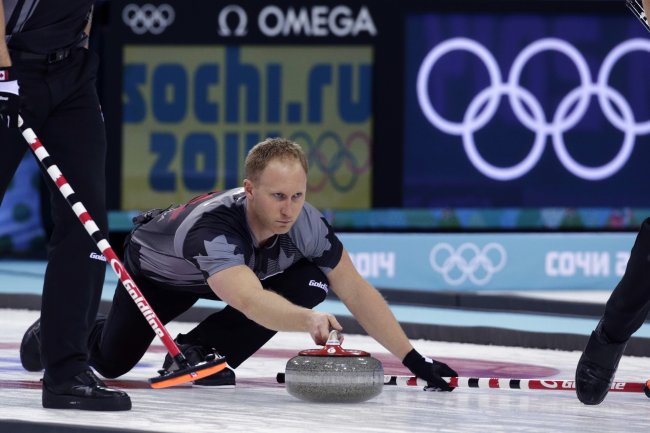 Robert F. Bukaty/Associated Press
Led by Brad Jacobs' 95-percent accuracy, the Canadian men easily handled Great Britain, 9-3, in the curling final. Jacobs was one of three on his team with an accuracy rating of 92 percent or higher.

Jacobs showed his national pride in this post-match quote captured by Zachary Stieber of The Epoch Times:
"I was really expecting to have to make my last one, or to be in a nail-biter. You never expect to go out there and blow a team out."
Sweden took the bronze-medal match over China to claim the third podium spot.
Freestyle Skiing: Women's Ski Cross
Gold: Marielle Thompson, Canada
Silver: Kelsey

Serwa

, Canada
Bronze: Anna

Holmlund

, Sweden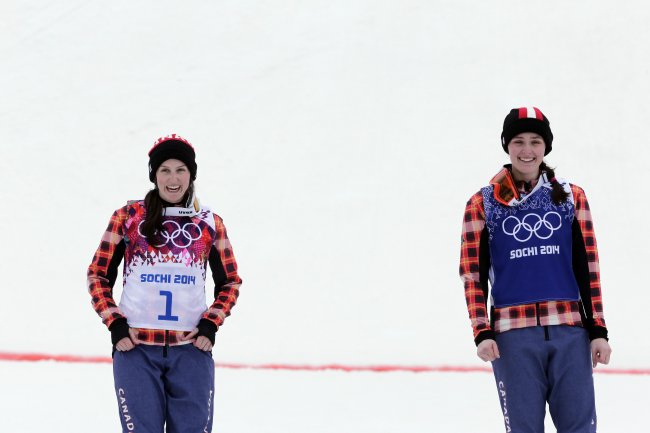 Andy Wong/Associated Press
Canada again was tough collectively. Thompson came out on top, extending the excellent start for Team Canada on the day.
Alpine Canada Alpin captures this image of the two biggest winners of the event:
Our @canadaskicross golden girls @bigairmar @kelseyserwa @CDNOlympicTeam pic.twitter.com/n8YfFQdL7N

— Alpine Canada Alpin (@Alpine_Canada) February 21, 2014
Women's Biathlon: 4x6km Relay
Gold: Ukraine
Silver: Russia
Bronze: Norway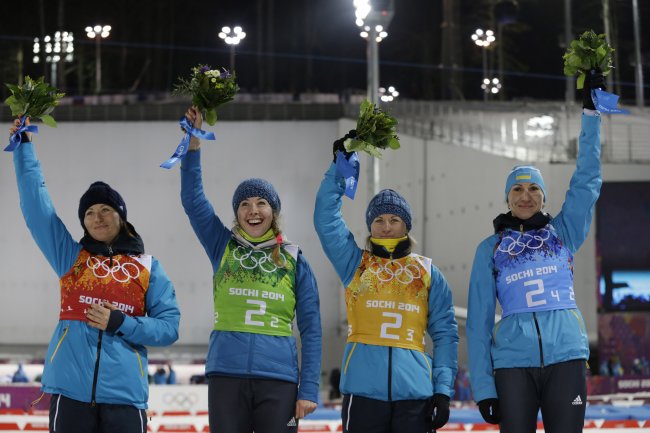 Kirsty Wigglesworth/Associated Press
The Ukraine hasn't found itself atop the podium in many events during this Olympic Games, but the women in the 4x6 km biathlon relay gave the country something to cheer.
Their time of one hour, 10 minutes and 2.5 seconds was enough to grab the gold medal in the event.
Alpine Skiing: Women's Slalom
Gold: Mikaela

Shiffrin

, USA
Silver:

Marlies

Schild

, Austria
Bronze:

Kathrin

Zettel

, Austria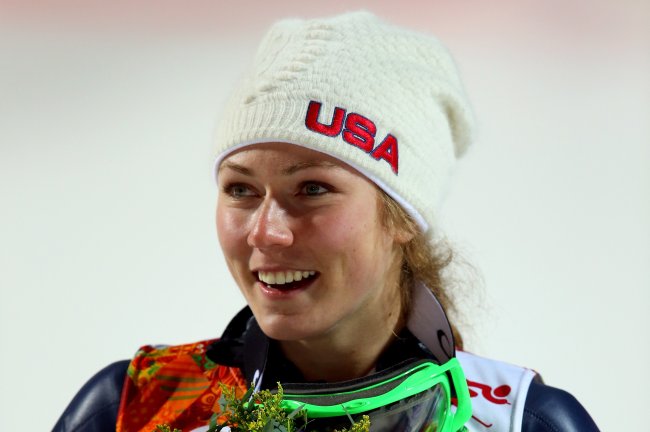 Doug Pensinger/Getty Images
Shiffrin finally got her moment in the spotlight. The United States was still in search of a definitive star of the Sochi Games until Friday.
At 18 years old, Shiffrin became the youngest female gold medalist in the history of the slalom. That's a pretty big deal.
After the race, Shiffrin told reporters, per The New York Times' Bill Pennington, "You can create your own miracle. But you do it by never looking past all the little steps along the way."
That's sure to inspire a young Olympic hopeful somewhere down the line.
Men's Short Track 500m
Gold:

Viktor

Ahn

, Russia
Silver:

Dajing

Wu, China
Bronze:

Charle

Cournoyer

, Canada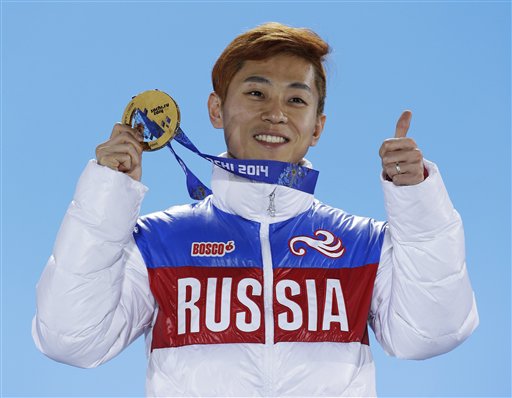 David J. Phillip/Associated Press
The host country wasn't shut out from gold medals on Friday. Dan Levy of Bleacher Report lauds Ahn's second gold medal in short track, but also took a jab at the Russian hockey team:
Viktor Ahn just won gold in men's short track for Russia. Good things do happen on ice for them, just not in hockey.

— Dan Levy (@DanLevyThinks) February 21, 2014
Russian chess grandmaster Natalia Pogonina confesses her fandom for Ahn:
Viktor Ahn (Виктор Ан) - another #Sochi2014 gold medal, 5th #Olympics gold in his career! I am a fan :) pic.twitter.com/9F4HpeX750

— Natalia Pogonina (@Pogonina) February 21, 2014
When the games are all wrapped up and the questions come up about the most dominant athlete in Sochi, Ahn deserves to have his name mentioned. The 28-year-old will leave the Games with three gold medals and a realistic shot to dominate again in 2018.
Women's Short Track 1,000m
Gold:

Seung

-Hi Park, South Korea
Silver:

Kexin

Fan, China
Bronze:

Suk

-

Hee

Shim, South Korea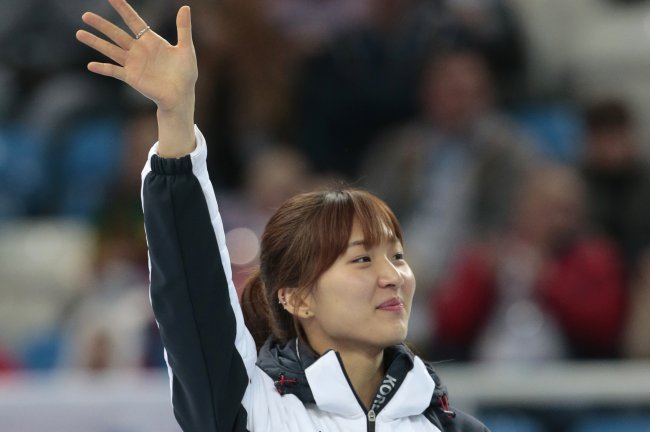 Ivan Sekretarev/Associated Press
The South Koreans took two of the podium spots, but Park just nipped Fan to take the gold. The margin of victory was a mere .050 seconds.
After winning two bronze medals in the 2010 Vancouver games, the 21-year-old Park would not be denied gold in Sochi. Her future as a long-standing star is bright. By the time she's done, she could be one of the most decorated short-track stars in history.
Men's Short Track 5,000m Relay
Gold: Russia
Silver: USA
Bronze: China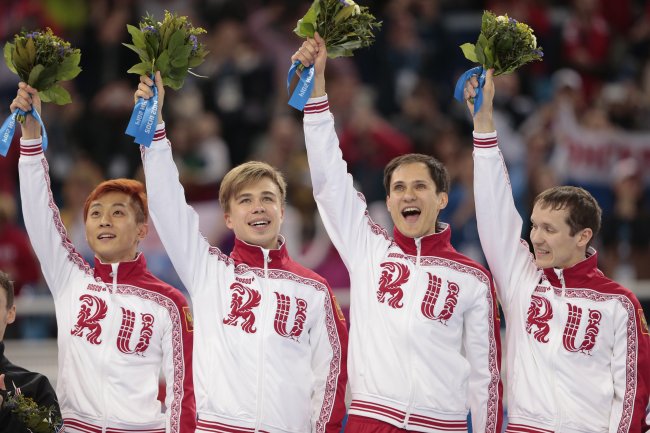 Ivan Sekretarev/Associated Press
On the strength of Ahn, the Russians were too fast for Team USA. Ahn grabbed his third gold medal of the games and sixth overall. That makes him the most decorated athlete in the history of the sport.
For Ahn, it seemed the team gold medal was the icing on a delicious Olympic cake. Per John Weaver of Yahoo! Sports, Ahn said after the race:
"I'm very happy we were able to win a medal as a team. I wanted one thing tonight, which was for all of us to be smiling together."
Team USA Men's Hockey Falls to Canada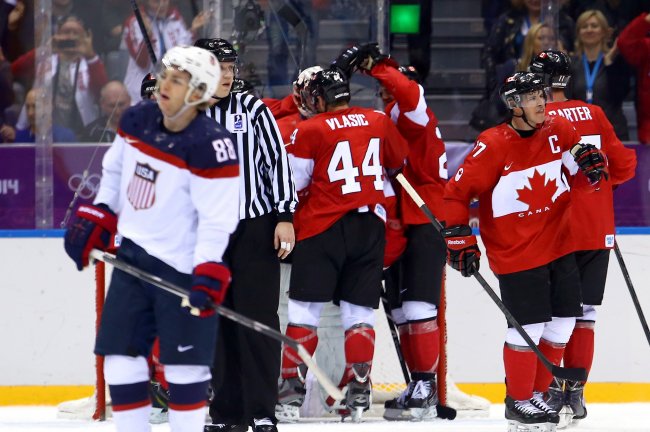 Al Bello/Getty Images
Though it wasn't a medal game, the American men's hockey team was shutout, 1-0, by Team Canada. The loss eliminates the Americans from gold-medal contention. It was especially hard to take for the American side considering the women had fallen to Canada on Thursday as well.
The rivalry between the two geographical neighbors will continue, but Canada is clearly in control of its game.