It became a two-team race early, but Russia edged the United States in a great finish in the men's 5,000m short-track relay.
Russia set a new Olympic record of six minutes and 42.371 seconds as Victor An raced past the finish line to earn his third gold medal in Sochi. Willie Cornblatt of NBC Olympics noted how impressive the veteran skater has been:
Viktor Ahn won a medal in all four events and is the only short tracker to ever accomplish the feat, and he has done it twice (2006)

— Willie Cornblatt (@WillieCornblatt) February 21, 2014
The United States grabbing silver was an accomplishment for a team that was struggling mightily:
US second in men's short track relay, breaking up the US Speedskating medal shutout in its 19th and final event.

— Nick Zaccardi (@nzaccardi) February 21, 2014
China were able to earn a bronze despite an early fall, edging out the Netherlands for third place. Here is a look at the final standings, including the secondary final, courtesy of Sochi2014.com:
Men's 5,000-Meter Relay Results

| | | |
| --- | --- | --- |
| Rank | Country | Time |
| 1 | Russia | 6:42.100 |
| 2 | United States | 6:42.371 |
| 3 | China | 6:48.341 |
| 4 | Netherlands | 6:49.149 |
| 5 | Kazakhstan | 6:54.630 |
| 6 (B Final) | Canada | 6:43.747 |
| 7 (B Final) | South Korea | 6:43.921 |
| 8 (B Final) | Italy | 6:44.904 |
via Sochi2014.com
Paul Newberry of the Associated Press notes the dramatic events that took place on the first lap:
Netherlands and China crash on the first lap of a 45-lap race. US in good position for a medal if they don't mess up. #Sochi2014

— Paul Newberry (@pnewberry1963) February 21, 2014
Kazakhstan held third place for a long time, but it was simply unable to keep up with the talent on the ice.
This left just a two-team race for most of the 45 laps, coming down to An and J.R. Celski on the final turn. However, the Russian was able to come away with yet another victory in an impressive career.
The United States team almost didn't even qualify for the main final after a crash knocked them out of the semifinal race. However, a review showed that the South Korean skater interfered, and the American squad replaced the defending silver medalist in the next round.
Eddy Alvarez explained his feelings to Linda Robertson of the Miami Herald: "It was a very stressful three minutes. I'm extremely relieved. Now we have to skate to our potential in the final. We have to let the tiger out of the cage."
The group might not have completely reached its potential, but it should be proud of a silver medal.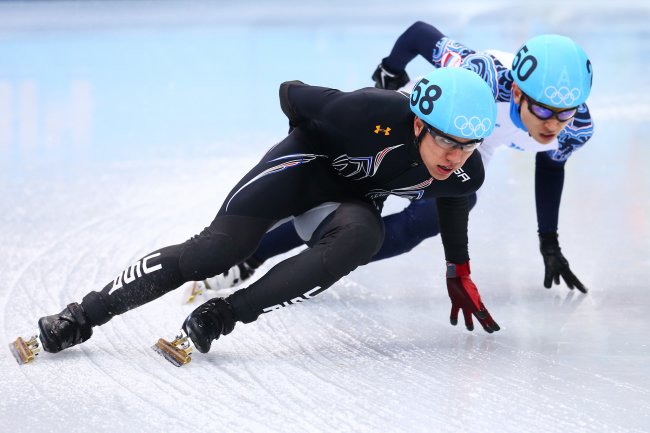 Ryan Pierse/Getty Images
Amazingly, this is the first medal for the United States in either speedskating or short track, completing one of the more disappointing runs in recent memory.
On the other hand, the Russians took advantage of top teams like Canada and South Korea outside of the final and were able to come away with an impressive run.
The battle for third place was also exciting, but the Netherlands were unable to recover from their crash and ended behind China for fourth.
While this was a team event, the big story remains the success of An:
Great Victor AN! 6-times Olympic Champ! 3 gold and 1 bronze winner of #Sochi2014! He is the king of #shorttrack! pic.twitter.com/L53hc9gffG

— Dmitry Chernyshenko (@DChernyshenko) February 21, 2014
The former South Korean star won four medals in Sochi, including two golds within an hour of each other. At 28 years old, he will certainly be past his prime at the next games, but he should never be counted out.
Meanwhile, Celski remains a top contender in the future in multiple events, as well as a number of other skaters from the United States. The question is whether the Americans can do a better job of preparing for the individual events next time around.
Follow Rob Goldberg on Twitter for the latest breaking news and analysis.