The 2014 NFL combine may be nothing more than the "Underwear Olympics" but there is some value in it.
For one, players who perform poorly show that they may not be entirely committed to the process. Those that perform really well show that they mean business.
But perhaps its biggest benefit is for the smaller school players. Normally not on the radar of fans and some scouts, the combine gives a chance for those who toil in the lower levels of collegiate football to showcase their skills.
Who are some of the most unheralded players who are likely to shine at this year's NFL combine?
Read on to find out.
Jimmy Garoppolo, QB, Eastern Illinois
G.M. Andrews/Associated Press
There's a quarterback in the NFL right now who went to Eastern Illinois. He's pretty good, too.
Tony Romo was a star at Eastern Illinois, but there's a quarterback now who broke nearly all his records.
Jimmy Garoppolo threw for 5,050 yards last season, with 53 touchdowns and just nine interceptions.
That sort of production is garnering praise from those who observe the draft process.
Mike Mayock of NFL Network is quite high on Garoppolo:
Mayock: Jimmy Garappolo helped himself at @Shrine_Game + @seniorbowl. Went from mid-to-late round question mark to 2nd or 3rd rounder.

— CollegeFootball 24/7 (@NFL_CFB) February 18, 2014
And B/R's own Matt Miller thinks that Garoppolo can make the transition from the smaller-school level:
Digging in on Garoppolo this week, I saw an NFL-level arm and athletic profile. He has the talent to throw the ball to any level of the field and is a good enough athlete to throw when rolling out to his left or right.

You have to wonder about the defenses he's faced and how complex they are, but from a natural ability standpoint, Garoppolo is NFL-caliber.
It is always tough to make the jump from the lower levels. It took Tony Romo a few years before he established himself as a starter. It'll take Garoppolo a few years, too. But a team that's willing to wait could be handsomely rewarded.
It would be surprising to see a team like Denver, Arizona or, even, New Orleans to take a chance on Garoppolo and let him develop.
Pierre Desir, CB, Lindenwood
Jeff Roberson/Associated Press
The NFL is a copycat league, so every team is going to look to copy the tall, lengthy secondary of the Seattle Seahawks.
That trend could make Pierre Desir a lot of money. The 6'1" Desir has the size necessary to jam on the line.
Matt Miller of B/R was impressed:
Teams hoping to emulate the Seahawks' secondary will like Pierre Desir. The Lindenwood product doesn't have eye-popping stats, but that's because opposing teams didn't throw the ball his way. That was the case at the Senior Bowl too, as the quarterbacks ignored him as much as possible in live situations. Desir is moving up more each time I see him play.
Lindenwood is a Division II school, so there will be a huge jump in competition. Because of that, Desir might have to spend his first season in a limited role.
But you can't teach size. And big corners are all the rage. Look for Desir to have a big combine and get selected in the third or fourth round.
Terrance West, RB, Towson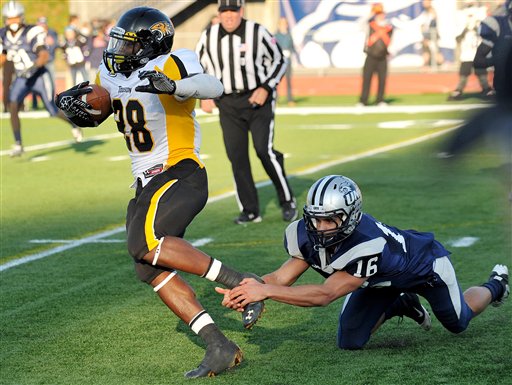 Josh Gibney/Associated Press
You want productivity? You'll get it in Terrance West.
West had an absolutely ridiculous 2,509 yards rushing, with 42 touchdowns.
Of course, he'll have that small-school stigma attached to him. But West is confident in his abilities.
"The combine is a chance to make some noise," West told Jim Corbett of USA Today. "I had a long journey to get here, but I never thought of giving up. I can definitely be a three-down NFL back. I want to become a name that rings a bell."
At 5'11", 223 pounds, West has the size to be a factor in between the tackles, especially on short-yardage. But he has the quickness to get to the outside, as Bucky Brooks of NFL.com noted:
West, on the other hand, put on the kind of show that will lead scouts spend a lot of time studying his game in the offseason. He rushed for 354 yards on 39 carries with five rushing scores. Those numbers are certainly impressive, but they pale in comparison to remarkable displays of balance, body control and quickness West exhibited as the workhorse runner in a run-heavy offense. Additionally, West showed the kind of vision, agility and burst to be a productive runner at the next level. Now, he will get downgraded based on his level of competition, but my eyes tell me West has the goods to be a solid pro down the road.
If West runs a decent enough 40 time, then it would not be surprising to see him drafted in the third or fourth round. His combination of size, speed and productivity is hard to pass up on.