The 2014 Winter Olympics are starting to wrap up, but there were still seven gold medals on the line on Day 14 to keep the overall medal count close at the top.
While the United States held onto the overall lead, Norway still has the most gold medals. However, there are a number of events remaining in the next two days that could dramatically change the top of the leaderboard.
Big results in both hockey and speedskating also set up medal favorites set to conclude at the end of the week. The bronze- and gold-medal games in men's hockey will be among the most-watched events at Sochi, while the men's and women's team pursuit in speedskating will be important for the medal count.
Saturday also represents the final days for events in Alpine skiing, biathlon and cross-country as Norway seeks more gold. It has become clear that this race will come down to the final day of the Winter Olympics.
Until then, here is an updated look at the standings for medals by country, followed by the notable results from Feb. 21.
Ladies Ski Cross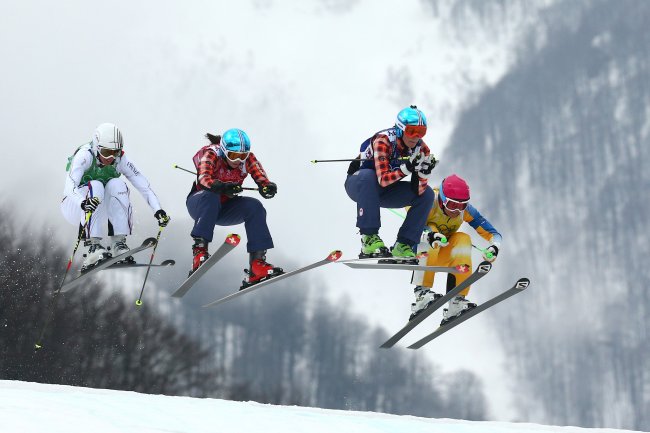 Cameron Spencer/Getty Images
Medal Results

| | | |
| --- | --- | --- |
| Medal | Name | Country |
| Gold | Marielle Thompson | Canada |
| Silver | Kelsey Serwa | Canada |
| Bronze | Anna Holmund | Sweden |
via Sochi2014.com
In one of the most exciting events at the Winter Olympics, Marielle Thompson finished as the overall winner to give Canada a one-two finish along with Kelsey Serwa.
CBC Olympics captured the two celebrating:
Gold and Silver for Canada in #skicross! @BigAirMar Gold and @kelseyserwa Silver! #cbcolympics pic.twitter.com/vljPgVr8Xg

— CBC Olympics (@CBCOlympics) February 21, 2014
Thompson has been the most consistent competitor on tour this season, and this could be the most important skill in ski cross. Each athlete has to ensure a top-two finish every time out or their run in the Olympics is over.
Fortunately, the Canadian came through with victories in all four of her heats after earning the third-best qualifying time. Serwa—the 2011 world champ—had the best qualifying time but could only manage a silver behind her teammate.
Switzerland's Fanny Smith entered as one of the favorites after winning the 2013 world championships, but mistakes cost her in the semifinals and she was eliminated from contention. She then ended in last place in the small final to end in eight place.
With Canada remaining high in the medal count, this impressive finish is huge to the country's hopes of ending on top of the leaderboard.
Men's Curling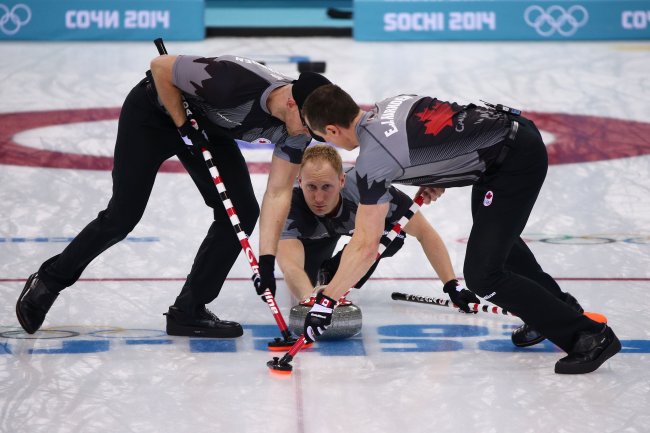 Clive Mason/Getty Images
Medal Results

| | |
| --- | --- |
| Medal | Country |
| Gold | Canada |
| Silver | Great Britain |
| Bronze | Sweden |
via Sochi2014.com
While Canada has excelled at many different events in Sochi, the squad was truly dominant when it came to curling. A day after the women's team earned gold, the men followed suit with an impressive 9-3 where Great Britain conceded after eight ends.
Canada broke away with a 6-1 lead after three ends, and that pretty much sealed a victory for the favorites.
Lee Jones of CTV provided this impressive statistic:
This will be the first time Canada has won gold in both men's and women curling at the Olympic Games

— Lee Jones (@LeeJonesCTV) February 21, 2014
Then again, this success is nothing new for the men's team, which has now won three gold medals in a row at the Winter Olympics.
E.J. Harnden knew exactly what he was talking about when he said, "Great Britain, I'm sorry boys, but curling is our sport," via Leslie Young of Global News.
Meanwhile, Sweden took home the bronze after coming through with a dramatic victory in the consolation game. The team scored one in the 10th end to tie it up, then added two in the extra end to win 6-4.
This concluded an exciting two weeks of action at the Ice Cube Curling Center.
Women's Biathlon 4 x 6-Kilometer Relay
Kirsty Wigglesworth/Associated Press
Medal Results

| | |
| --- | --- |
| Medal | Country |
| Gold | Ukraine |
| Silver | Russia |
| Bronze | Norway |
via Sochi2014.com
Ukraine won its first gold medal of the Olympics in the women's biathlon relay. As Fox Sports notes, this was also the first in this sport:
Ukraine claim first ever GOLD medal in biathlon after taking out the women's relay #Sochi2014 pic.twitter.com/C74sQbhxY7

— FOX SPORTS News (@FOXSportsNews) February 21, 2014
Juliya Dzhyma, Olena Pidhrushna, Valj Semerenko and Vita Semerenko only had a total of five missed shots in the race and finished with a time of one hour, 10 minutes and 2.5 seconds, which was over 26 seconds ahead of anyone else in the competition.
As Ivan Watson of CNN notes, this is a proud moment for a country who needs it right now:
Ukraine deserved some good news...Ukrainians [including Semerenko twins] just won gold in the women's 4 by 6 km Biathlon relay. #cnnsochi

— Ivan Watson (@IvanCNN) February 21, 2014
While Ukraine will not contend for a lead in the medal count, both Russia and Norway will, and these countries finished with the silver and bronze in this event.
Russia is extremely close to winning the overall count as the host country, and finishes like this certainly help out.
Follow Rob Goldberg on Twitter for the latest breaking news and analysis.