Ranking the Best Duos in NHL History Who Also Played for the Same Country
Jeff Vinnick/Getty Images

Chemistry and familiarity can be very important for a hockey team—especially when a group of players are being thrown together for two weeks at the Olympics. Chemistry with Sidney Crosby was the main reason Chris Kunitz was named to Team Canada's squad, and it wasn't the first time two NHL teammates were selected to represent their nation.
Throughout the history of NHL participation in the Olympics, there have been a few duos from the same team and nation. With that in mind, here are the best NHL/Olympic duos in hockey history.
Begin Slideshow

»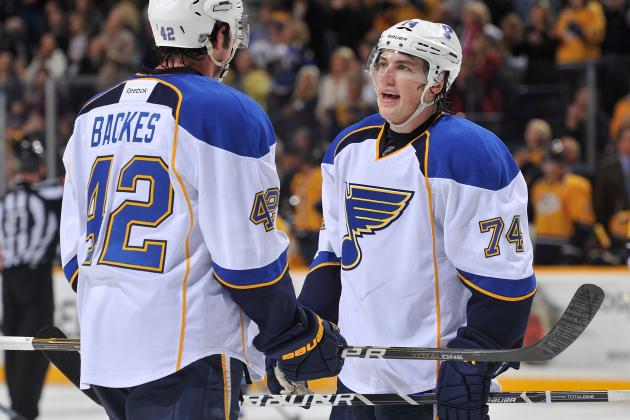 John Russell/Getty Images

NHL Team: St. Louis Blues
Olympics: 2014 Sochi, T.B.D.
---
T.J. Oshie and David Backes are an amazing duo that has been very successful for the Blues the past couple of seasons. The duo has not been united during the Olympics, but both have made an impact in their own way.
The American alliance works very well, because both play a solid two-way game, and neither forward shies away from physicality. Backes and Oshie still have a bright future ahead of them, but as of this moment the pairing is one of best NHL/Olympic duos of all time.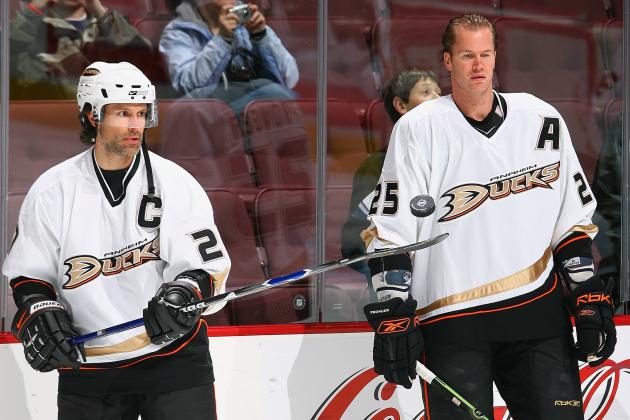 Jeff Vinnick/Getty Images

NHL Team: Anaheim Ducks
Olympics: 2002 Salt Lake City, gold medal and 2010 Vancouver, gold medal
---
Chris Pronger and Scott Niedermayer are two of the greatest NHL defenders from the 1990s and 2000s, and both left an impact with the Ducks—and internationally with Team Canada.
The duo patrolled the Ducks blue line for three seasons, and they even won a Stanley Cup in 2007. In addition to that, Pronger and Niedermayer won two gold medals, one in Salt Lake City and one in Vancouver.
Niedermayer is already in the Hall of Fame, and Pronger will most likely join him, once he's officially retired.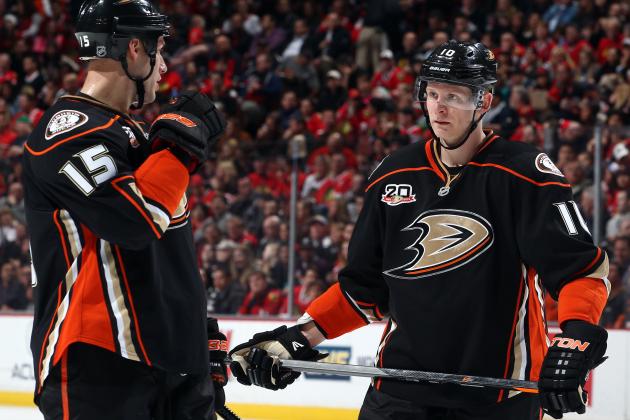 Debora Robinson/Getty Images

NHL Team: Anaheim Ducks
Olympics: 2010 Vancouver, gold medal and 2014 Sochi, T.B.D.
---
The pairing of Ryan Getzlaf and Corey Perry has a long history. The two won World Junior gold in 2005, they won a Stanley Cup as teammates on the Anaheim Ducks, and they won gold in Vancouver as members of Team Canada in 2010.
The duo has been on fire for the Ducks thus far in 2013-14, and the pair has a history of getting the best out of each other. Both are only 28, and each signed a mega deal to remain members of the Ducks franchise.
Getzlaf and Perry have already accomplished so much, and it will be interesting to see what else they can accomplish during the rest of their career.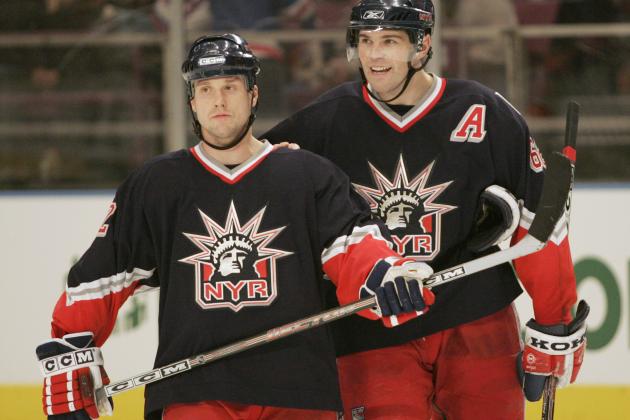 Dave Saffran/Getty Images

NHL Teams: Pittsburgh Penguins and New York Rangers
Olympics: 1998 Nagano, gold medal and 2006 Turin, bronze medal
---
Jaromir Jagr is one of the greatest players in NHL history, and he is arguably the best player born in the Czech Republic. He is one of the league's most dynamic scorers, and he's had an amazing career.
Martin Straka is a player that was always a reliable secondary scorer. He wasn't an elite player, but he had moments in which he looked like one of the NHL's most dangerous players.
Jagr and Straka had success during their time with Pittsburgh, but both had a resurgence when they joined the Rangers. Jagr totaled 123 points during his first year in New York, and his linemate Straka had 76. This was Straka's highest since recording 95 points during the 2000-01 campaign.
In international competition the two were usually paired, and the duo won two Olympic medals for the Czech Republic. All in all, the duo of Jagr and Straka will go down as one of the best NHL/Olympic duos in hockey history.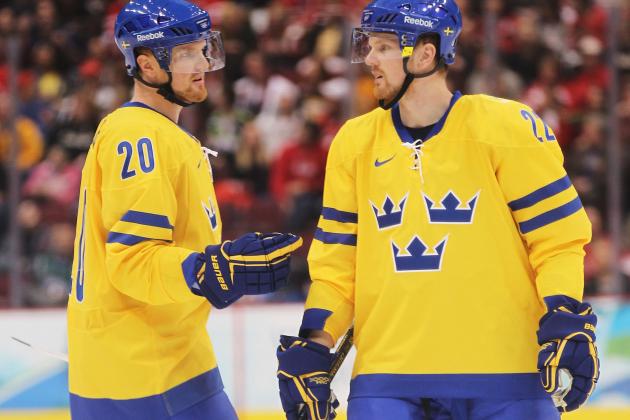 Jamie Squire/Getty Images

NHL Team: Vancouver Canucks
Olympics: 2006 Turin, gold medal and 2010 Vancouver, no medal
---
The Sedins will unquestionably go down as one of the greatest brother duos in league history, so it is only natural that they be included on this list. The two are inseparable linemates as members of the Canucks, and they have paired up for two Olympic games in addition to other international tournaments.
The duo was poised to unite for the 2014 Sochi games, but an injury to Henrik prevented that from happening.
The pair will be united in Vancouver for the next few seasons, so there is still enough time to add more achievements that will ensure their status as one of the greatest duos in NHL and Olympic history.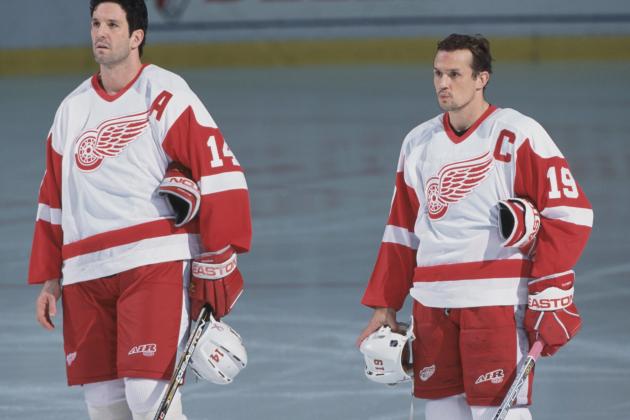 Tom Pidgeon/Getty Images

NHL Team: Detroit Red Wings
Olympics: 1998 Nagano, no medal and 2002 Salt Lake City, gold medal
---
Two of the NHL's greatest players of all time had the opportunity to play with each other in the NHL, and for their native land. Steve Yzerman is arguably one of the best centers in league history, and Brendan Shanahan is one of the game's greatest left wingers.
From 1996 to 2006, the duo of Yzerman and Shanahan played integral roles in three Stanley Cup titles with the Red Wings. Both had a unique playing style, but both shared the ability to lead by example. It is rare to see two players like this team up in the NHL, and it's even rarer to see them team up internationally.
In 1998, the duo departed Nagano empty handed, but the two forwards looked like prospectors when they left Salt Lake City with gold in their hands.
This pairing is in the Hall of Fame, and that cements their legacy as one of the best NHL/Olympic pairings in league history.