Not many would have predicted Adelina Sotnikova would be standing at the Sochi Games longer than Alex Ovechkin. In an event dominated by the buzz surrounding compatriot Julia Lipnitskaia, Sotnikova climbed to the top of the pack in Thursday's free skate at the Iceberg Skating Palace in Sochi, to take home the gold medal in the women's figure skating competition.
Поздравляю Аделину Сотникову-нашу первую в истории России Олимпийскую Чемпионку! Браво!#сочи #sochi2014

— Evgeni Plushenko (@EvgeniPlushenko) February 20, 2014
("Congratulations Adeline Sotnikov-our first in the history of Russian Olympic Champion! Bravo")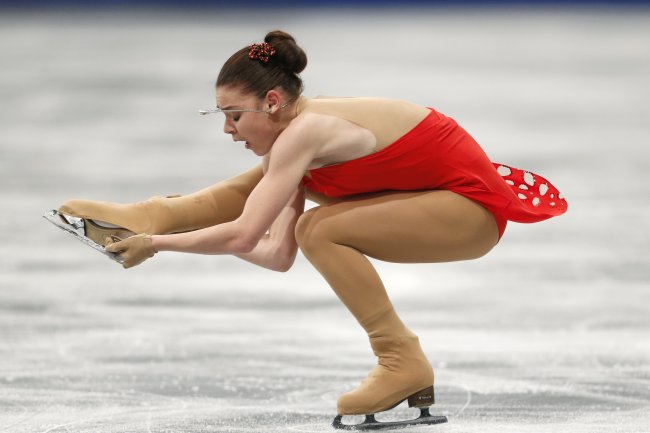 Darko Bandic/Associated Press
The ladies event kicked off on Wednesday with the short program, in which 2010 gold medalist Yuna Kim asserted herself at the top of the field with a 74.92. While Kim succeeded, her performance did not set the tone for other high-profile contenders.
Yuna Kim was pretty magnificent (AP) pic.twitter.com/YT2VEBKSnD

— Joe Fleming (@ByJoeFleming) February 19, 2014
American Gracie Gold skated a loose routine, saving herself from falling, but struggling for fluidity and earning a 68.63. Meanwhile, Russian standout Lipnitskaia fell during both her short and free programs, surprising missteps for the 15-year-old who was essential to Russia's win in the team event two weeks ago.
US Champion Gracie Gold hangs on despite two off-axis jumps. Performs a clean short program. #Sochi2014

— Rappler (@rapplerdotcom) February 19, 2014
Sotnikova surprised the field by placing second after the short program, coming in only .28 points behind Kim on Wednesday night.
Must say, I really admire the way Adelina Sotnikova went after her short program skate. She was on fire, and that's great to watch.

— Brendan Hasenstab (@pierrepont) February 20, 2014
To win the gold in Vancouver, Kim skated a world-record 150.06-point free skate, and with Sotnikova so close behind her in Sochi, the 23-year-old needed to come up with another world-class performance.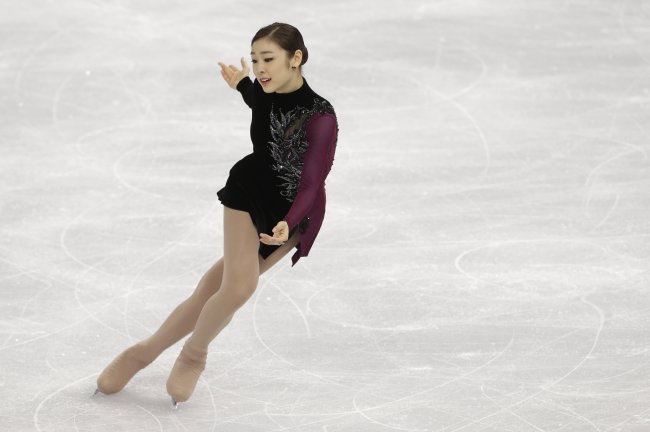 Darron Cummings/Associated Press
Her program was nearly flawless, but with only six triple jumps to Sotnikova's seven, Kim was unable to defend her title, taking home the silver medal in her final competition.
#Yuna Kim (@Yunaaaa) confirms that she is retiring after the #Olympics. She will not compete at Worlds in March #Sochi2014

— Nick McCarvel (@NickMcCarvel) February 20, 2014
Kim cited a lack of drive as a potential problem for her at this Olympics. She said after Thursday's competition, per AP h/t The Washington Post
At that time [in 2010] I could die for gold in the Olympics. But that desire, that strong wish, was not as present. The motivation was a problem, I think.
Handling the home crowd pressure with maturity beyond her 17 years, Sotnikova earned a score of 149.95 for her free program, skated to "Introduction and Rondo Capriccioso" in which she completed her seven triple jumps effortlessly.
Sotnikova has made the place wild! Flowers pelting the ice, chants, flags.

— Sally Jenkins (@sallyjenx) February 20, 2014
Snubbed by the Russians during the team competition, Sotnikova was determined to go home with a medal.
"I really wanted to participate in the team competition," Sotnikova said on Thursday (via Yahoo! Sports' Dan Wetzel). "When I found out I was not in the team, I felt so sorry and so offended."
Though neither American Ashley Wagner nor Japan's Mao Asada made it onto the podium, both skaters performed admirably on Thursday, wowing the crowd and commentators alike with their vibrant skating.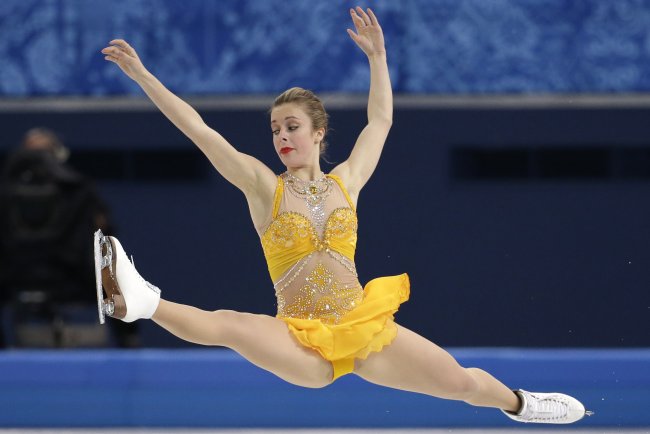 Bernat Armangue/Associated Press
Wagner, who largely played second fiddle to compatriot Gold in Sochi, performed a thrilling routine to "Bacchanale," yielding her a surprisingly low score of 127.99.
Got to admire Ashley Wagner's fight. Pure determination ever since the Oly Trials.

— Sally Jenkins (@sallyjenx) February 20, 2014
A disappointing performance in the short program saw Asada tumble to the ice, prompting brutal criticism from former Japanese Prime Minister Yoshiro Mori. She recovered to earn a career-high 142.71 points for her airtight skate to "Smile," landing her impressively in the sixth spot after finishing 16th on Wednesday.
Mao Asada... Inspiring. Character. Integrity of performance. Winning gold isn't the only time we win.

— Kim Zmeskal Burdette (@KimZmeskal) February 21, 2014
Mao Asada's tears after a career-best free skate following Wednesday's botched short programme, via @irenissi pic.twitter.com/1vt9y0wbkx

— Ollie Williams (@OllieW) February 20, 2014
Coming in third was Italy's Carolina Kostner, who held the same position after the free skate. The 27-year-old three-time Olympian performed a solid routine and posted a season-best 142.61 points to claim bronze.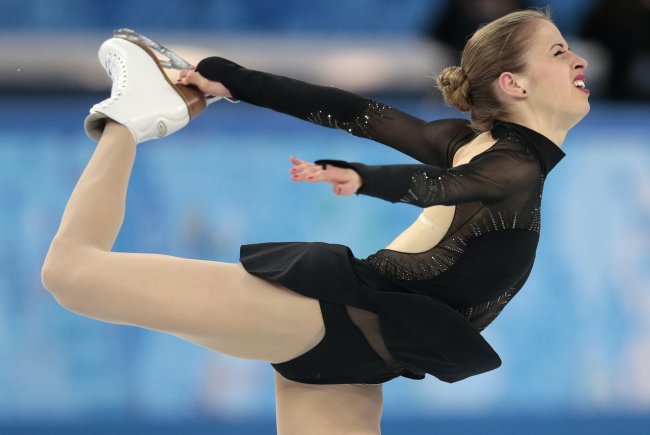 Ivan Sekretarev/Associated Press
Carolina #Kostner is sweeping away memories of Vancouver four years ago w every second that passes in this FS - incredible! #Sochi2014

— Nick McCarvel (@NickMcCarvel) February 20, 2014
Sotnikova's win has prompted debate about favoritism from the judges, as both she and Kim skated near-perfect programs.
Adelina Sotnikova was excellent tonight, but Yuna Kim was robbed

— Alex Goldberger (@alexgoldberger) February 20, 2014
Though stylistically Kim was perhaps more emotionally invested, Sotnikova completed one more triple jump in her program than Kim. As Wetzel of Yahoo! Sports wrote after the competition:
[Sotnikova] took an extremely difficult program and hit it almost perfectly, all while displaying the kind of showmanship and passion that this competition demands. This is a subjective event, and it is exceedingly reasonable to believe that she was the best. Second, all she did was skate her heart out.
Wagner, who finished seventh, spoke out about the secretive scoring system in figure skating on Thursday, saying (via Filip Bondy of the New York Daily News):
It's not fair to skaters who work so hard. People need to be held accountable. They need to get rid of the anonymity if they're going to create a fan base. People don't want to see a sport where someone falls down and goes above someone who doesn't.
In figure skating, Bondy argued, scoring two nearly perfect programs often comes down to number of jumps, in which Sotnikova's seven triples would take the lead. Additionally, he said, "This sport generally rewards the younger gymnastic competitor, not the mature, artistic veteran. Tara Lipinsky beat Michelle Kwan. Sotnikova, 17, defeated Kim, 23. So it goes."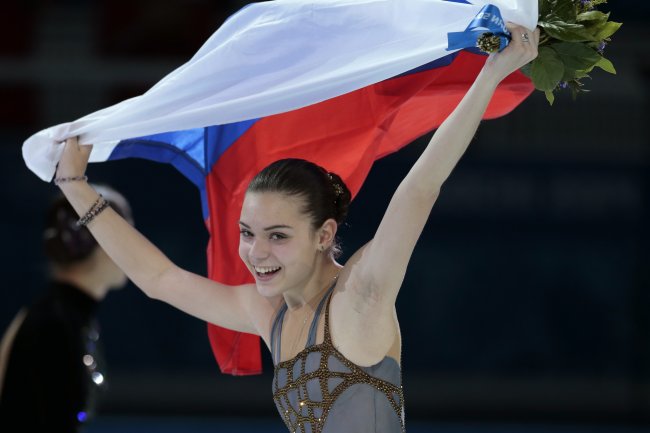 Ivan Sekretarev/Associated Press
The Russians, who have struggled in women's figure skating in the last several years, stormed back in their home country, taking gold in the women's, pairs and team events. This is Sotnikova's first Olympic medal and Russia's first gold in the event.
Congrats to Adelina Sotnikova, an unexpected champion for a host country which greatly needed one.... #Sochi2014

— Josh Elliott (@JoshElliottABC) February 20, 2014