Oklahoma City Thunder point guard Russell Westbrook returned to Scott Brooks' starting lineup on Thursday night after missing nearly two months due to arthroscopic knee surgery designed to reduce swelling in his surgically repaired right knee.
Appearing in his first game since Dec. 25, Westbrook's movements around the court from a purely athletic standpoint were aesthetically pleasing, but there was an undeniable rustiness to his game, particularly on the offensive end.
And although the Thunder trailed wire-to-wire and were thrashed by the Heat 103-81, Westbrook's return did offer some optimism for Oklahoma City fans, even if his performance wasn't sterling.
With that established, we're here to break down every facet of Westbrook's return on both sides of the ball.
Athleticism/Stamina
Prior to tipoff, it was established that Westbrook would be on a minutes cap, a setup he didn't seem to have any qualms with.
Westbrook on the minute restriction: "I think to start off it'll be 25 or 26, somewhere around there."

— Royce Young (@royceyoung) February 20, 2014
As such, it shouldn't come as a surprise that the electric point guard played just 24 minutes, albeit rather inconsistent ones. However, when you consider that he was returning from his second knee surgery since October, it was nice to see Westbrook display such confidence in his first step.
From the jump, it was clear that energy wasn't going to be a problem for Westbrook, as he demonstrated active hands on defense and a willingness to attack the basket, flashing his feisty junkyard-dog mentality during a six-minute first-quarter stint.
That said, Westbrook's aggression may have been detrimental to OKC's early efforts. The Thunder offense appeared to lack continuity and its typical seamless flow in the first half as everyone tried to get back on the same page.
Overall, though, it was encouraging to see Westbrook move around freely and show no major lingering effects from the procedure, as his initial burst and leg drive looked impressive during roughly six- and seven-minute stints each period.
Westbrook showing off he still has his crazy hops with a classic soaring offensive rebound.

— Royce Young (@royceyoung) February 21, 2014
Grade: B+
Skills/Offensive Sharpness
This is where Westbrook ran into a bit of a problem.
As we've become accustomed to, recklessness was part of the Westbrook experience, one that had its fair share of ups and downs.
Live-ball turnovers revealed some expected rustiness, and Westbrook consistently looked like he was playing ahead of himself in an attempt to make an impact off the dribble.
With that established, Westbrook eventually found ways to make an offensive impact by driving to the cup and leaking out on the fast break, particularly at the end of the second quarter.
HUGE spurt from Russell Westbrook to end the half. Had 10 points in final 1:54. Big spark.

— Anthony Slater (@anthonyVslater) February 21, 2014
This vintage move in transition helped provide the Thunder with a major jolt:
He's back!! Watch Westbrook's explosive move to the hoop for an OKC 2! #NBARapidReplay on @NBAonTNT - http://t.co/f8Z6SiBDjY

— NBA (@NBA) February 21, 2014
Westbrook's patented mid-range jump shot will return in due time (He entered the night shooting 44.37 percent from mid-range—above the league average, per NBA.com.), but drives to the cup and free throws will work just fine for the time being.
In total, Westbrook compiled 16 points on 4-of-12 shooting from the field (8-of-10 from the free-throw line and 0-of-2 from three) and showed the balance in traffic that's made him one of the game's most dynamic point men.
Grade: D+
Teammate Chemistry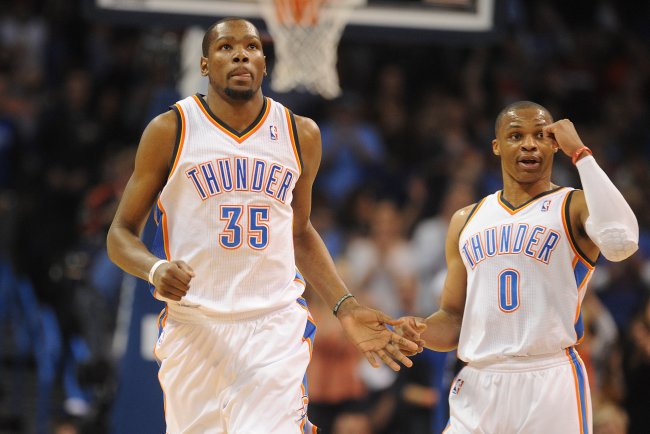 Mark D. Smith-USA TODAY Sports
Apparently, Westbrook's time off allowed him to marvel at all that Kevin Durant is capable of, because he made it clear that he's fine with assuming the role of sidekick for the time being.
"Kevin has been playing MVP basketball....My job is just to help," Westbrook said, according to Bleacher Report's Ethan Skolnick.
Early on, that wasn't exactly the case.
Westbrook attempted three shots and accrued zero assists in six first-quarter minutes before checking out, while Durant hoisted just one shot in that span. By comparison, the league's leading scorer hoisted five shots following Westbrook's early exit before the floor general returned midway through the second quarter.
The good news is that order was slowly restored to Oklahoma City's offense as the Thunder mounted that late first-half charge. It's worth noting that the team's chemistry clearly wasn't top-notch with Westbrook back in the lineup, though.
It would be foolish to blame Durant's struggles on Westbrook, as the former attempted 10 more shots (22 total) than the latter, but detractors of the point guard will undoubtedly gravitate toward that foolish conclusion.
If you want to criticize anything, make it Westbrook's timing, which appeared to be just slightly off throughout. In total, Westbrook finished with four turnovers and two assists, but these issues will be easily resolved once the restrictions on his playing time are lifted.
Grade: C-
Defensive Presence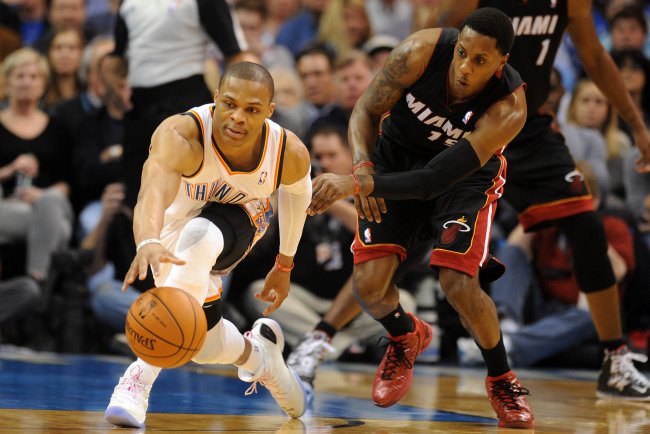 Mark D. Smith-USA TODAY Sports
It didn't take long for Westbrook to make a defensive impact, as he forced a steal on Miami's first possession that led to a transition slam.
In fact, Westbrook forced two turnovers in the game's first two minutes, but he generally appeared to fall behind when chasing Miami's point guards off of picks, which required making sharp cuts at acute angles.
All told, the three-time All-Star provided plenty of positive takeaways on the defensive end, whether it was looking to strip the rock away from ball-handlers or disrupting passing lanes with his trademark tenacity. He finished with three steals.
The best news, though, was that Westbrook looked extremely locked in on the defensive end and showed no signs of lethargy, which has never been a defining aspect of his game.
Grade: B+
Final Grade: C+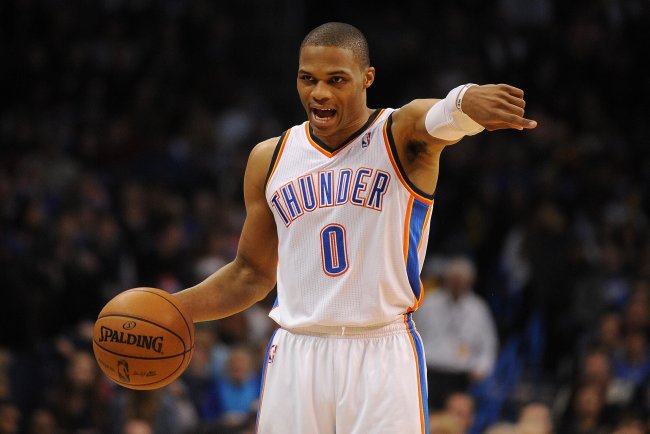 Mark D. Smith-USA TODAY Sports
If you were in the market for instant gratification, then Westbrook's performance likely didn't satisfy you. Points were hard to come by, the decision-making was often sloppy, and cohesion with his teammates wasn't on point.
However, considering that he's undergone three knee surgeries since April, Westbrook appeared to be putting all of his athletic gifts to good use, moving around the court without the knee hindering his lateral capabilities or explosiveness.
Re-adjusting to the pace of the game figures to be the more crucial task for Westbrook, but that's hardly a long-term concern. Count on Westbrook rounding into form with more playing time.
Alec Nathan covers the NBA for Bleacher Report. Follow him on Twitter.