Yuna Kim failed to win her second consecutive Winter Olympics gold medal on Thursday at Sochi—Russia's Iceberg Skating Palace—falling short behind new champion Adelina Sotnikova.
Yuna Kim wins Silver. 17 year old Sotnikova wins Gold, and Kostner wins bronze. Do you agree with the results? #Sochi2014

— NBC Olympics (@NBCOlympics) February 20, 2014
A brilliant free program from the Russian native, Sotnikova sent the crowd into an uproar as she overtook Kim who led after the short program. Despite failing to duplicate her achievement at the 2010 Vancouver Games, Kim has little to hang her head about after her extraordinary efforts.
Controversy over how the competition was judged will linger. Even though Sotnikova put together an excellent routine, there is at least a debate to be had regarding whether or not Kim deserved another gold.
NBC Olympic researcher Alex Goldberger certainly felt that Kim's spot atop the podium again would have been justifiable:
Adelina Sotnikova was excellent tonight, but Yuna Kim was robbed

— Alex Goldberger (@alexgoldberger) February 20, 2014
In the judges' eyes, the deciding factor boiled down to the technical elements of the top two finishers' respective performances, as Juliet Macur of the New York Times highlighted in disputing the final outcome:
No, no, no, Yuna is in second? Adelina Sotnikova of Russia wins the Olympic gold. Carolina Kostner is in third.

— Juliet Macur (@JulietMacur) February 20, 2014
Looks like Sotnikova crushed Yuna on the technical score. She brought it just when Russia needed her the most.

— Juliet Macur (@JulietMacur) February 20, 2014
Who deserved the gold medal in ladies' figure skating?
Sotnikova was outdone by Kim in the program components score, but beat her formidable foe by nearly seven points in the technical elements category.
Kim put all her proverbial eggs into one basket for the ladies' figure skating finale—a strategy that proved sound in light of her sensational short program and stellar free skate followup. It just wasn't enough to come out on top in the end.
After the outcome was decided, the South Korean native implied that she couldn't quite get herself to the zoned-in level she had in winning the gold the first time, per NBC Olympics producer Nick McCarvel:
#Yuna Kim: "It was different from 2010 b/c there was no obvious goal. Then I could die for Olympics but that strong wish wasnt present here"

— Nick McCarvel (@NickMcCarvel) February 20, 2014
That seems like a rather poor mindset to be in, as Kim seemed content with her previous top prize and didn't feel the same sense of urgency to win—despite how historic it would have been for her to go back-to-back. But that didn't take away from her performance on the ice or her competitive spirit, even if her skating wasn't quite on par with what won in Vancouver.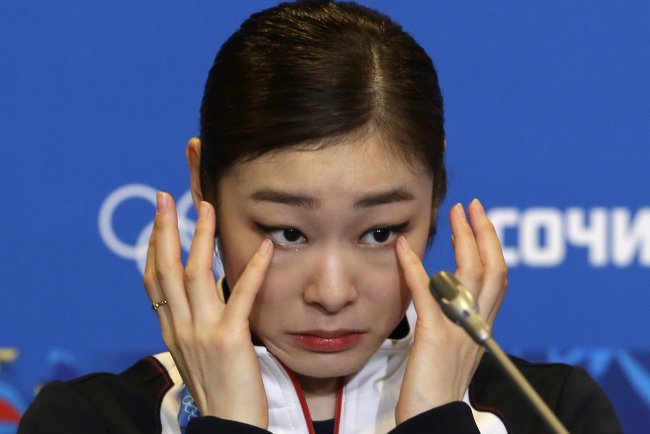 Darron Cummings/Associated Press
Despite the perception by some that she was robbed, USA Today's Nancy Armour noted how Sotnikova's program was more difficult and featured flashier tricks than Kim's did. Kim didn't feel betrayed by the judges, either:
Well, the scores are given by the judges so I am not in the right position to comment on it. There's nothing that will change with my words. The most important thing for me is to participate in these Games. This was my last participation in the competition, so I'm happy with that.
In the 2010 Winter Games, Kim scored a 150.06, compared to a 144.19 on Thursday. That disparity seems a little extreme considering how well Kim skated in Sochi, and Sotnikova's 149.95 didn't seem so close to the virtuoso performance Kim put together four years ago.
Nevertheless, the 23-year-old has perspective wise beyond her years in the midst of being upended by the teenage Sotnikova. Kim can't change the results, but she performed with grace, high class and excellence in her final Winter Olympics competition.
That's all anyone from South Korea or the slew of other fans could have asked for from the "Queen" Kim.