It's been a tale of two different lives for Marshawn Lynch over the last few months.
On the field, Lynch was his normal "Beast Mode" self and carried the Seattle Seahawks all the way to the lifting the Lombardi Trophy in Super Bowl XLVIII. Off the field, the running back has been dealing with a DUI case that dates back to July 14, 2012.
On Thursday afternoon, those charges were finally resolved, according to NFL on ESPN:
THIS JUST IN: Marshawn Lynch has agreed to plead guilty to reckless driving, which will end his pending DUI case.

— NFL on ESPN (@ESPNNFL) February 20, 2014
The reckless driving plea allows Lynch to get away with two years of probation and a fine, rather than harsher penalties that come along with driving under the influence.
When Lynch was originally served, an officer from the California Highway Patrol noticed the star back weaving in and out of traffic and nearly wrecking into two separate cars on Interstate 880 in Oakland.
Though nothing has come down from the NFL about a suspension or any penalty for Lynch's actions, Mike Florio of NBC Sports' Pro Football Talk said back in November that Lynch likely wouldn't be hit with a suspension:
Even if Lynch is found guilty, a suspension is unlikely. Although he has had prior incidents under the personal-conduct policy, Lynch has never before been charged with DUI. The standard penalty for a first-offense DUI is a two-game fine.
Lynch pleaded to reckless driving, so the statement from Florio still stands after the resolution. As previously mentioned, the NFL hasn't released an official statement about the situation, but an announcement could be coming.
With the plea, Lynch will not have to attend a four-month DUI school but will have to take part in six classes on driving safety and alcohol consumption.
Ivan Golde, Lynch's attorney, spoke about the case following the announcement, according to Terry Blount of ESPN.com:
We are resolving the case Friday by pleading to a wet reckless. We have a strong case for trial and could win the case, but the last thing he needs is to go through a public trial.

He's a Super Bowl champion and he has endorsements pending. For a guy in his position, it just doesn't make any sense to go through a public trial. He has a lot at stake here. You know Marshawn. He's not a media guy. It wouldn't have been good for him to go through all that.
"Not a media guy" might be the best definition of Lynch that Golde could go with. The Seahawks' lead back was notably avoiding the media throughout the season and during the Super Bowl Media Day.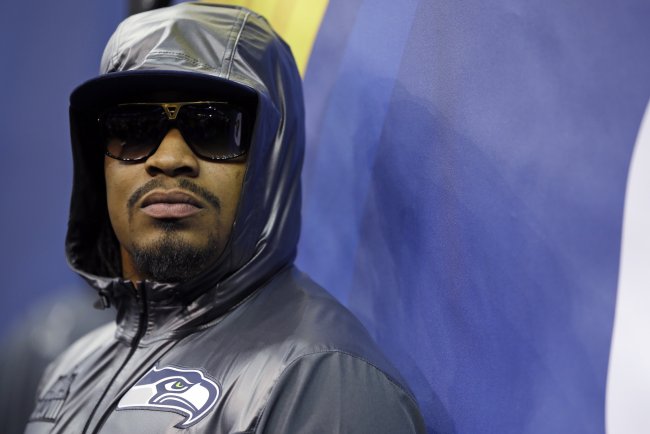 Matt Slocum/Associated Press
At the time of the incident, Lynch blew a .08 blood-alcohol level, just at the legal limit. In an attempt to avoid bringing the situation into the spotlight with a case, Golde thought it best to settle the situation out of court, according to Blount:
With the way the media is today, it would be tough for him to go through a trial like this. It was better to plead to the much lesser charge, which basically is an unsafe lane change.
Lynch has already been suspended while in the NFL. Back in 2009, he missed the first three regular-season games while with the Buffalo Bills for a violation of the league's personal conduct policy. According to the Associated Press via NFL.com, "It was Lynch's second run-in with the law, following a hit-and-run accident in Buffalo in May."
With the case now officially resolved and it looking likely that Lynch will avoid suspension this time around, Lynch can focus on getting ready for the season without any distractions.
After finishing the season with 1,257 yards and 12 touchdowns rushing during the regular season before going off for 288 yards and four touchdowns in the postseason, Lynch will be looking to have yet another productive year for the Super Bowl champs.
Entering his eighth year in the league, Lynch will now be without the cloud that's been hanging over his head for over a year and a half.
Follow R. Cory Smith on Twitter: