Boston College Upsets Syracuse, Becomes Worst Team to Beat AP No. 1 Team
Use your ← → (arrow) keys to browse more stories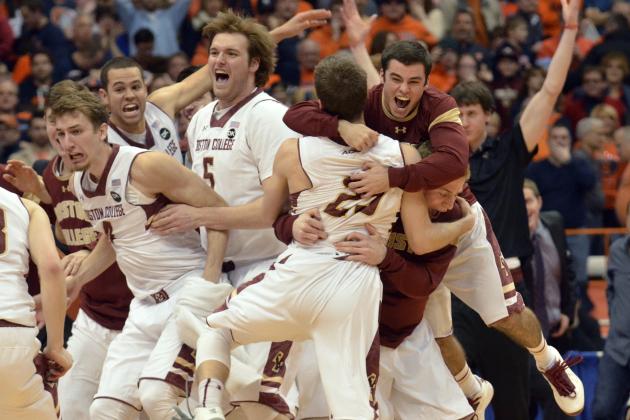 KEVIN RIVOLI/Associated Press

Boston College may be trudging through a forgettable campaign near the bottom of the Atlantic Coast Conference standings, but they scored the college basketball season's most surprising upset Wednesday against Syracuse. In beating the previously undefeated Orange 62-59 in overtime at the Carrier Dome, the 6-19 Eagles became the first sub-.500 team to knock off an Associated Press No. 1 team on the road since 1955.
Per ESPN Stats & Info, Boston College's .240 winning percentage entering Wednesday was the worst of any team to defeat an AP No. 1 in February or later. According to ESPN's College Basketball Power Index (BPI), the Eagles stood just a 1.2 percent chance of defeating Syracuse, which set its own dubious distinction by becoming just the third team with a record of 25-0 or better to lose their first game of the season at home.
As might be expected in such a monumental upset, Syracuse played a large part in its own demise, shooting a season-worst 32.3 percent from the field. The Orange were perhaps due for their first loss sooner or later after they came perilously close to dropping both of their past two games prior to Wednesday's tilt.
They needed a 35-foot buzzer-beater from freshman guard Tyler Ennis to dispatch Pittsburgh last Wednesday and narrowly escaped with a one-point win over North Carolina State three days later. Still, few guessed that Syracuse's first defeat would come at the hands of lowly Boston College, a team with just one true road win heading into Wednesday's contest.
With just five regular-season games remaining, the Eagles probably need an ACC tournament title to have any shot at qualifying for the NCAA tournament. However, knowing that they're capable of toppling even the most formidable of opponents on any given night, Boston College should at least play more competitively the rest of the way.