Teams often use every second before the NBA trade deadline to negotiate before a deal is eventually reached. This means that there is still time for a number of key players to be moved before 3 p.m. ET on Feb. 20.
At this point of the year, most organizations know exactly what they want out of their roster. This creates a better list of targets than what was available earlier in the season.
Of course, the front offices that wait until the last minute now have their backs against the wall attempting to make a trade. Although this could ruin any leverage they once had, it still seems as though a number of transactions are likely to go through.
Here is the latest buzz around the NBA on players who should have their bags already packed.
Evan Turner, Philadelphia 76ers
It is no secret that the 76ers are preparing for the future, especially with the current roster only managing a 15-40 record heading into the trade deadline.
The squad already made one big move on Thursday by dealing starting center Spencer Hawes to the Cleveland Cavaliers, according to Brian Windhorst of ESPN. However, the organization is not done making moves.
Jared Zwerling of Bleacher Report reports that Evan Turner is still on the market, as he has been for most of the year:
Hearing Evan Turner is still hard on the market, but it's been that way for like three months. We'll just have to see.

— Jared Zwerling (@JaredZwerling) February 19, 2014
Of course, the asking price has gone down, according to Ken Berger of CBS Sports:
Unable to secure a 1st-round pick in a deal for Evan Turner, Sixers may now take a 2nd as part of package for '10 No. 2 pick, sources say.

— Ken Berger (@KBergCBS) February 20, 2014
Turner is in the midst of a career year with an average of 17.4 points per game as the team's leading scorer. If he is able to go to a contender, he can provide his new team with consistent scoring and strong defense either as a starter or off the bench.
While teams did not want to part with a first-round pick with the 2014 class looking like one of the best in years, a second-round pick makes this deal worth the price for someone trying to improve immediately.
Jordan Hill, Los Angeles Lakers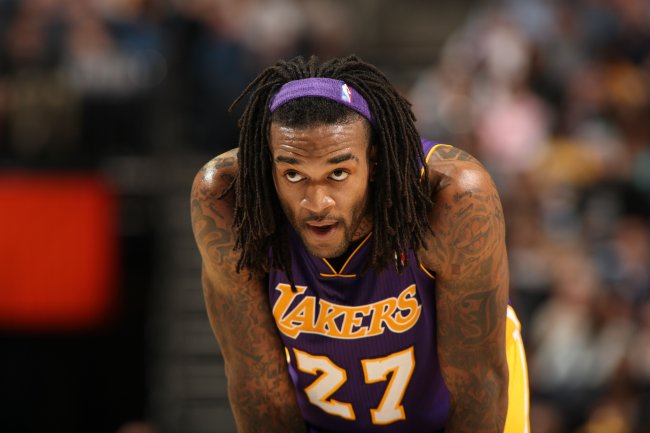 Kent Smith/Getty Images
With an aging, injury-prone roster, the Los Angeles Lakers are now trying to trade anyone who still has value. They started things off by dealing veteran point guard Steve Blake to the Golden State Warriors, according to Mike Bresnahan of the Los Angeles Times.
The next player to go is likely Jordan Hill, who has averaged a solid 8.5 points and seven rebounds in only 19.6 minutes per game. His contributions on both sides of the floor are certain to help a team looking for depth in the frontcourt.
Matt Moore of CBS Sports reports that the Brooklyn Nets lead a wide range of suitors for the forward. Dave McMenamin of ESPN Los Angeles adds a few more options for the Lakers to choose from:
The Phoenix Suns and Dallas Mavericks have also talked to the Lakers about acquiring Jordan Hill, according to a league source.

— Dave McMenamin (@mcten) February 19, 2014
ESPN's Marc Stein provides a look at the team's asking price:
Lakers must be confident they can move Jordan Hill to ask for second-rounder. Cause it's usually team going under tax that gives up the pick

— Marc Stein (@ESPNSteinLine) February 20, 2014
However, teams have started to back away, and nothing has progressed, according to Mark Medina of the Los Angeles Daily News:
Lakers have three hours to trade Pau Gasol and/or Jordan Hill. I'm told specifically with Hill that nothing has progressed yet

— Mark Medina (@MarkG_Medina) February 20, 2014
Time is running out for Los Angeles to make a move, but the reality is that the squad might not even be able to get a second-round pick in return for this deal. The Lakers are clearly attempting to cut salary, and no team will want to bring on too much money while also costing a draft pick.
This could end up being a cash-based deal if it goes through.
Luol Deng, Cleveland Cavaliers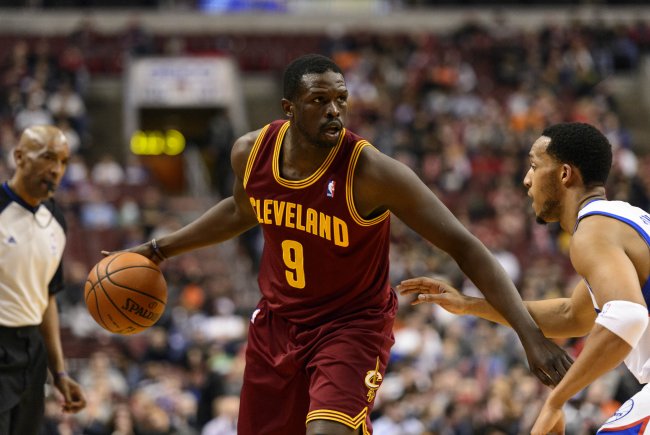 Howard Smith-USA TODAY Sports
This would certainly qualify as one of the stranger deals that could be made on Thursday, but it is certainly a possibility.
Luol Deng was acquired by the Cavaliers last month in a trade for Andrew Bynum, meaning another trade would be quickly admitting a mistake. Meanwhile, the recent addition of Hawes indicates that the squad intends to challenge for a playoff spot.
Still, Stein reports that Cleveland is still trying to move the wing before the deadline:
Hearing: Wizards -- who tried to acquire Luol Deng from Bulls at last NBA Draft -- are among teams in Deadline Day talks with Cavs on Deng

— Marc Stein (@ESPNSteinLine) February 20, 2014
On the other hand, Berger provides a look at the shift in thinking over the course of the day:
There's no traction with Detroit or Washington on a Luol Deng deal, sources say. Cavs continuing to explore options.

— Ken Berger (@KBergCBS) February 20, 2014
Phoenix, too, has resisted Cleveland's efforts to secure a first-round pick for Deng, who will be unrestricted after the season.

— Ken Berger (@KBergCBS) February 20, 2014
The Cavs have shifted away from trying to secure a first-round pick for Luol Deng and are scanning the market for a veteran, sources say.

— Ken Berger (@KBergCBS) February 20, 2014
Either way, it seems clear that the Deng experiment has not gone according to plan. After averaging 19 points in 23 games with the Chicago Bulls, his average is down to 14.7 in 19 appearances with the Cavs. His rebounds, assists and field-goal percentage are all also down.
According to Mitch Lawrence of the New York Daily News, the forward also told a friend, "the stuff going on in practice would never be tolerated by the coaching staff or the front office back in Chicago. It's a mess."

If the Cavaliers can find any value in a trade, it might be smart to make it happen before things get any worse.
Follow Rob Goldberg on Twitter for the latest breaking news and analysis.