The AP No. 4 Arizona Wildcats narrowly avoided an upset in Wednesday's Pac-12 clash with Utah, escaping with a 67-63 overtime victory at Salt Lake City's Jon M. Huntsman Center.
No. 4 Arizona survives OT scare from Utah, winning 67-63. Aaron Gordon fouls out after scoring just 3 points.

— SportsCenter (@SportsCenter) February 20, 2014
A balanced scoring effort allowed Arizona to persevere and ultimately pull through, led by guards Gabe York and Nick Johnson, who each scored a game-high 15 points. York had only averaged 6.6 points per contest coming in, so his stepping up was a big reason why the Wildcats escaped.
This win brings the Wildcats to 24-2 overall and 11-2 in the conference, while the Utes fall to 17-9 and 6-8 in the Pac-12.
Part of what pressed York to step up so much was the fact that freshman forward Aaron Gordon fouled out after scoring just three points. He consistently scores in double figures and was part of the reason the Wildcats' nine-point lead at the half began to slip when he exited for good with roughly eight minutes left in regulation.
#Utes trail 48-44 with 7:34 to play. Aaron Gordon fouls out with 8 minutes to play. Utah has made this one a street fight

— Bill Riley (@espn700bill) February 20, 2014
Tracy McDannald of GoAZCats.com felt the impact York made was significant in his unusually increased role:
When Gabe York is on, he gives the #ArizonaWildcats the balance they need as a shooter. Starting him may not be such a bad idea.

— Tracy McDannald (@TracyGOAZCATS) February 20, 2014
On a day where the top-ranked team in the country in Syracuse lost in overtime and multiple other top-tier squads were tested down to the wire, CBSSports.com's Jon Rothstein was excited to see another thriller:
OT in Salt Lake City. Tonight epitomizes why college basketball is the best sport on the planet. So unpredictable.

— Jon Rothstein (@JonRothstein) February 20, 2014
Even though the Wildcats were able to emerge with the win, it was still a sign that they are missing the presence of versatile forward Brandon Ashley, which is something ESPN's Jeff Goodman alluded to:
Arizona continues to struggle without Brandon Ashley. Wildcats 2-2 and now in overtime on road against Utah.

— Jeff Goodman (@GoodmanESPN) February 20, 2014
Offensive execution was at least a little better for Arizona, which was something coach Sean Miller indicated hurt his team late in games before Wednesday's contest, per ESPN.com's preview (via Stats LLC):
We've had so many games this year where we didn't make our free throws, we didn't shoot the ball well or sometimes didn't have a lot of attempts from (3-point range). The combination of our defense and (rebounding) have allowed us to be 23-2, not 15-10. Nobody knows more than I that the ball going in the basket a little bit more will give us a lot more room for error down the stretch.
After building a 35-26 halftime lead, though, the Wildcats went into a lull and allowed the Utes to climb back into the game. Renowned stats guru Ken Pomeroy offered his take on what was happening:
56-56 [60 poss]. Arizona having all sorts of issues getting anything but challenged mid-range 2's since Gordon left.

— Ken Pomeroy (@kenpomeroy) February 20, 2014
Johnson had to assert his will, hitting the clutch buckets that Miller alluded to being so important. Two jumpers on consecutive possessions gave the Wildcats a late 56-55 lead. Tony Jones of the Salt Lake Tribune noticed Johnson's clutch play and noted that it was an element Utah lacked:
Those last two possessions show why Nick Johnson is a player of the year candidate. He's a closer and that's what the Utes lack

— Tony Jones (@Tjonessltrib) February 20, 2014
The Wildcats standout also hit two key free throws in overtime to give his team a two-possession lead at 64-60 with 21.4 seconds left, which turned out to be too much for the hosting Utes to overcome. Utah bricked key shots from the charity stripe in the extra period, which ended up costing it a chance at pulling the upset while Johnson had ice in his veins.
It was rather surprising that the Utes were able to stay in this contest, considering typical star forward Jordan Loveridge made just one of his 12 shots from the field in a forgettable performance.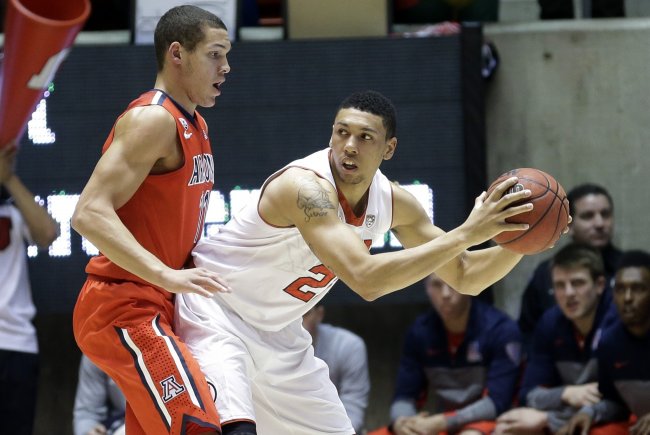 Rick Bowmer/Associated Press
Center Dallin Bachynski came off the bench for 12 points and nine rebounds, while guard Brandon Taylor led the Utes with 13 points of his own. Deion Wright scored 12 for Utah but had six of its 16 turnovers—another big contributing factor to its blown chance at pulling off the win.
As for what this means moving forward, the Wildcats still have issues to address sans Ashley. The good news is that they were able to overcome adversity, improve to 3-2 without Ashley and pull off a win in a hostile environment. Miller will have to ready his players for a formidable test on Saturday at Colorado, though.
This is going to be viewed as a missed opportunity for the Utes, who had all the momentum in their favor at home in mounting a valiant comeback in the second half. Unfortunately, their top offensive threat in Loveridge didn't come to play and sloppy play led to too many turnovers that cost them the game. Utah will attempt to recover from this difficult defeat at home versus Arizona State on Sunday.