The top-ranked, previously unbeaten Syracuse Orange were shocked in the Carrier Dome on Wednesday in one of the biggest college basketball upsets in recent memory, losing to Boston College 62-59 in overtime in a thrilling ACC battle.
No. 1 Syracuse is handed their first loss of the season vs. Boston College in OT, 62-59! pic.twitter.com/cUneGAK6eU

— Bleacher Report (@BleacherReport) February 20, 2014
After utilizing coach Jim Boeheim's trademark suffocating defense to build a 25-17 halftime lead and cover their own offensive deficiencies, the Orange were blitzed in the final 20 minutes of regulation and were unable to pull it out in the extra period.
Olivier Hanlan came in averaging 18.2 points per contest, and he shined bright on the road, matching Syracuse star C.J. Fair with a game-high 20 points. Hanlan was one of only two Eagles to score in double figures, a byproduct of the defensive struggle between the two teams.
The other BC player to score in double digits was Lonnie Jackson, a 56 percent free-throw shooter on the season who hit four clutch attempts from the charity stripe in overtime to aid the victorious effort. This win boosts the Eagles to 7-19 overall and 3-10 in the conference, while the Orange fall to 25-1 and 12-1 in the ACC.
Stewart Mandel of Sports Illustrated accentuated how big the upset was, using the NCAA tournament as an analogy:
Was that the regular season equivalent of a 16 over 1?

— Stewart Mandel (@slmandel) February 20, 2014
This couldn't have been much more of a mismatch, as ESPN Stats & Info highlighted when it looked as though the Eagles could pull the upset in regulation:
Syracuse ranked No. 3 in BPI...Boston College is 159. In terms of differential, it would be largest upset against top-25 team this season

— ESPN Stats & Info (@ESPNStatsInfo) February 20, 2014
Prior to Wednesday, Boston College had only beaten one team at the highest level of collegiate competition since November, per CBS Sports' Jeff Borzello:
To reiterate: Boston College has beaten one D-I team since November. And they're tied with No. 1 and unbeaten Syracuse with 41.2 secs left.

— Jeff Borzello (@jeffborzello) February 20, 2014
Pat Forde of Yahoo Sports alluded to how longtime BC sports information director Dick Kelley, who passed away this week, would have been thrilled with the Eagles' valiant effort:
The late Dick Kelley would be loving this stunner in the Carrier Dome. BC playing inspired.

— Pat Forde (@YahooForde) February 20, 2014
Sports Illustrated's Andy Glockner felt that it was only a matter of time before Syracuse slipped up eventually—even though this was most unexpected considering it was at home against an unranked foe:
Everyone understands that Cuse "should have" multiple losses at this point. Good team that's been statistically lucky.

— Andy Glockner (@AndyGlockner) February 20, 2014
Boeheim discussed Syracuse's vulnerability before Wednesday's game, per Syracuse.com's Donna Ditota:
...I know that you can lose against anybody you play. We've been in those situations and we've been able to win those games. You know, it's one thing being in close games. It's another thing being in the type of jeopardy we've gotten ourselves into in a couple of games. The last game was the first game we made a couple bad plays down the stretch. If we'd have done that in some other games, we'd have lost. I think this team deserves a lot of credit for making those plays, but I'm sure that you would have to think that this team is vulnerable, like pretty much everybody else is.
Three-point shooting was huge in this one, as the Eagles drained 11 out of 22 shots from downtown while the Orange managed to make just two of 12 attempts from distance.
Sophomore forward Jerami Grant muscled up a short shot with his right hand in the lane with just over a minute left to give the Orange a 50-48 lead. Grant continued a recent spurt of strong play after a double-double against NC State in the previous contest.
It looked as though reality was setting in for Boston College toward the end of this nail-biter, as ESPN's Dana O'Neil alluded to:
BC is starting to look like BC on these last few possessions.

— Dana O'Neil (@ESPNDanaOneil) February 20, 2014
But Hanlan responded with a sweet scoop shot to knot the game at 50 with just 41.2 seconds remaining.
Syracuse freshman phenom Tyler Ennis missed a point-blank layup to take the lead, yet the Orange hustled after the loose ball and held on for the final shot in regulation. Rakeem Christmas then missed a short turnaround jumper, sending the game to overtime.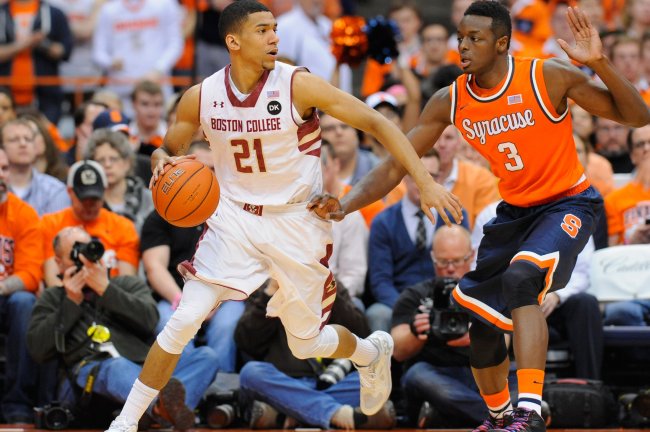 Rich Barnes/Getty Images
Hanlan drained a three on the first possession of the extra period before Fair waded into the paint and cut the lead back to one point. It became evident that Hanlan wasn't the only one capable of creating his own offense against the stout Syracuse zone in crunch time, as Patrick Heckmann hit a three-pointer to stretch it to 56-52.
Heckmann then blocked Fair's attempt to tie the game on a fast break minutes later, but Ennis laid it in after a chaotic sequence at both ends to knot things at 56. Ennis continued to attack, as did both teams as the game came down to the wire.
In the end, a three-point shot to tie by Trevor Cooney hit nothing but air, sealing Syracuse's fate and dashing its hopes of a perfect 2013-14 campaign.
The Big Lead's Jason McIntyre suggested that the Orange were looking ahead on the schedule, with an epic clash with Duke on tap:
Not a huge surprise Syracuse played poorly w/ Duke up Saturday. Obvious look-ahead. Boston College lost to Toledo. And USC. And Auburn.

— Jason McIntyre (@jasonrmcintyre) February 20, 2014
It's worth commending the valiant effort by Boston College in this one. Entering the hostile environment that is the Carrier Dome and emerging with a victory is nothing short of remarkable, especially considering their struggles on the season before this. A road trip to face the Miami Hurricanes squad that is also below .500 may allow the Eagles to keep their sudden jolt of energy going.
As for Syracuse, it's hard to dispute the notion that the Orange were looking ahead to their impending matchup with the Blue Devils. That game could go far in deciding the top of the NCAA tournament bracket, and now Boeheim has to get his players revitalized after this stunning disappointment on Wednesday.
But if the Orange execute as poorly as they did in this contest at Cameron Indoor Stadium in Durham this Saturday, they are in serious danger of back-to-back losses. Better shot selection and less pressing by both Fair and Ennis will serve Syracuse well in its bid to bounce back, and the typical extraordinary effort the team gives on defense must be maintained.