Updates from Friday, Feb. 21
Kevin O'Neill, who was recently let go by the Miami Dolphins, was awarded the award for Outstanding Athletic Trainer of the Year by the NFL Physician's Society, according to ESPN's Stephania Bell:
Kevin O'Neill, the longtime head athletic trainer for the Miami Dolphins who was fired Wednesday as a consequence of findings in the Ted Wells report on workplace harassment, was honored Friday night with the 2014 Fain-Cain Memorial Award for Outstanding Athletic Trainer of the Year by the NFL Physician's Society.
Original Text:
The bullying saga that swept through the Miami Dolphins organization has reportedly cost head athletic trainer Kevin O'Neill and offensive line coach Jim Turner their jobs.
OL coach Jim Turner and Head Athletic Trainer Kevin O'Neill relieved of their duties effective immediately: http://t.co/QOihkaEdZ7

— Miami Dolphins (@MiamiDolphins) February 20, 2014
ESPN insider Chris Mortensen first reported that O'Neill had been fired after the Ted Wells report implicated him in the harassment of offensive tackle Jonathan Martin:
Dolphins have fired longtime head athletics trainer Kevin O'Neill, per league sources. O'Neill was named in the Ted Wells report.

— Chris Mortensen (@mortreport) February 19, 2014
Wells carried out an independent investigation on the matter. In the full report, Wells concluded that Martin, an additional young offensive lineman and an assistant trainer were subjected to a "pattern of harassment" by Dolphins players Richie Incognito, Mike Pouncey and John Jerry.
A summarizing statement from Wells provided more specificity, per NFL.com's Gregg Rosenthal:
The Report finds that the assistant trainer repeatedly was the object of racial slurs and other racially derogatory language; that the other offensive lineman was subjected to homophobic name-calling and improper physical touching; and that Martin was taunted on a persistent basis with sexually explicit remarks about his sister and his mother and at times ridiculed with racial insults and other offensive comments.
Beginning in 1996 with head coach Jimmy Johnson, O'Neill spent 18 seasons with the Dolphins. Johnson was the reason why O'Neill got his start in the NFL with the Dallas Cowboys, per Mortensen:
Kevin O'Neill, now out as Dolphins trainer, came into NFL with Cowboys in 1990 and Jimmy Johnson, then moved on to Miami.

— Chris Mortensen (@mortreport) February 19, 2014
The report portrayed O'Neill to be guilty by association, as well as a seemingly unwilling participant in the investigation. Michael David Smith of NBC Sports' Pro Football Talk transcribed the excerpt that implicated O'Neill as part of the bullying and abuse—or at least as a passive bystander:
O'Neill, the head trainer, not only overheard the racist insults, but also sometimes laughed along and never intervened. We did not cover this specific topic in our interview with O'Neill, which was cut short because O'Neill expressed hostility toward our investigation.
Former NFL player Qadry Ismail weighed in on the situation and essentially agreed with O'Neill's dismissal:
@mortreport @SiriusXMNFL He was a part of the failure of leadership!

— Qadry Ismail (@QadryIsmail) February 19, 2014
Bleacher Report's Ethan J. Skolnick covers the NBA's Miami Heat but understands the magnitude of O'Neill getting fired, considering his lengthy tenure in the South Beach area:
Not surprised after reading Wells Report, but firing of Kevin O'Neill is seismic in Dolphins-land. Worked for 7 head coaches.

— Ethan J. Skolnick (@EthanJSkolnick) February 19, 2014
The Dolphins later confirmed that Turner would no longer be with the team as well.
Here is the statement from head coach Joe Philbin on the situation:
"As the Head Coach of the Miami Dolphins, it is my responsibility to create an atmosphere that allows each player the opportunity to reach his full potential. As Stephen Ross said, and I agree, the language and behavior outlined in Ted Wells' report was disappointing and unacceptable. Since I first arrived in Miami, it has been my goal to have a team which honors our proud tradition and represents our fan base the right way both on and off the field. It is not possible for a team to accomplish its goals when the fundamental values of respect are violated. That ultimately rests on my shoulders and I will be accountable moving forward for making sure that we emphasize a team-first culture of respect towards one another."
And here is part of owner Stephen Ross' statement:
"The language and behavior as described in the Ted Wells report are against the core values of our organization. After receiving the report, I conducted my own internal review of the facts to determine the appropriate steps for our organization. Jim Turner and Kevin O'Neill are good people who care a great deal about their profession and the players whom they serve, but both exhibited poor judgment at times which led me to this conclusion."
Read the full statement here.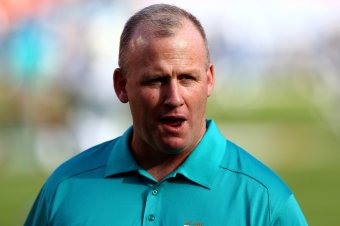 Streeter Lecka/Getty Images
This might not be the only dominoes to fall for the Dolphins after the investigation concluded that bullying did take place. A lack of accountability from the top down has resulted in a mess of a situation for both the Dolphins and their players, and now O'Neill and Turner are gone.
In the midst of this rather chaotic situation, general manager Jeff Ireland also lost his job. That leaves a new regime to prepare for the 2014 NFL draft after Ireland's bold moves last offseason didn't give the Dolphins the boost they needed to get to the playoffs in 2013.
Although there is talent at the core of this Miami team, questions remain about just how much of a negative effect this bullying scandal will have—not to mention whether 2012 No. 8 overall pick Ryan Tannehill is the quarterback of the future.