The NBA trade deadline is mere hours away. This is the time when teams that are desperate to move unwanted players may take less in return to dump their baggage or non-retainable pending free agents.
Who's going to get moved, and who's going to stay put? We'll know soon enough. That said, here's a look at some of the hottest information circulating.
The Price for Iman Shumpert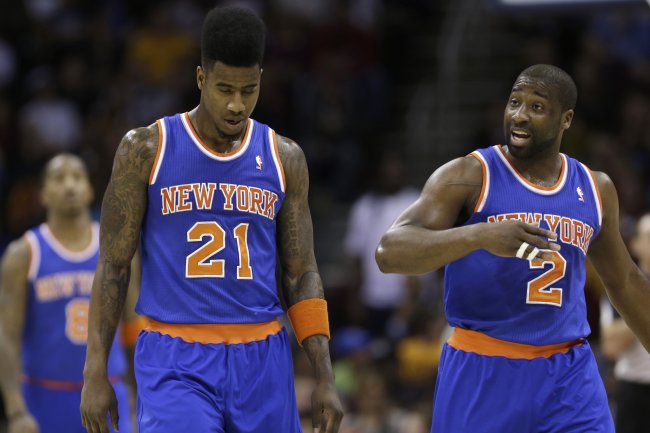 Tony Dejak/Associated Press
Apparently, New York Knicks guard Iman Shumpert is very available, but the team has an ultimatum for potential suitors, per Marc Stein and Ian Begley of ESPN:
RT @ESPNSteinLine: ESPN has learned Knicks are telling teams who want Shumpert: it'll cost a 1st round pick or you have to take back Felton.

— Ian Begley (@IanBegley) February 19, 2014
Given the Knicks' current cap-strapped situation and major underachiever status, it seems odd that the team would be in position to make demands.
That said, Felton's contract really isn't that bad.
After this season is over, he has one more year left on his deal. He'll make $3,793,693 in the 2014-15 season, per Spotrac. He can be a free agent after that, but he does have a player option for the 2015-16 season at $3,950,313.
Either way, it's not a horrible pill to swallow. He's averaging 10 points and 5.8 assists per game this year. A team looking for backcourt depth could do worse than adding Felton and Shumpert.
Jordan Hill is Becoming a Hot Commodity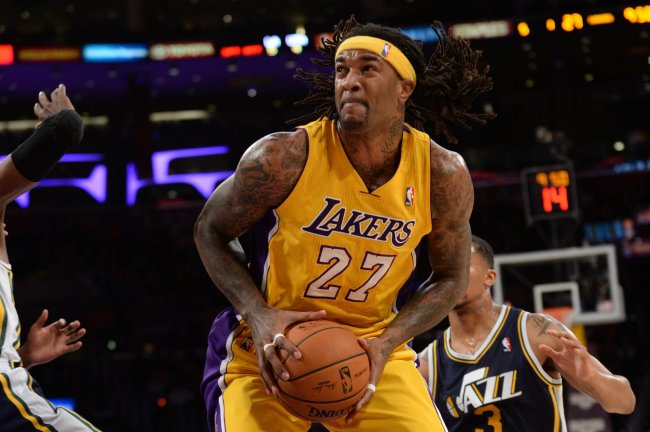 Noah Graham/Getty Images
At this point, it'll be a shock if Jordan Hill isn't traded from the Los Angeles Lakers. Per Yahoo! Sports' Adrian Wojnarowski, the Brooklyn Nets are interested, but the Phoenix Suns could intervene and grab him:
Among teams who could still redirect Jordan Hill away from Brooklyn, watch for the Phoenix Suns, league sources told Yahoo Sports.

— Adrian Wojnarowski (@WojYahooNBA) February 19, 2014
The Suns have a need for depth in the frontcourt. While Hill wouldn't be the big splash the team may be looking to make, he would bring length, youth and athleticism.
The Lakers are obviously building for the future, so clearing cap space and potentially acquiring draft picks is paramount for them.
Hill seems to be taking the trade talks in stride. Bill Oram of the Orange County Register quotes Hill discussing the business side of the NBA:
Jordan Hill after practice today: "Anybody can be traded. If anything happens, I definitely enjoyed my time here."

— Bill Oram (@bill_oram) February 19, 2014
Could Luol Deng Be Traded Again?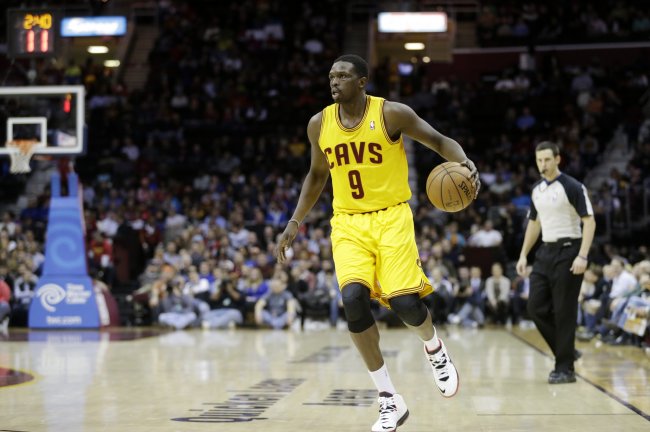 Mark Duncan/Associated Press
Deng has only been with the Cleveland Cavaliers for a little over a month, but his name is already popping up in trade rumors again.
Per ProBasketballDraft on Twitter, the Cavs aren't positive about their abilities to re-sign Deng when he becomes an unrestricted free agent in the offseason. Because of this uncertainty, the team is apparently making him available:
Cavs exploring deals for Luol Deng is more about due diligence. While front office not sure if he'd resign feeling is that he'd sign & trade

— Probasketballdraft (@Probballdraft) February 19, 2014
Without a question Deng could make an impact for a contending team, but what general manager or owner is willing to gamble on whether they can re-sign him, or be OK with renting his services for the rest of the season?
If no deal is done, the answer will be pretty plain.
Follow me. I'm addicted to hoops.