The Champions League hill Arsenal had to climb just turned into a mountain.
During the first leg of the Gunners' round of 16 matchup against Bayern Munich on Wednesday, goalkeeper Wojciech Szczesny took down Arjen Robben in the box and was given a straight red card, meaning he's out for the second leg against the German squad, as well.
Arsenal's official Twitter feed confirmed the news:
Robben went through and @13Szczesny13 caught him after the Dutchman flicked the ball past him. On comes Fabianski 0-0 (38) #AFCvBAY

— Arsenal FC (@Arsenal) February 19, 2014
David Alaba went on to miss the penalty—the second miss from the spot during the match after Mesut Ozil's chance was saved in the eighth minute—to keep it 0-0 going into halftime, but Toni Kroos scored on a brilliant strike in the second half to give Bayern the advantage as well as an important road goal.
Bayern went on to win, 2-0, and the Gunners are going to need Lukasz Fabianski, who has appeared in just four matches—all of the Capital One Cup or FA Cup variety—this season prior to Wednesday to come up big in the second leg in Germany.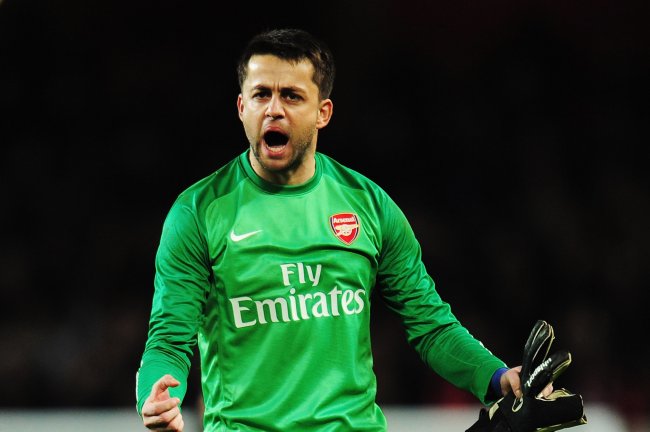 Shaun Botterill/Getty Images
As you might remember, though, Fabianski was in goal during last year's Champions League match when Arsenal shut out Bayern at the Allianz, 2-0.
As BT Sport's Archie Rhind-Tutt noted, that was Bayern's only result of its kind in quite some time:
One to bear in mind: only Arsenal (and Lukasz Fabianski) have stopped Bayern Munich from scoring in their last 96 games.

— Archie Rhind-Tutt (@archiert1) February 19, 2014
So, is Fabianski to the defending Champions League winners what Kryptonite was to Superman? Or what Ruben Patterson was to Kobe Bryant?
That remains to be seen, but after Wednesday's result, Arsene Wenger undoubtedly has his work cut out for him.
Although Szczesny had a forgettable performance against Liverpool a little over a week ago, he bounced back in a big way against Manchester United. As FOX Soccer Trax pointed out, he was looking tremendous early in this crucial match too:
BIG SAVE! Kroos is given some space, and does he unleash a shot! Szczesny with the great, one-handed stop. 0-0

— FOX Soccer Trax (@FOXSoccerTrax) February 19, 2014
Teams need to be perfect against Bayern and this is a brutal blow for Arsenal's chances, even though Fabianski has shown some potential.
How will Arsenal fare without Szczesny over the next three matches?
Perhaps Fabianski can provide some magic once again in Germany and the Gunners' attack can make up the rest. A 2-0 victory would push the match to extra time, while any other win by two goals or more would send the Gunners through.
Against possession-hogging Bayern, though, that's an incredibly tall task no matter who's in goal, and advancing to the quarterfinals just became excruciatingly more difficult than it already was.