The 2014 Winter Olympics have been exciting, but there has been no event that draws as much attention and fanfare as the men's ice hockey tournament.
With four quarterfinals matchups taking place on Wednesday that set the stage for two exciting semifinals games on Friday, the excitement for Sweden vs. Finland and Canada vs. Team USA is through the roof.
It doesn't get much better than these semifinals matchups.
After a wild day of quarterfinals, here are the final scores from Day 12 and all the viewing information hockey fans need.
Men's Scores from Feb. 19

| | |
| --- | --- |
| Round | Result |
| Quarterfinals | Sweden 5, Slovenia 0 |
| Quarterfinals | Finland 3, Russia 1 |
| Quarterfinals | Canada 2, Latvia 1 |
| Quarterfinals | United States 5, Czech Republic 2 |
Source: NBCOlympics.com and Sochi2014.com
Here is the schedule for the remainder for the men's tournament:
Remaining Men's Hockey Schedule

| | | | | |
| --- | --- | --- | --- | --- |
| Date | Time (ET) | Round | Matchup | Prediction |
| Feb. 21 | 7 a.m. | Semifinals | Sweden vs. Finland | Sweden |
| Feb. 21 | 12 p.m. | Semifinals | Unites States vs. Canada | United States |
| Feb. 22 | 10 a.m. | Bronze Medal Game | To be determined | Canada |
| Feb. 23 | 7 a.m. | Gold Medal Game | To be determined | United States |
Source: NBCOlympics.com and Sochi2014.com
Updated Men's Bracket
The men's championship bracket, via ESPN's stats and info account:
A look at the Men's Ice Hockey bracket for the Sochi Olympics. Team USA takes on Canada on Friday. pic.twitter.com/QRS88Gx2PW

— ESPN Stats & Info (@ESPNStatsInfo) February 19, 2014
United States 5, Czech Republic 2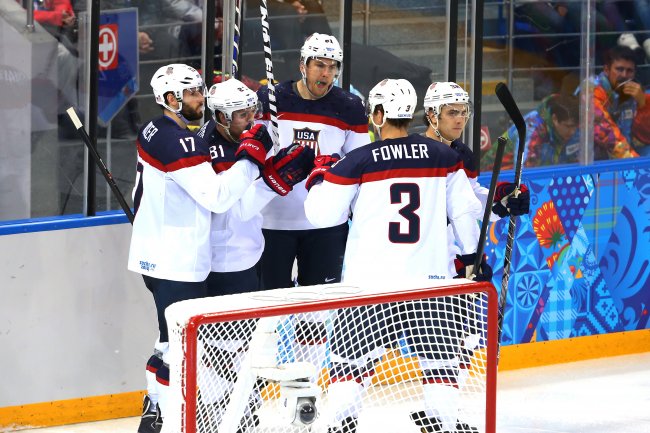 Quinn Rooney/Getty Images
There were questions about the consistency of Team USA's offensive unit, but after scoring more total goals than any other team in the men's hockey tournament, it is clear that the American team is the class of the field:
Meanwhile, 12 different Americans have scored as part of Team USA's 20 goals.

— Mike Cole (@MikeColeNESN) February 19, 2014
Team Canada and the winner of the Sweden vs. Finland semifinal game have been put on notice.
While the offensive surge of Team USA was the key to success against the Czech Republic, it was the physical play that made the biggest difference. If the Americans can carry over that aggressive play into the offensive and defensive zones, the Canadians will have a hard time finding an offensive rhythm.
United States forward Max Pacioretty told the Associated Press via ESPN about playing Canada:

It's a great opportunity. They're obviously the favorite coming into the tournament, and we've opened up a lot of eyes with our play, but we have more in the tank to give and to show. We keep getting better every game, and hopefully we'll keep getting better after this one.
Led by the elite goaltending of Jonathan Quick who continues to look strong, the physical pressure Team USA has carried and the relentless forechecking attack that has visibly bothered their opponents will make Canada sweat as well.
As long as the offensive game plan continues to give the Americans chances, there is no doubt that their imposing style and fast-paced tempo will give Team USA the victory over Team Canada.
Canada 2, Latvia 1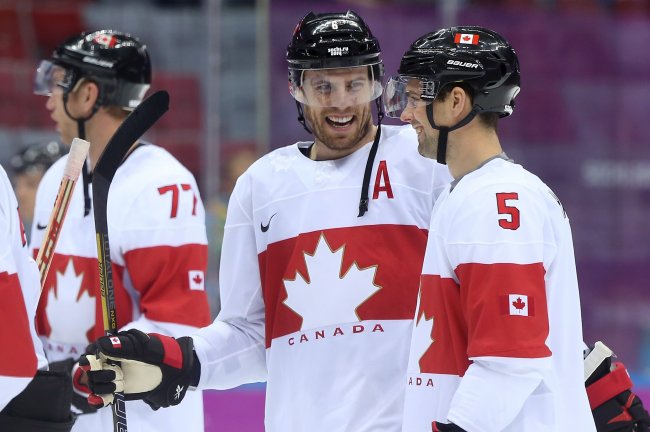 Bruce Bennett/Getty Images
Team Canada was supposed to trounce the Latvians in the quarterfinals and march into a semifinals matchup with Team USA with momentum on their side. In reality, the team is lucky to be advancing to the next round after winning 2-1.
Team Latvia goaltender Kristers Gudlevskis stopped 55 of 57 shots and almost single-handedly thwarted Canada's medal dreams. Gudlevskis and the entire Latvian team proved that the gold medal contenders from the Great White North aren't as talented as most anticipated.
Peter Mansbridge of CBC broke down the final score:
Canada beats Latvia 149,000,000 to 6,000,000. Oh sorry that was in salaries. In goals 2-1. But hey, a win's a win.

— Peter Mansbridge (@petermansbridge) February 19, 2014
While the Canadians managed 57 shots on net, there were few quality scoring chances. With a roster full of star NHL players, the Canadians had Latvia outmatched in every facet of the game, but still couldn't find an answer to the offensive woes.
Team Canada now must go on to play Team USA in the semifinals for the right to advance to the gold-medal game. This is the dream matchup that fans from both nations wanted, and while it didn't come in the championship round, a semifinals battle is still exciting.
If Canada wants to pull out the victory, though, it must find the rhythm it lacked against Latvia on Wednesday and play more physical against the hard-charging American forwards.
Updated Medal Standings
*All stats and information via NBCOlympics.com and Sochi2014.com.