The United States and Canada will clash to determine hockey supremacy at the 2014 Winter Olympics.
Fans from opposing sides of the border will get treated to twice the fun when both the men and women representing the two nations will square off in Sochi. Although both showdowns will read "USA vs. Canada," the stakes are higher on the women's side.
The two heavy favorites will meet on Thursday, with gold medals hanging in the balance. Canada will look to replicate last week's victory and win its fourth straight Olympic title.
While the winner of the men's slate is not guaranteed gold, they will advance to the championship game to meet Sweden and Finland. With Russia receiving a surprising exit, the winner between the U.S. and Canada will enter the gold-medal match as the favorite.
Let's take a look at each game between the North American powerhouses.
U.S. Hockey Winter Olympics Schedule

| | | | | |
| --- | --- | --- | --- | --- |
| Team | Opponent | Round | Date/Time (ET) | TV |
| Women | Canada | Finals | Feb. 20, 12 p.m. | NBC |
| Men | Canada | Semifinals | Feb. 21, 12 p.m. | NBC Sports |
NBCOlympics.com
U.S. Men's Outlook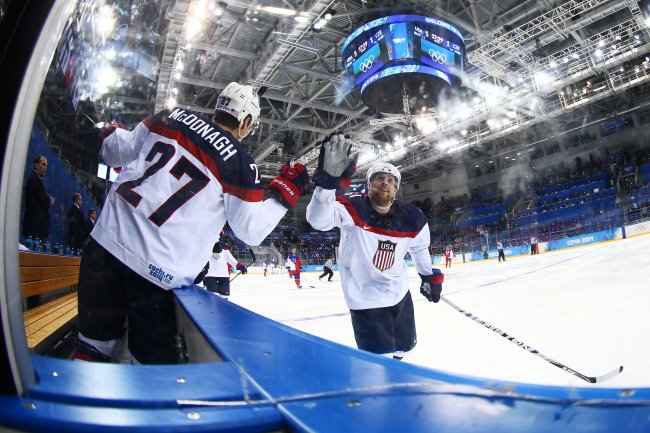 Clive Mason/Getty Images
Four years in the making, sweet revenge is on the U.S. men's mind after Vancouver's thrilling finish.
Team USA had juggernaut Canada on the ropes, but Sidney Crosby saved the day with a game-winning goal in overtime. Unfortunately for the U.S., Crosby is back to guide his homeland to another first-place finish.
He's not the last of the Americans' worries, though. As ESPN Stats & Info illuminates, this matchup is full of top scorers from Sochi.
A look at the top goal scorers for USA and Canada. Kessel's 5 goals are tied for most in this year's Olympics. pic.twitter.com/0OzXJLAa4a

— ESPN Stats & Info (@ESPNStatsInfo) February 19, 2014
Topping the tally from both teams is Phil Kessel, who was the NHL's only player to notch more than 30 goals and assists apiece before breaking for Olympic play. One of his five Olympic scores came during Wednesday's quarterfinals victory over the Czech Republic.
.@PKessel81 scores a goal in the 3rd period. Final score is 5-2 for USA, who moves on to play Canada in the semis. pic.twitter.com/2W9faGwGV0

— NHLPA (@NHLPA) February 19, 2014
He's in a particularly precarious position, as a victory may not earn him a warm welcome when he resumes play for the Toronto Maple Leafs. But Crosby probably wasn't an American hero either in 2010, until Pittsburgh Penguins fans remembered he's back on their side.
American forward Max Pacioretty acknowledged to the Associated Press (via ESPN.com) that Canada is the bigger hockey mainstay, but he welcomes the challenge:
It's a great opportunity. They're obviously the favorite coming into the tournament, and we've opened up a lot of eyes with our play, but we have more in the tank to give and to show. We keep getting better every game, and hopefully we'll keep getting better after this one.
So far in this tournament, the U.S. has looked better. The Americans have scored 19 goals through four games and outlasted a strong Russian squad in front of the home crowd in an epic shootout. Canada, on the other hand, has not shown significant superiority outside of its 6-0 rout over Austria.
U.S. Women's Outlook
This is the matchup everyone expected and wanted. Heck, the International Olympic Committee changed the rules to give them automatic semifinal bids after advancing past group play.
Now, the U.S. will meet Canada in a rematch from Feb. 12, when the Canadians edged out a 3-2 victory.
The men may get more attention, but the women are entrenched in a greater rivalry that is the Winter Olympics version of the Yankees vs. Red Sox. This is the fifth Olympic tournament featuring women's ice hockey and the fourth that boils down to a U.S.-Canada championship clash.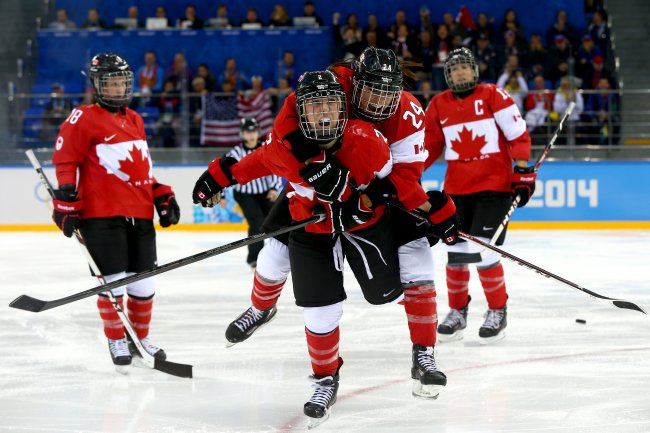 Paul Gilham/Getty Images
Canada holds the 2-1 edge, winning the most recent two in 2002 and 2010. The U.S. is the only other country to have finished in first, winning during the event's introduction year in 1998.
The United States' top-two stars present its key to finally derailing Canada. While Phil Kessel looks to lead the men to victory, his sister, Amanda Kessel, is also fueling her squad to triumph with a team-high six points. CJ Fogler provides a side-by-side comparison of the Kessel siblings' Sochi stats:
A look at what Amanda and Phil Kessel are doing for Team USA pic.twitter.com/lGlZa3H8u5

— CJ Fogler (@cjzero) February 19, 2014
Along with a huge game from Kessel, the U.S. will count on veteran Julie Chu, who is still hunting for her first gold medal in her fourth Olympic try. While she injured her hand earlier in the week, she shook it off and played in the 6-1 semifinal victory over Sweden.
U.S. coach Katy Stone, who also coached Chu at Harvard, described her importance to the team to espnW.com's Wayne Drehs:
She just brings experience. She's in the right place at the right time, ready to make plays. She overcommunicates with her teammates. She helps them stay calmer on so many levels. She's a caring soul. We wouldn't be here without her.
A win would provide a storybook ending for Chu and a team that has drawn the short straw of a heated rivalry with Canada. Neither nation will feel great about leaving Sochi with silver.