Team Canada struck gold once again at the 2014 Winter Olympics when Canada-1's Kaillie Humphries and Heather Moyse stunned the field in the women's two-man bobsledding event and amassed their best run of the Games in Heat 4 to upset Team USA.
Big run from Kallie Humphries, and Canada comes from behind to win women's bobsled. USA silver, bronze. http://t.co/Tf2wfrlWhE

— Joe Fleming (@ByJoeFleming) February 19, 2014
USA-1's Elana Meyers and Lauryn Williams led the event after each of the first three heats, but Team Canada's final time of 3 minutes, 50.61 seconds was just 0.10 seconds better than the 3:50.71 time of the Americans.
The gold medal for Humphries and Moyse is their second straight after winning at the 2010 Vancouver Games as well.
Women's Two-Man Bobsledding Top 10 Results

| | | |
| --- | --- | --- |
| Rank | Team | Time |
| 1 | Canada-1 | 3:50.61 |
| 2 | USA-1 | 3:50.71 |
| 3 | USA-2 | 3:51.61 |
| 4 | Netherlands-1 | 3:52.27 |
| 5 | Germany-1 | 3:52.29 |
| 6 | Belgium-1 | 3:52.57 |
| 7 | Germany-2 | 3:52.71 |
| 8 | Switzerland-1 | 3:53.20 |
| 9 | Russia-1 | 3:53.46 |
| 10 | German-3 | 3:53.74 |
Source: NBCOlympics.com and Sochi2014.com
With a mediocre time of 58.13 seconds in Heat 4—as compared to Canada-1's time of 57.92—USA-1's worst run came at the most crucial time, as NBC's R.J. Rico pointed out on Twitter:
Meyers and Williams saved their worst run for last. Canada's Humphries wins her second straight gold medal. USA-1 settles for silver

— R.J. Rico (@RJRico62) February 19, 2014
That was both USA-1's slowest start (5.16) and bumpiest ride. Their time of 58.13 was .44 slower than their previous worst.

— R.J. Rico (@RJRico62) February 19, 2014
Team USA should be incredibly proud of its effort after USA-2 also managed a third-place finish and brought home the bronze medal. Despite taking two out of top three spots on the Olympic podium, the Americans can't help but be disappointed by the final results and missing out on gold.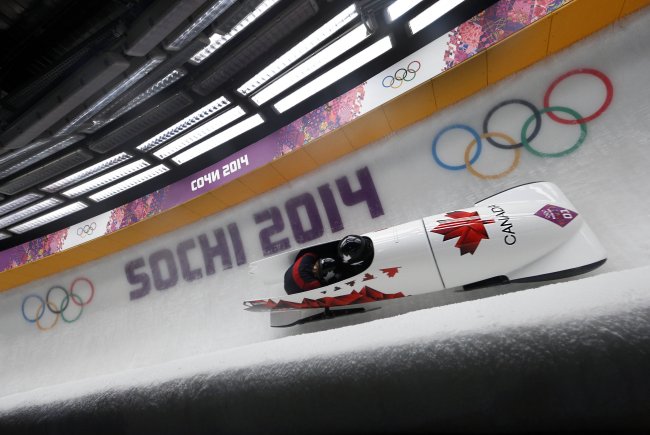 Kevin Jairaj-USA TODAY Sports
Heats 1 and 2 took place on Tuesday, and the rain and adverse weather conditions in Sochi wreaked havoc on the start of the women's runs. Despite the undesirable sliding surface, Team USA proved its early dominance with both USA-1 and USA-2 in the top three.
Did Lolo Jones deserve a spot on the Olympic team?
USA-1's Meyers and Williams dominated the field during each of their first two runs (1:54.89), and USA-2's Jamie
Greubel
and
Aja
Evans (1:55.45) sat comfortably in third.
Canada-1's Humphries and Moyse performed well as the defending gold medalists in the event, and found themselves in second place after the first day of two-man action. The duo stayed close enough to strike when it mattered most.
Dejan Kovacevic of the Pittsburgh Tribune-Review talked about Team USA-1's early lead:
Sorry, had no Internet atop bobsled track: Lauryn Williams and Elana Meyers hold the NO. 1 SPOT through two heats of bobsled. Story to come.

— Dejan Kovacevic (@Dejan_Kovacevic) February 18, 2014
Heat 3 brought much of the same, but Canada-1 was not happy with settling for second place. According to Brady McCollough of the Pittsburgh Post-Gazette, Team Canada was making a serious run at the top American team in Heat 3:
The Canada 1 sled just took .12 seconds off Lauryn Williams and Elana Meyers' lead in heat 3. USA 1 sled will take a .11 lead into heat 4.

— Brady McCollough (@BradyMcCollough) February 19, 2014
So in other words, if the same thing happens in heat 4, Canada would bump Williams and Meyers out of a gold medal.

— Brady McCollough (@BradyMcCollough) February 19, 2014
The bitter battle on the slopes of the Sanki Sliding Center made for a very intense fourth heat.
The polarizing American team of Lolo Jones and Jazmine Fenlator in USA-3 were unable to make much of a mark in their first Winter Games, finishing in 11th. The experience will be invaluable to both if they hope to make it back to the 2018 Olympics.
Fenlator spoke to Wayne Coffey of the New York Daily News before Wednesday's final heats about learning on the job:
I have raced against all of these women, I have beaten all of these women. I've beaten them in training and in races, I've pushed all these women. The difference is calming yourself down, and that's something I've been working on all season. I'm still learning, which I would prefer not to have happen at an Olympic Games and I won't give up the fight.
While both the men's and women's two-man bobsled events are now over, there is still the excitement surrounding the illustrious four-man competition.
Men's two-man bronze medalists Steven Holcomb and Steven Langton will carry the hope of Team USA, along with Christopher Fogt and Curtis Tomasevicz, during Heats 1 and 2 on Saturday and Heat 3 on Sunday.
Team USA's four-man bobsled team won the gold medal at the 2010 Vancouver Games, and the Americans hope to defend their crown and finish first—not to mention avenge Wednesday's tough second- and third-place finish.
Updated Medal Standings
*All stats and information via NBCOlympics.com and Sochi2014.com.