The 2014 NFL Scouting Combine in Indianapolis will provide league scouts, coaches and executives with a firsthand look at some of the top prospects for the upcoming NFL draft in May.
Through medical exams, interviews, workouts and position drills, NFL higher-ups will gain a better understanding of the top available players and perhaps uncover a hidden gem or two. The first four days in Indy will consist mainly of orientation, medical exams and interviews.
However, the final four days will feature a slew of crucial on-field workouts and drills.
Let's take a look at the daily event schedule for this year's NFL combine and some of the top storylines to watch for.
2014 NFL Combine Schedule

| | |
| --- | --- |
| Date | Event |
| Weds, Feb. 19 | K/ST/OL/TE Medical Exams, Orientation and Interviews |
| Thurs, Feb. 20 | K/ST/OL/TE Measurements, Medical Exams and Interviews, QB/WR/RB Medical Exams, Orientation and Interviews |
| Fri, Feb. 21 | K/ST Workouts, K/ST/OL/TE Bench Press, Psychological Testing and Interviews, QB/WR/RB Measurements, Medical Exams and Interviews, DL/LB Medical Exams, Orientation and Interviews |
| Sat, Feb. 22 | OL/TE Workouts, QB/WR/RB Psychological Testing, Bench Press and Interviews, DL/LB Measurements, Medical Exams and Interviews, DB Medical Exams, Orientation and Interviews |
| Sun, Feb. 23 | QB/WR/RB Workouts, DL/LB Psychological Testing, Bench Press and Interviews, DB Measurements, Medical Exams and Interviews |
| Mon, Feb. 24 | DL/LB Workouts, DB Psychological Testing, Bench Press and Interviews |
| Tues, Feb. 25 | DB Workouts |
NFL.com
Will Jadeveon Clowney Live Up to the Hype?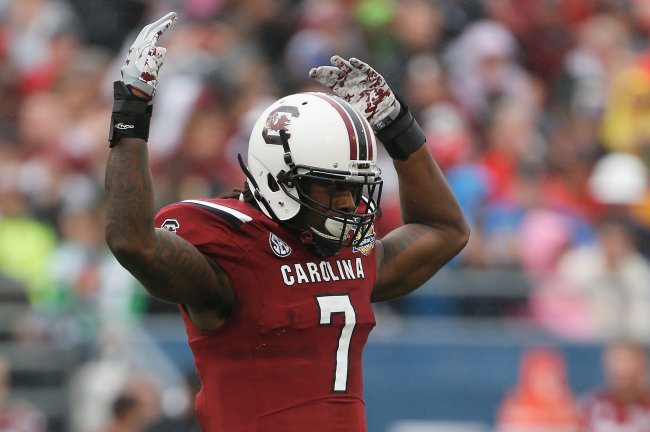 Scott Halleran/Getty Images
South Carolina pass-rusher Jadeveon Clowney is a confident dude, and needless to say, his reassuring attitude has helped inflate the expectations for his performance at this February's combine.
The tape doesn't lie, Clowney is a freak of nature. His rare combination of size, speed and athleticism sets him apart from any other prospect, but will his physical attributes be enough to erase the doubts and concerns regarding his motor?
South Carolina football coach Steve Spurrier on @nflnetwork about the work ethic of Jadeveon Clowney "He was OK". Ouch.

— Newy Scruggs (@newyscruggs) February 19, 2014
There's a good chance teams will overlook those questions as a result of Clowney's physical prowess, especially if his 40-yard dash time clocks in where he projects it to:
"I hope to run a 4.4 (second) right now," per Yahoo! Sports' Anwar S. Richardson. "That's my goal. On hand times, I've been running 4.4s. I hope I can get a 4.4 at the combine. A 4.5, I'm not too worried about...I ain't going to run a 4.6. I'm probably going to run low 4.5, 4.4."
At 6'6", 275 pounds, there's a good chance that an elite 40 time would give teams all the ammunition they need to defend him as their top selection.
1. Jadeveon Clowney, DE, South Carolina - freak athlete who's actually nowhere near a finished product, scary stuff. #DPtop20

— Darren Page (@DarrenPage15) February 15, 2014
Though Clowney's junior year paled in comparison to his sophomore season, in which he recorded 23.5 tackles for a loss, 13 sacks and three forced fumbles, the NFL offers a much-needed change of scenery for the 21-year-old defensive end and will provide him with a brand new challenge.
With the potential to be selected No. 1 overall this coming May, Clowney is sure to garner plenty of attention and headlines throughout the week in Indianapolis. But he won't be alone.
How Will Johnny Manziel Fare?
Although Texas A&M quarterback Johnny Manziel won't be throwing at the combine this February, he'll be a hot topic, nonetheless, as he looks to win over all 32 teams during the interview process.
Manziel's height and playing style have some on the fence when it comes to his potential to excel at the next level. However, the biggest concerns regarding Manziel and his professional prospects are the question marks surrounding his focus and lifestyle.
The 21-year-old's love of partying and good times have been well documented over the past two seasons. Therefore, he'll have to prove during the interview process that he's ready to become a dedicated professional.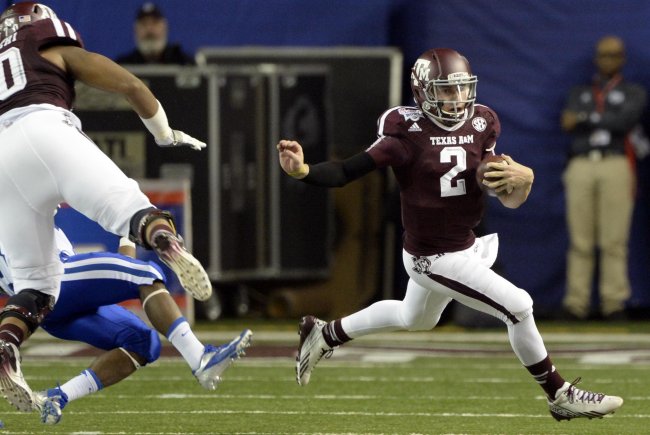 John David Mercer-USA TODAY Spor
Which player will benefit more from the combine?
As far as Manziel's on-field potential is concerned, the numbers speak for themselves. In addition to becoming the first freshman to win the Heisman Trophy, Manziel threw for more than 7,800 yards and 63 touchdowns over two seasons at College Station. He also rushed for another 30 scores.
His ability to escape the rush and make plays with his legs also translate to the next level. Above all else, his knack for the big-play sets him apart from any other quarterback in the 2014 draft class.
While the combine won't tell us anything we didn't already know about Manziel from a physical standpoint, the interview process is sure to provide NFL teams with a much better idea of what sort of player they would be acquiring in the former SEC star.
Follow Bleacher Report Featured Columnist Patrick Clarke on Twitter.