Scouting Report: Should Manchester United Dump Tom Cleverley for Gueida Fofana?
February 19, 2014

Dolores Ochoa/Associated Press
Tom Cleverley, Manchester United's maligned midfielder, deactivated his Twitter account due to ongoing criticisms of his performances, so you might be thinking: "Is there a player United could target in the summer transfer window to replace Cleverley?"
Yes. United management should track Gueida Fofana, Lyon's 22-year-old French youth international, so here is a scouting report on him. 
What Is Wrong With Cleverley?
"He [Cleverley] has the physical ability of a central midfielder and the technical ability of a winger," then-Wigan Athletic manager Roberto Martinez said in 2012, per Alan Nixon at the Mirror. "He could have easily fitted into the Dutch way of playing and also had the ability of the Spanish side."
Sound familiar, doesn't it?
Cleverley said his detractors did not understand his tiki-taka-influenced playing style, per Oliver Holt at the Mirror: "I watch Spanish football a lot. If they pass the ball sideways but keep possession, the fans clap them."
Cleverley is right, but it depends on who he is watching. 
Barcelona's Sergio Busquets can afford to average 0.6 key passes per game (a pass that leads to a shot), since his teammates are match-winners: Lionel Messi, Neymar, Alexis Sanchez, Pedro, Cesc Fabregas, et al.
Cleverley should be watching players like Rayo Vallecano's Roberto Trashorras and Valencia's Daniel Parejo.
| | | | |
| --- | --- | --- | --- |
| League Only | Cleverley  | Trashorras  | Parejo |
|   |   |   |   |
| Passes Per Game | 54.9 | 77.8 | 60.5 |
| Pass Completion % | 89.6 | 85.7 | 87.3 |
| Long Passes Per Game | 4.1 | 12.8 | 5.1 |
| Long Pass Completion % | 78.6 | 83.2 | 83.5 |
| Key Passes Per Game | 0.5 | 2.5 | 2.1 |
| Assists | 0 | 4 | 3 |
|   |   |   |   |
Trashorras and Parejo are two unheralded players, who are accurate passers, control the tempo of play and act as facilitators. 
Cleverley does not do the latter, hence his key passes per game are so low. That's why he is an easy target for United supporters, who are disgruntled with the club falling from first under Sir Alex Ferguson to seventh under David Moyes. 
Trashorras is playing for relegation-threatened Rayo and Parejo is the midfield cog at seventh-placed Valencia, yet both are more expansive passers than the risk-averse Cleverley.
Do you know who Cleverley is reminiscent of?
Former Arsenal player Denilson Pereira, who completed one key pass from 652 attempts in his last season as a Gunner. 
If United management is looking to replace Cleverley, Fofana from Lyon should be an option.
Fofana's Playing Style

Source: FIFA.com
Unlike Cleverley, Fofana brings athleticism, box-to-box running and plays the game with urgency, so he should relish Premier League football. 
"Dynamic defensive midfielder with good passing and vision," the FIFA technical study group noted when commenting on Fofana's displays at the 2011 FIFA Under-20 World Cup.
What the FTSG did not remark in its summary of Fofana was him being a goal threat: Both his goals during the tournament were speculative shots. 
He scored a deflected long-range goal against South Korea and smartly volleyed the ball over the diminutive 5'8" Nigerian goalkeeper Dami Paul. 
Source: FIFA TV
Playing for Lyon alongside the two-footed Clement Grenier and a brilliant incisive passer in Yoann Gourcuff has not limited Fofana to the role Cleverley plays for United. 
Fofana was high up pressing Evian Thonon Gaillard centre-forward Kevin Berigaud, who had dropped deep to receive the ball.
Fofana stole the ball away from Berigaud, the ball rolled to Lyon centre-forward Alexandre Lacazette, who clipped the ball over Evian goalkeeper Bertrand Laquait.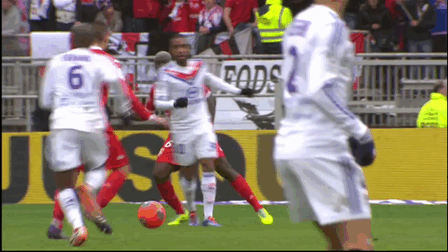 Source: Ligue1.com
This goal would not have happened if Fofana had not tracked Berigaud upfield. 
If Fofana sees an opening, he will charge forward and take advantage.
In a 3-1 win over Ajaccio, centre-back Claude Dielna stood off Fofana, who decided to elegantly curl the ball over goalkeeper Guillermo Ochoa.
Source: Ligue1.com
During a 2-0 win over Reims, Fofana shot-faked and then powered a cannon of a shot with his opposite foot (left) past keeper Kossi Agassa, who is one of Ligue 1's best shot-stoppers with 41 saves and 54 blocks this season, per Ligue1.com.
Source: Ligue1.com
That goal reinforced how powerful Fofana's shot is having hit a blistering shot past Bordeaux keeper Cedric Carrasso last season in Lyon's 4-0 win. 
Source: Ligue1.com
| | | |
| --- | --- | --- |
| League Only | Fofana  | Cleverley  |
|   |   |   |
| Tackles Per Game | 2.0 | 2.2 |
| Interceptions Per Game | 2.0 | 1.8 |
| Fouls Per Game | 0.9 | 0.7 |
| Yellow Cards/Red Cards | 0/0 | 3/0 |
|   |   |   |
| Passes Per Game | 54.9 | 54.9 |
| Pass Completion % | 86.5 | 89.6 |
| Long Passes Per Game | 3.6 | 4.1 |
| Long Pass Completion % | 65.9 | 78.6 |
| Key Passes Per Game | 0.7 | 0.5 |
| Assists | 1 | 0 |
|   |   |   |
There is hardly any difference between Fofana and Cleverley from a passing and defensive perspective. 
The key differences are the intangibles: Fofana is ambitious, proactive and fearless going forward, hence why he has scored some outstanding goals. 
He is still developing and you can see the high upside, whereas you feel Cleverley has already peaked. 
Fofana's career is trending upward and last month he extended his contract at Lyon by two-and-a-half years, per Sky Sports. 
Having sold Michael Essien to Chelsea for £24.4 million in 2005 and Mahamadou Diarra to Real Madrid for £22 million in 2006, Lyon management will hold out for a big transfer fee if United pursue Fofana. 
Fofana should be one of many potential Cleverley replacements on a big board that could have Borussia Dortmund's inactive Ilkay Gundogan (who has not played a league game since last August) as the No. 1 transfer target, per Kit Holden at the Daily Mail.
Statistics via WhoScored, FFT Stats Zone, Squawka and Transfermarkt.