Unless wide receiver Eric Decker changes his mind and takes less money to stay with the Denver Broncos, it's likely he's going to be playing elsewhere in 2014. Losing Decker is a potentially damaging blow to the Broncos' high-powered offense, even if they have been preparing for this moment for quite some time.
It will be up to general manager John Elway to replace Decker this offseason. Like many free agents, Decker has made it clear he isn't going to accept less to play for a contender or play with quarterback Peyton Manning.
"If we can get on the same page, I will welcome a call from the Broncos, but I need to do what is best for my family," Decker said on SiriusXM NFL Radio.
With Decker headed out the door, it's worth considering how the Broncos will replace a very productive No. 2 receiver. The Broncos will have to find someone else to catch 86 passes for 1,176 yards and 12 touchdowns, which is equal to Decker's average production over the last two years.
There are three possible options to replace Decker: Draft a replacement, sign a replacement in free agency or do nothing and simply divide Decker's targets among the offensive weapons already on the roster.
How Elway replaces Decker may ultimately determine if the Broncos can maintain their record-breaking offensive pace, or if they take a significant step back next season. If the offense takes a step back, the pressure will be on Elway to get the defense in order.
The Broncos' window to win a Super Bowl is closing, so the pressure is on Elway to make all the right moves this offseason. How he replaces Decker has the potential to have the biggest positive or negative impact.
Spread the Love
It's possible the Broncos will simply spread Decker's targets around to other players. Wide receivers Demaryius Thomas and Wes Welker could see more targets, as well as tight end Julius Thomas.
The only other receivers under contract in 2014 are Nathan Palmer, Greg Wilson and reserve/future signing Jordan Norwood.
Palmer and Wilson have combined for one career catch for a loss of four yards. Norwood has 36 receptions for 405 yards and a single touchdown in his five-year career.
Andre Caldwell was the Broncos' No. 4 receiver in 2013, but he'll also be a free agent March 11. Caldwell had 16 receptions for 200 yards last season, so it might be a lot to ask of him to pick up Decker's slack. Caldwell primarily filled in for an injured Welker from Weeks 15 to 17.
It's not easy to divvy up about 135 targets between Demaryius Thomas, Welker and Julius Thomas. In theory, Thomas could see as many as 30 more targets to bring him to the tops in the league in that particular category.
Welker could see his targets mirror what he was getting in New England before signing with the Broncos last year, which would be an increase of about 60 targets.
2013 Targets vs. 2014 Theoretically Possible Adjustment
Player
2013 Targets
Manning High (Since 2008)
2014 Target Adjustment
Eric Decker
135
-
0
Demaryius Thomas
138
172 (Reggie Wayne 2010)
172
Wes Welker
109
172 (Reggie Wayne 2010)
172
Julius Thomas
88
129 (Dallas Clark 2009)
129
Total (Top 4 Options)
470
-
473
ProFootballFocus.com
That leaves roughly 40 targets to give to Julius Thomas, which would bring his total to around 130 for the season.
This isn't an unheard of number for a tight end or even for one of Manning's tight ends. According to ProFootballFocus.com (subscription required), Dallas Clark had 129 targets and 100 receptions for the Indianapolis Colts in 2009.
In theory, the targets can be redistributed. In reality, the Broncos are still going to need a receiver to line up outside. In reality, Manning throws to the open man, and the No. 2 receiver—even if he's the No. 4 option—is going to see plenty of targets.
After Marvin Harrison retired, Manning redistributed his 100 targets and Anthony Gonzalez's 78 targets to a rookie fourth-round draft selection named Austin Collie and a second-year player by the name of Pierre Garcon.
Maybe Norwood, Palmer or Wilson can be the 2014 version of Julius Thomas, or maybe the Broncos will more heavily utilize tight end Virgil Green. Those are all options, but they aren't particular inspiring ones.
Replace Decker Through the Draft
In a stroke of good luck, smart planning or both, the 2014 NFL draft is loaded at the wide receiver position. The Broncos have the 31st pick in every round, but they may not even need to use their early picks for a quality No. 2 receiver.
The Broncos don't have so many needs on the roster that they couldn't draft a wide receiver in the second or third round. There are also plenty of talented wide receivers expected to be available in that range.
CBSSports.com has a dozen receivers projected to go between Rounds 2 and 4, but they also have seven receivers projected to go in Round 1 or early in Round 2. A very good player could drop, or the Broncos could have their pick between several quality options.
2014 Potential Draft Targets

| | | | | |
| --- | --- | --- | --- | --- |
| Player | School | Projected Round | Height | Weight |
| Davante Adams | Fresno State | 2 | 6'2" | 216 |
| Paul Richardson | Colorado | 2-3 | 6'1" | 172 |
| Martavius Bryant | Clemson | 2-3 | 6'4" | 200 |
| Jared Abbrederis | Wisconsin | 3 | 6'1" | 189 |
| Donte Moncrief | Ole Miss | 3-4 | 6'2" | 226 |
CBSSports.com
If there ever were a draft to find a quality receiver in the middle rounds, this is probably the one.
Players like Donte Moncrief, Jared Abbrederis, Martavius Bryant, Davante Adams and University of Colorado star Paul Richardson could all be options for the Broncos in the second or third round.
The problem with this strategy is just how rare it is for a rookie receiver to be productive their first season. Only 12 wide receivers since the merger have put together 1,000-yard rookie campaigns. Only two also had more than 10 touchdowns.
It will likely take a rare rookie to earn Manning's trust right away, so the draft may not be the way to go to replace Decker—at least not this year. The draft might be a better place to find a player to develop.
Replace Decker Through Free Agency
A more logical option to replace Decker would be to find a cheaper free agent. Manning and the other talent around Decker has inflated his value, but that's not the case for many other players on the market.
Bringing back Caldwell is logical, but the Broncos can probably do even better without making a huge investment. The Broncos will likely avoid the top options, leaving just a few potential targets.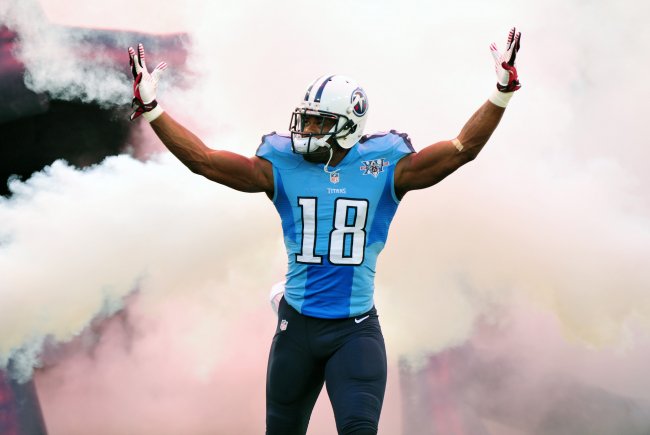 Don McPeak-USA TODAY Sports
Andre Roberts has been a relatively productive receiver for the last three years, averaging over 50 receptions and 600 yards. Robert would likely have a career year with Manning throwing him the ball, but even if he didn't, his production is more than enough to replace Decker if the share of targets is also redistributed.
Roberts also is versatile enough to play in the slot or outside, which gives the Broncos offensive versatility. The trade-off is that Roberts isn't nearly as dangerous on the outside.
Although he's expected to be coveted this offseason, Emmanuel Sanders is an ideal fit for the Broncos. Sanders plays primarily on the outside and embraced the role of the No. 2 receiver in Pittsburgh behind Antonio Brown.
Like Roberts, Sanders has averaged over 50 receptions and 600 yards over the last couple of seasons. Sanders has been one of Ben Roethlisberger's most trusted receivers over the past couple of years—a good sign for his ability to earn Manning's trust.
If the Broncos wanted to swing for the fences, they could sign the very talented Kenny Britt. Not only is Britt a former first-round pick, but he'll be just 26 in September. Britt's ugly 2013, injury history and off-the-field behavior could make him dirt cheap in free agency.
Which free-agent WR would be the best fit for the Broncos?
Like Decker, Britt is 6'3" and over 200 pounds. Britt is actually bigger than Decker, so the Broncos wouldn't lose the great size advantage they have on the outside. During his time in Tennessee, Britt has had to be the No. 1 receiver, but he wouldn't need to be anything more than a No. 4 in Denver.
Manning and the coaching staff would obviously have to polish Britt's game up to their standard, but it's a relatively small risk for a potentially huge reward. Britt's routes were sloppy and he had seven drops on 33 targets in 2013 according to ProFootballFocus.com (subscription required).
Decker had a similar problem with drops in 2011, but was able to improve significantly over the last couple of years to the point where he was the team's most sure-handed receiver in 2013, per PFF.
Demaryius Thomas and Welker would also be a good influence on Britt, something he hasn't really had during his career.
If Britt wants to rehab his value, there is no better place than Denver. A motivated and focused Britt could totally replace Decker's production, and there isn't another affordable option available who can likely do that.
Other options include Nate Burleson, Tandon Doss, Jacoby Jones, Mario Manningham and Josh Morgan. It's not a particularly exciting group, but the Broncos should be able to find an affordable free-agent receiver to replace half of Decker's production.
Conclusion
The Broncos have enough resources to swing for the fences, play it safe and plan for 2015 and beyond when replacing Decker.
While some may argue that a lot of Decker's production was the result of Manning, the Broncos are still losing a very productive player.
Replacing Decker isn't necessarily going to be easy just because Manning may have inflated his statistics. Manning helps his receivers, but he can't just make any receiver catch 87 passes for 1,288 yards and 11 touchdowns.
Elway has plenty of solid options to replace Decker, and it's worth wondering if all those options will drive his cost down sufficiently that he can be re-signed.
Decker might take a little less to stay in Denver to avoid the hassle of moving and learning a new playbook, but the offer will have to be competitive.
Unless otherwise specific, all target data via ProFootballFocus.com (subscription required). All other stats via Pro-Football-Reference.com.