At long last it was Ted Ligety's day in Sochi.
The often-overshadowed veteran of the U.S. Alpine skiing team made history on Wednesday when he won the gold medal by a comfortable margin in the giant slalom.
He became the first American man to ever win an Olympic gold in the giant slalom and the first male American Alpine skier to win two Olympic gold medals.
Along the way he claimed his spot among the greatest American Alpine skiers ever and turned what had been a disappointing Olympic Games into a triumphant one.
After he won three golds at the World Championships last year, Ligety came into Sochi as a favorite to go home with multiple medals. But after a 12th-place finish in the super combined and a 14th in the super-G, doubts began to arise. He even said he "choked" when referring to his combine performance, per Chris Dufresne of the Los Angeles Times.
But on Wednesday, he showed no lingering signs of a letdown. He dominated both giant-slalom runs and ran away with the gold. What a difference a day can make.
His teammates and competitors flocked to Twitter to offer congratulations.
Impressive Mr GS Ted Ligety!!!

— Aksel Lund Svindal (@akselsvindal) February 19, 2014
Amazing skiing @tedligety clutch performance. Well deserved gold medal.

— Bode Miller (@MillerBode) February 19, 2014
It's been eight years since Ligety was last on an Olympic podium, but it might as well have been a lifetime.
In Turin, Ligety was a 21-year-old late bloomer who was just coming into his own as a ski racer. He had just barely made the Olympic team, and expectations for him were low, if not nonexistent.
Always a better technical racer than speed racer, Ligety was in 32nd place after the downhill portion of that super combined in Turin. When he demolished his two slalom runs and came from behind to take the gold, it wasn't just a pleasant surprise—it was an absolute shock.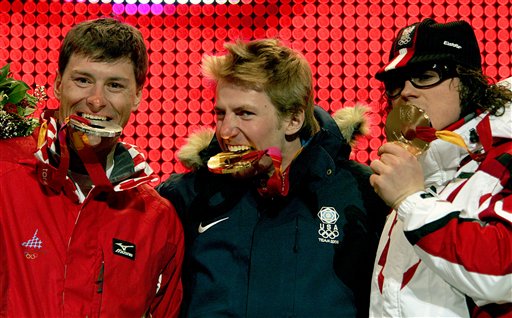 GREG BAKER/Associated Press
Turin put Ligety on the skiing map, but backing it up wasn't easy. As he told the press after his victory on Wednesday, his long journey since the 2006 Games makes this victory that much sweeter.
The first gold medal came a lot easier. At that point, there was a lot less of the struggles of the World Cup, the struggles of the grind. To win a gold medal now, especially after having Vancouver being really tough and the Olympics so far here being lackluster, to be able to throw down in an event I had the most passion in and I was the favorite in ...

To be able to do that is awesome.
Four years ago in Vancouver, the shy and practical Ligety learned a lesson that would spur him on to new heights. He came into those Games as a popular pick to come away with a medal or two, especially in the giant slalom, but he came away empty-handed.
Instead, he watched his teammate Bode Miller, the headline-hogging superstar who had been such a disappointment in Turin, win three medals. It was Miller's calm demeanor and brash skiing that captivated Ligety.
He talked to Bill Pennington of The New York Times about what he took away from that experience.
The 2010 Olympics were a tipping point, and after that I decided to go all-out every time. ... At the last Olympics, I tried to be too smart and I blew it. I'm never going to let that happen again.

Just attacking has made me a more consistent winner. I want to go hard and be happy with my approach.
In the last four years, as few outside the Alpine world have been paying attention, Ligety has been one of the best skiers in the world, particularly in the giant slalom—he's been ranked No. 1 in the World Cup rankings in that discipline three of the past four years.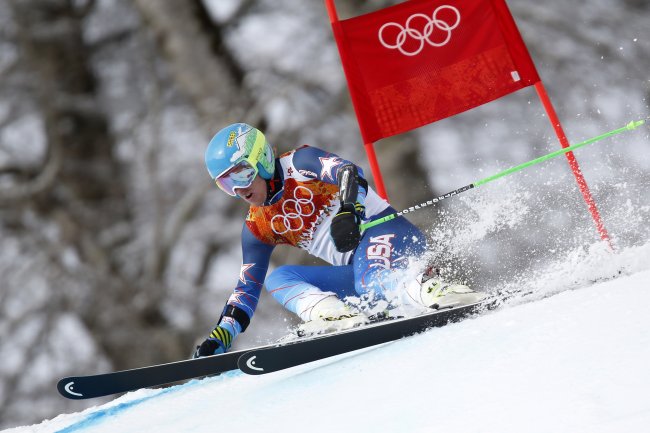 Alexis Boichard/Agence Zoom/Getty Images
But to raise his profile and really go down in the record books, Ligety was going to have to perform in Sochi.
Alpine skiing is one of the most unpredictable disciplines, particularly with the sometimes slushy, sometimes overcast conditions in Sochi. Very few favorites have come away with medals, let alone a gold.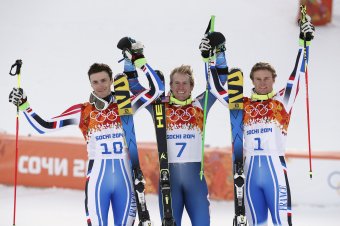 Christophe Ena/Associated Press
However, over the past few years in giant slalom, Ligety has been the closest thing Alpine skiing has to a given. His success is due to his technical proficiency and aggressive turns, as detailed by The NY Times.
With his Olympic gold, he has now solidified that dominance.
Ligety's gold happened to come on the day that Miller skied his last race in Sochi, and, therefore, likely the last of his decorated Olympic career. It's somehow fitting that as Miller departs, Ligety is once again standing on top of a podium, firmly soaking up the spotlight that has evaded him so often in his career.
On Saturday, Ligety will have one last chance to medal in Sochi in the slalom. He's not the favorite there, but he'll certainly be in contention. Counting him out would not be wise.
Even before Sochi, insiders already knew that Ligety was one of the greatest American Alpine skiers of his generation. Now, after Wednesday's victory, everyone else knows it as well.