Wednesday featured plenty of thrills at the Ice Cube Curling Center in Sochi as the top women's and men's curling competed for a berth in their respective gold-medal games.
In the first women's semifinal, top-seeded Canada remained undefeated at the 2014 Winter Olympics, topping Great Britain 6-4 in a marquee showdown that included some tense moments late. Chalk would hold up in the other afternoon semifinal as well as Sweden were able to fend off Switzerland 7-5 to secure a berth in the gold-medal game for the third consecutive Olympic Games.
Canada and Sweden will battle it out for the gold medal in the women's curling after the reigning champions beat Sweden 7-5 #ilovecurling

— BBC Sport (@BBCSport) February 19, 2014
In the men's semifinals, Canada and Great Britain advanced to the gold-medal game after posting impressive victories over China and Sweden, respectively.
So it's #FinalFriday for #TeamGB @Sochi2014. Taking on @CDNOlympicTeam at 13:30GMT for Olympic #GOLD. #lovecurling pic.twitter.com/4z4YL7eDFe

— Team GB (@TeamGB) February 19, 2014
With all the action in the books, let's take a look at the latest semifinal results from the "Ice Cube."
Women's Curling Semifinal Results

| | | |
| --- | --- | --- |
| | Score | |
| Canada | 6-4 | Great Britain |
| Sweden | 7-5 | Switzlerand |
Sochi2014.com
Men's Curling Semifinal Results

| | | |
| --- | --- | --- |
| | Score | |
| Great Britain | 6-5 | Sweden |
| Canada | 10-6 | China |
Sochi2014.com
Women's Semifinal Results
Canada 6, Great Britain 4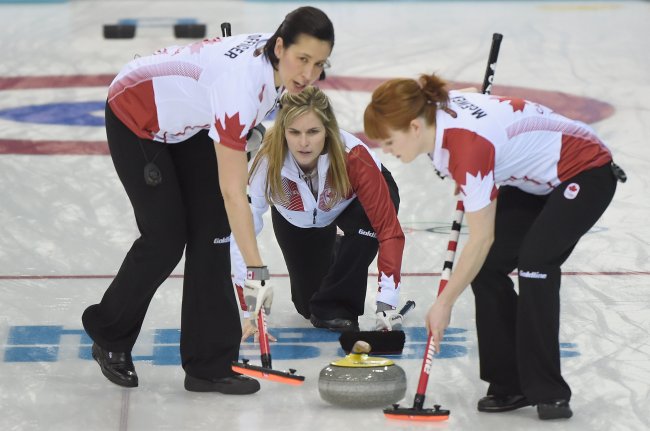 Lars Baron/Getty Images
Reigning Olympic silver medalists Canada opened fast on Wednesday, jumping ahead 3-0 thanks to some strong play from Jennifer Jones and some missed opportunities for the British.
GB 2-0 down after the first end. Muirhead suffers from a "pick up" - a bit of debris on the sheet - and misses an easy take out .

— Owen Gibson (@owen_g) February 19, 2014
However, Great Britain were unfazed by their sluggish start, rallying to score two stones in the third end.
Determined to maintain some breathing room, the North Americans answered with a stone in the fourth. Canada would retain control of the game until some tense moments late.
A pivotal moment came in the ninth end. Instead of attempting to knock two Canadian stones out of the house, Great Britain skip Eve Muirhead opted to take a stone, narrowing the gap to one heading into the final end.
After adding a stone in the 10th, Canada would hold on for the 6-4 victory.
Canada take the #Olympic curling semi by 6-4. No big surprise. Controlled the match against #TeamGB, who can still go for bronze tmrw

— Kevin Eason (@easonF1) February 19, 2014
For Jones and her Canadian teammates, the victory is icing on the cake, per CBC Radio:
"Our biggest thing coming to the Olympics is to enjoy it. We've waited a lifetime for this moment, and we wanted to soak up every moment we possibly could."
Although Canada entered Wednesday's semifinal as massive favorites thanks to their near-flawless execution throughout the round-robin, there's no taking away from what they were able to accomplish in a pressure-packed environment.
Now 10-0 in Sochi, the North American powerhouse is firing on all cylinders and playing with unrivaled confidence heading into Thursday's gold-medal game.
And given their current form, it's impossible to see any side, even one as accomplished as Sweden, beating them this February.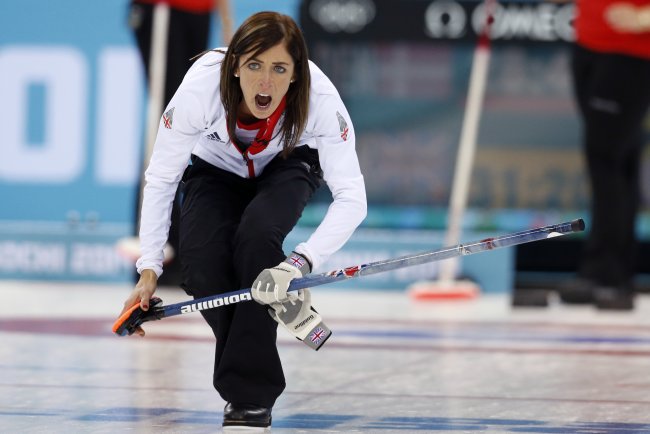 Robert F. Bukaty/Associated Press
For Great Britain, the loss certainly stings. But Muirhead and company can hold their heads up high knowing they accomplished their goal in Sochi, per BBC Sport: "Our first goal was to finish top four and that's exactly what we've done."
Great Britain will have a shot at the bronze on Thursday. They'll play Switzerland at 12:30 p.m. local time (3:30 a.m. ET, 8:30 a.m. GMT).
Sweden 7, Switzerland 5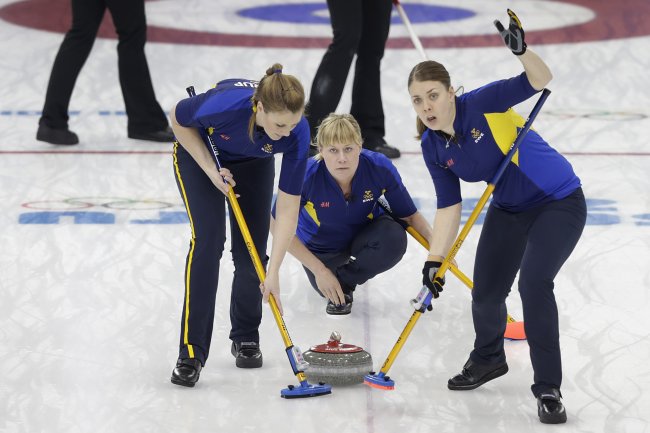 Wong Maye-E/Associated Press
In a battle of two determined sides, two-time defending Olympic gold medalists Sweden prevailed over Switzerland.
The two teams went back and forth throughout the first five ends as each took turns taking the lead.
Despite the significance of the opposition and the occasion, the Swiss never wavered, eventually taking a 5-4 lead through eight ends. Some critical errors by the Swedes would aide Switzerland's success.
Sweden continues to make the important mistakes. Impossible to get 2s and 3s like this. #curling

— Johan Sporre (@Sporrej) February 19, 2014
But the Swiss' jubilation would ultimately be short-lived as the Swedes flexed their muscles down the stretch, taking the lead in the ninth end before closing out the match with three unanswered stones to lock up a hard-fought 7-5 win.
Which side should be the favorite in Thursday's gold-medal game?
For Sweden, the victory is exciting, but also a relief. After all, the Scandinavians are the two-time reigning Olympic gold medalists and have a mighty reputation to uphold this winter in Sochi.
The win over Switzerland assures Sweden silver at the worst, and moves them just one win away from a third consecutive Olympic gold. Therefore, the significance of Thursday's gold-medal game against Canada cannot be overstated.
Meanwhile, the Swiss should be pleased to have an opportunity to finish on the podium. Like Great Britain, they went 5-4 during the round-robin stage and were a step behind the elite teams (Canada and Sweden) from the outset.
They have to be encouraged by their ability to match Sweden blow for blow for the better part of Wednesday's match, but they'll need to finish the job against a Great Britain side that will be gunning for a medal.
Men's Semifinal Results
Great Britain 6, Sweden 5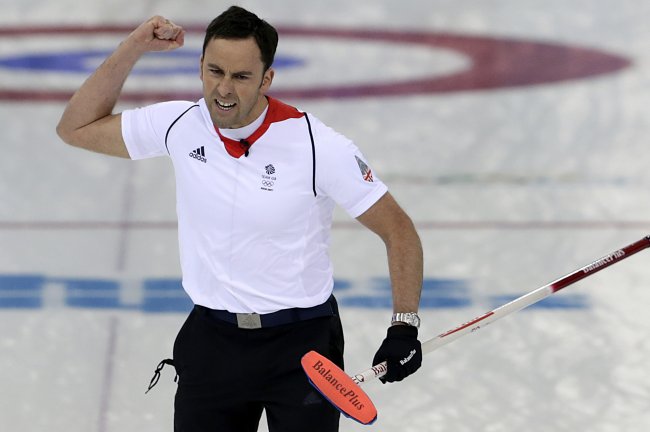 Wong Maye-E/Associated Press
Great Britain's underdog tale will continue through Friday's gold-medal game after David Murdoch's rink came from behind to stun top-seeded Sweden on Wednesday.
The @TeamGB men's curling victory makes #Sochi2014 Great Britain's best Winter Olympics since 1936. Three medals guaranteed. #lovecurling

— BBC Sport (@BBCSport) February 19, 2014
Surprisingly, Britain got off to a strong start against the Swedes, drawing first blood in the second end.
#TeamGB men start well against Sweeden in their semi of #Olympic curling taking a one point against the hammer. One up

— Kevin Eason (@easonF1) February 19, 2014
The Scandinavians would respond as expected in the third end, though, scoring two to take the lead. Murdoch and the British would level the game at 2-2 prior to the halftime break, setting the stage for a tense conclusion.
A pivotal moment came in the bottom of the sixth end when Sweden missed a golden opportunity to pull ahead, instead opening the door for Britain.
We're level again, at 3-3, as the Swedes continue to make errors and GB keep their cool to force them into taking 1. #Sochi2014 #lovecurling

— Richard Browne (@richbrowne6) February 19, 2014
The mistakes would continue for Sweden in the seventh end as they were forced to settle for a point. After going down 4-3 in the bottom of the eighth end, Sweden would answer with two in the ninth to take a 5-4 advantage into the final end. Unfortunately, the hammer would go to Britain.
One day after shocking Norway with an incredible shot, Murdoch was up to the task, scoring two to send Sweden to the bronze-medal game and keep Britain's hopes for Olympic curling gold alive.
Brilliant. #TeamGB men in the curling final with terrific 6-5 win over Sweden. Excellent work by Murdoch and the boys

— Kevin Eason (@easonF1) February 19, 2014
For Britain, the win is more than the anyone could have anticipated. After all, Sweden defeated them 8-4 in the round-robin stage and was the top defensive team coming into the semifinals.
A win of this magnitude means that anything is possible for Britain moving forward into Friday's matchup with Canada. At worst, Murdoch's rink will settle for silver. But given their confidence level and recent performance in do-or-die showdowns, you've got to love Britain's chances.
As for Sweden, they'll be a favorite to win bronze on Friday given their defensive prowess and knack for stealing ends.
Canada 10, China 6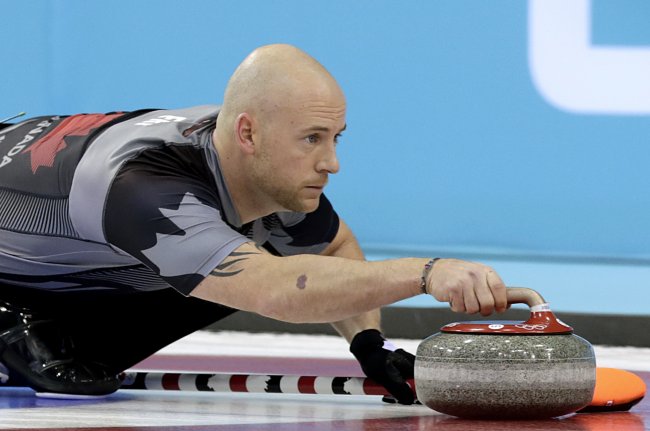 Wong Maye-E/Associated Press
While Great Britain and Sweden were locked in a back-and-forth duel, so were gold-medal contenders Canada and China.
In the end, the reigning Olympic gold medalists would prevail by a comfortable margin to earn yet another berth in the gold-medal game.
The two nations matched each other blow for blow through the first six ends on Wednesday, but it was Canada skip Brad Jacobs who delivered in decisive fashion in the top of the seventh end, breaking a 4-4 deadlock to put the North American juggernaut up three late.
"Clean, clean..." LOVE THOSE WORDS! @bradjacobs15 draws the 4-foot for a three-ball to take 7-4 lead on China after 7 #curling #wearewinter

— Canadian Curling (@CCACurling) February 19, 2014
China would cut the deficit to one in the bottom of the eighth end, but another three-ball from the Canadians at the top of the ninth put the game on ice.
YESSS!!!! Hit for three puts Canada up 10-6 after nine ends!!! So close to gold-medal game we can TASTE it!!! #curling #wearewinter

— Canadian Curling (@CCACurling) February 19, 2014
Although the Canadians are surely thrilled to be moving on, unlike Britain, their victory hardly came as a surprise. Entering Sochi as the reigning Olympic champions, expectations were sky high for this team from the very beginning.
Nonetheless, they'll be heading back to the gold-medal game with loads of belief knowing exactly what it will take to get over the top. With Jacobs connecting at a high rate and embracing his leadership role, Canada are poised to fulfill expectations on Friday.
Follow Bleacher Report Featured Columnist Patrick Clarke on Twitter.