Duke Basketball: What's on the Line in ACC Clashes with UNC and Syracuse?
Use your ← → (arrow) keys to browse more stories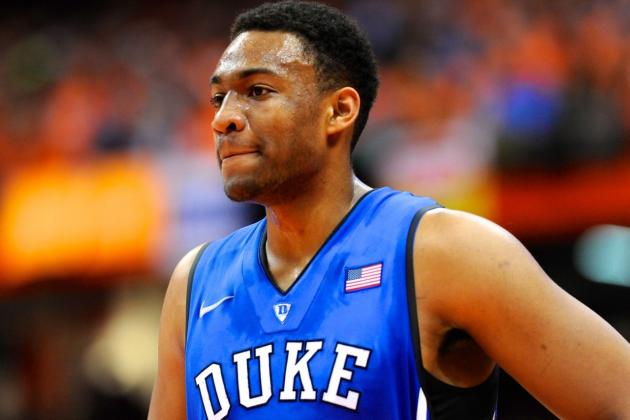 Getty Images

College basketball seasons are defined by what happens in March during the conference and NCAA tournaments, but the Duke Blue Devils still have three monumentally important regular-season clashes to get through before their focus can shift to the postseason.
How many wins will Duke get in the three games against Syracuse and North Carolina?
The next two games for Mike Krzyzewski's bunch come on Thursday at North Carolina and on Saturday against the No. 1-ranked Syracuse Orange. The Blue Devils also close the season out with a March 8 rematch against the hated Tar Heels.
So what's on the line for these important ACC tilts?
The first thing that immediately comes to mind is the race for the regular-season ACC title and a No. 1 seed in the conference tournament.
However, that's just not going to happen with Duke staring at a three-game deficit in the loss column with only five games remaining. Syracuse still has to worry about Virginia and needs every victory it can get, but Jabari Parker and company aren't leapfrogging both teams in the standings.
That means the No. 2 seed in the ACC tournament and better positioning for a run at the league title is where Duke needs to turn its attention.
The Blue Devils will easily handle Virginia Tech and Wake Forest, so their chances at the second seed come down to the three marquee contests against Syracuse and North Carolina. Virginia still has to play the Orange and has tricky games remaining against Notre Dame and at Maryland.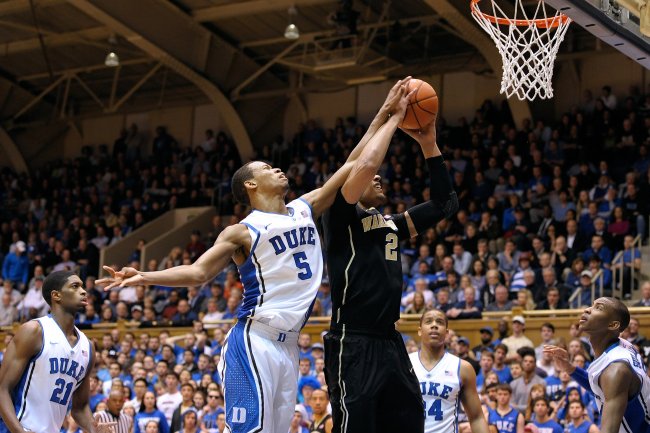 Grant Halverson/Getty Images
While the No. 2 seed would certainly be beneficial, the Blue Devils' confidence heading into both the ACC tournament and the NCAA tournament is another thing at stake.
From a conference standpoint, beating Syracuse and North Carolina in the final weeks of the regular season would mean accumulating victories over two of the only other three teams with enough talent to realistically win the league's crown (sorry Pittsburgh).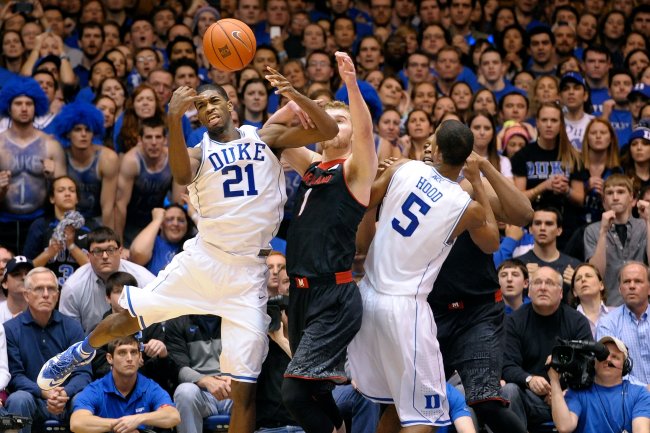 Grant Halverson/Getty Images
Many of the Blue Devils' best players are either freshmen or sophomores (Parker, Rodney Hood, Rasheed Sulaimon and Amile Jefferson among others), so any injection of self-efficacy Coach K can get for his roster this late in the year will help.
These three marquee games also give Duke multiple chances to test their two biggest weaknesses on paper against elite competition.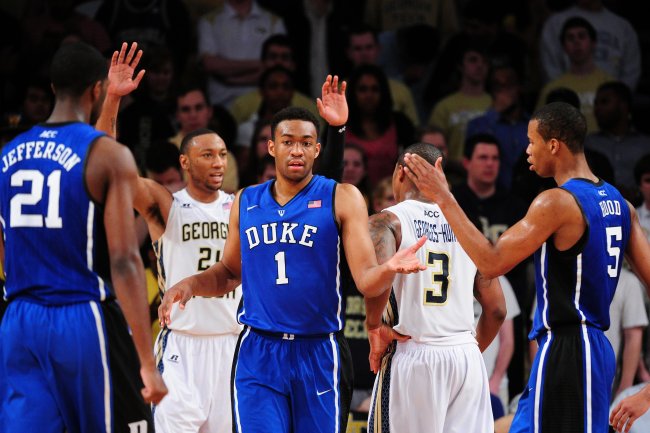 Scott Cunningham/Getty Images
The Blue Devils rank in the bottom-half of the country in total rebounds per game and even got outrebounded in their 68-51 dismantling of Georgia Tech. The Tar Heels are one of the best 10 teams in the nation in terms of total boards per night, which gives Duke an opportunity to prove itself on the glass.
At some point the rebounding issues are going to rear their ugly head if they aren't at least somewhat alleviated in the regular season. If Duke can hang in the rebounding race with North Carolina, it can prove to itself that it is capable of doing so against formidable competition heading into March.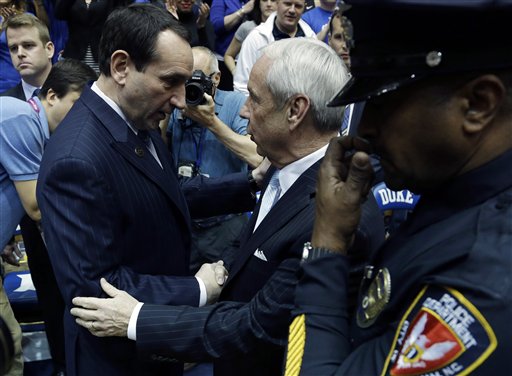 Gerry Broome/Associated Press
As for the rematch with Syracuse, the Blue Devils will be given a chance to test their defense against the No. 8 offense in the country in Ken Pomeroy's pace-adjusted offensive efficiency rankings (as of Tuesday). In the last game between these two teams, Duke gave up 91 points, albeit 13 came in overtime.
One guy who Duke could not stop was C.J. Fair, who ended up with 28 points in the first game on 12-of-20 shooting. Fair commented on his performance to Associated Press reporters (via ESPN.com): "I knew for us to win I would have to contribute offensively. I was able to not force things once I got going. I felt I was the hot hand and my teammates kept giving me the ball."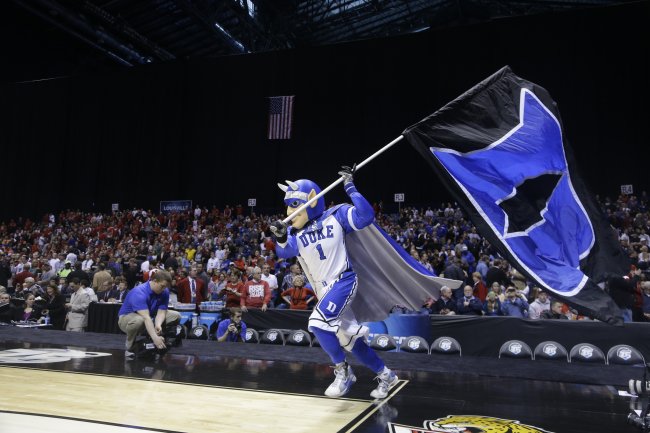 Michael Conroy/Associated Press
The Blue Devils will face elite players like Fair in March, so they have to prove their 68th-best defense in Pomeroy's rankings (as of Tuesday) can hold up.
Finally, a No. 1 seed in the NCAA tournament is still at stake for Duke.
The Blue Devils count wins over Michigan, UCLA, Virginia and Pittsburgh to their resume, and losses against Kansas and Arizona aren't crippling. While those victories are certainly noteworthy, there aren't any Top 10 teams on that list.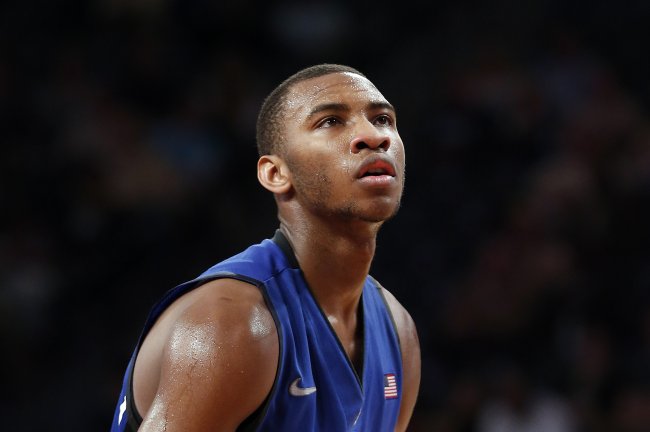 John Bazemore/Associated Press
The only way Duke can snatch one of the four No. 1 seeds is by beating Syracuse. Head-to-head losses against three other candidates for those positions (the Wildcats, Orange and Jayhawks) would permanently end the Blue Devils' outside chance at a No. 1 seed without a true marquee victory.
With all that being said, the biggest thing on the line in the clashes with the Tar Heels is just that—multiple victories in the best and most important rivalry in all of college basketball.
Follow me on Twitter: