76ers' Michael Carter-Williams Leads Rookies in Points, Assists and Rebounds
Use your ← → (arrow) keys to browse more stories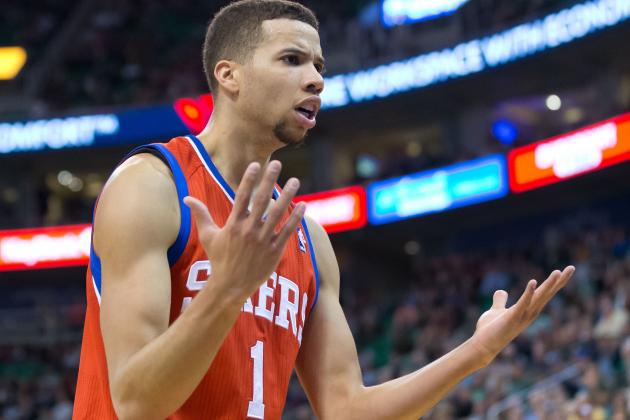 Russ Isabella-USA TODAY Sports

Per NBA.com, Philadelphia 76ers point guard Michael Carter-Williams is on pace to become the third player since 1950-51 to lead his rookie class in points, rebounds and assists per game. According to Elias Sports Bureau (via ESPN Stats and Info), the 6'6" rookie point guard is already just the fourth player in NBA history to lead all rookies in those three categories at the All-Star break.
With 17.3 points per game, the man widely known as MCW has a comfortable lead over the Orlando Magic's Victor Oladipo (13.5 PPG) and the Utah Jazz's Trey Burke (12.5 PPG). Things are a bit closer in the assists category, where MCW's 6.3 dimes per game again put him ahead of Burke (5.6) and Oladipo (3.9) in second and third place, respectively.
The biggest challenge for Carter-Williams will be maintaining his advantage in rebounds. With 5.3 per game, the Sixers' rookie sensation has a decent-sized lead over the Boston Celtics' Kelly Olynyk (4.7), the Milwaukee Bucks' Giannis Antetokounmpo (4.6) and the aforementioned Oladipo (4.3).
While Antetokounmpo and Oladipo don't look like major threats, Olynyk, a 7'0" big man out of Gonzaga, has a very real chance to finish 2013-14 atop the league's rookie rebounding leaderboard. The former Zag has nine rebounds per 36 minutes this season but is averaging just 18.7 minutes per game.
Carter-Williams, meanwhile, has just 5.6 boards per 36 minutes while averaging a lofty 34.5 minutes per game. With Olynyk averaging 24.8 minutes over his last five contests, it looks like the Celtics rookie could use his growing role to pass Carter-Williams for the rookie rebounding lead.
It's probably only fair that MCW miss out on the rookie "triple crown" of sorts, as his statistics have been inflated by playing for a fast-paced team that lacks other playmakers. While his work remains impressive, expectations have perhaps grown out of line, given that Carter-Williams is shooting a feeble 39.5 percent from the field and averaging 3.6 turnovers per game. The field-goal percentage ranks 120th out of 123 qualified players, while his 3.6 turnovers are good for fourth-worst in the league among players who have logged more than 10 appearances.
Such inefficiencies are perfectly acceptable for a rookie, but we should still hold off on comparing MCW to Oscar Robertson and Alvan Adams, the only players since 1950-51 to lead their rookie classes in points, rebounds and assists per game.
Adams, who accomplished the feat in 1975-76, went on to have a good but forgettable career as a power forward and center for the Phoenix Suns.
On the other hand, Robertson, who accomplished the feat in 1960-61, went on to become one of the greatest players in NBA history—a versatile, oversized point guard in the same mold as Carter-Williams. Whether or not he joins Robertson on this exclusive rookie list, MCW has plenty of work to do before he can be mentioned in the same breath as the legend.