The 2014 NFL draft is stacked.
Although there may not be an Andrew Luck—there almost never is—in this class, there are three quarterbacks who could potentially turn around franchises in the next couple of years, as well as loads of talent at several other positions.
Mike Mayock: Deepest and best draft class he's seen in 10 years.

— Joe Person (@josephperson) February 18, 2014
As such, pinpointing what direction each team is looking is especially difficult but at the same time, extremely compelling with so many potential future stars slipping.
That being said, let's take a look at my current first-round outlook.
1. Houston Texans: Blake Bortles, QB, UCF
Pairing J.J. Watt with Jadeveon Clowney might just be enough to force opposing quarterbacks to boycott games against the Houston Texans, but the need to draft a quarterback is simply too strong.
The Houston Chronicle's John McClain put it simply:
I'm still amazed to read and hear so many nationally predicting the Texans won't take a QB with their first-round pick. It'll be a QB!

— John McClain (@McClain_on_NFL) January 31, 2014
But then things get a little dicey.
While we know the Texans will target a quarterback, a strong argument can be made for either Blake Bortles, Teddy Bridgewater or Johnny Manziel. It all comes down to preference at that point, as each player has his own set of tantalizing attributes.
In the end, look for the Texans to go with Bortles, whose size, accuracy and strong arm makes him the most "prototypical" signal-caller of the trio.
2. St. Louis Rams (via Washington): Jadeveon Clowney, DE, South Carolina

Do the St. Louis Rams really need a defensive end?
Not really, but I don't technically need any more TVs, and that doesn't mean getting another one is a bad idea.
This is a pure value pick for Jeff Fisher's squad, and because they are better than most teams in this range (they acquired the pick in a trade from the Washington Redskins), they can afford to do that. It wouldn't at all be surprising if the Rams went with an offensive tackle like Greg Robinson or Jake Matthews, but Clowney is the most talented player in this draft. He's a game-changer with the ability to make any team regret passing on him for a very long time.
Although St. Louis already has Robert Quinn and Chris Long, the division rival Seattle Seahawks showed that it's never a bad thing to stock up on pass-rushers and defensive linemen.
3. Jacksonville Jaguars: Teddy Bridgewater, QB, Louisville
The 2-14 Jaguars showed some promise on the defensive side of the ball last year, but they still need help all over the field. Rebuilding starts with a quarterback, and Blaine Gabbert and Chad Henne just aren't going to be saving this franchise anytime soon.
What quarterback would you take first?
There has been talk that the Jags don't like this year's crop of quarterbacks, but considering their situation, they can't afford to pass on one at this point.
Bridgewater may not be garnering the buzz that he was earlier in the season, but he remains the most NFL-ready QB in this class. You can criticize his size all you want, but he has the mobility, ability to make every throw and intelligence you look for in franchise player under center.
He could very easily go No. 1, and the Jags won't pass on him if they get the chance.
4. Cleveland Browns: Johnny Manziel, QB, Texas A&M

You just don't keep passing on Johnny Football.
The former Texas A&M superstar is incredibly polarizing. Many are turned off by his intangibles and questionable off-the-field decision-making, but his athleticism, elusiveness in the pocket and ability to make some gaudy throws on the run make his ceiling sky-high.
While this is a pick that certainly will present quite a bit of risk, the Browns need a quarterback, and as long as one of the top three at the position is available, they'll strike.
5. Oakland Raiders: Jake Matthews, OT, Texas A&M

The Raiders would like to grab a quarterback here as well, but with the cream of the crop off the board, they'll go a different direction.
Sammy Watkins is undoubtedly an option. The explosive Clemson wide receiver's stock is quickly rising, and the Raiders are in the market for a true No. 1.
But building a good offense is incredibly difficult if you aren't strong in the trenches, and the ability to grab the draft's top tackle at No. 5 will be too hard to pass up.
6. Atlanta Falcons: Khalil Mack, OLB, Buffalo

The Atlanta Falcons need help in the pass rush. They recorded just 32 sacks last campaign, and their leader in that category was Osi Umenyiora, who is 32 years old and will be entering his 11th NFL season next year.

Outside of Clowney, there is no one in this draft who can better fix that problem than Khalil Mack.
The former Buffalo star is an athletic specimen, and during a recent conference call, NFL draft expert Mike Mayock gushed about his ability, via radio host Ken Laird:
Mayock loves Buffalo OLB Khalil Mack, calls him top-5 pick: "runs like a safety, explodes off edge, can drop.. yet to find hole in his game"

— Ken Laird (@Ken_Laird) February 18, 2014
The Falcons will be happy to add this kind of game-changer on defense.
7. Tampa Bay Buccaneers: Sammy Watkins, WR, Clemson

This is another value pick.
With Vincent Jackson and Mike Williams, Tampa Bay certainly has bigger needs than at wide receiver. But Watkins is an electrifying athlete with the ability to line up all over the field and hurt teams in a number of different ways.
And in what is a truly scary though, he told OrangeAndWhite.com's Josh Kendall he is even faster than we've witnessed:
I am 10 times faster than I was in college. My body was so messed up that I can get 10 times faster. I was using 60 percent of my body, and I have 40 percent more I need to get out.

I don't want to say a specific time (in the 40). That is kind of hidden right now, but I will definitely have the fastest time or one of the two or three fastest at the combine.
Goodness. Watkins is going to make an immediate impact, which will only make young quarterback Mike Glennon's job easier.
8. Minnesota Vikings: Kony Ealy, DE, Missouri

With an extremely solid offensive line, a burgeoning playmaker in Cordarrelle Patterson and some guy named Adrian Peterson, the Minnesota Vikings are just a quarterback away from having an explosive offense.
As such, Derek Carr will be tempting here, but as ESPN's Todd McShay pointed out, the Fresno State quarterback comes with plenty of question marks:
Most surprising part of '14 draft process so far is all the Derek Carr love. Good arm but not accurate downfield and/or under pressure.

— Todd McShay (@McShay13) February 17, 2014
Expect the Vikes to hold off on quarterback if Bortles, Bridgewater and Manziel are all unexpectedly gone, leaving them to either trade this pick for more assets or address the defense.
Kony Ealy's stock has been steadily rising. He's a versatile commodity who can line up across the line, but more than anything, he's a 4-3 defensive end who is explosive off the snap, which the Vikes need opposite Brian Robison.
In terms of makeup, Mayock, via College Football 24/7 on Twitter, compared him to Aldon Smith:
Mayock: Kony Ealy not quite as athletic as Aldon Smith, but probably more physical.

— CollegeFootball 24/7 (@NFL_CFB) February 18, 2014
9. Buffalo Bills: Eric Ebron, TE, North Carolina

With Scott Chandler headed for free agency, Lee Smith and Chris Gragg are the remaining pieces at tight end. Smith has 13 catches in three seasons, while Gragg—who is still a bit of an unknown—had five as a rookie in 2013.
Either way, Ebron presents a clear upgrade at the position.
Taking a tight end this early is extremely rare, but Ebron is 6'4", 245 pounds and can run. He's the perfect fit for E.J. Manuel's go-to weapon for the foreseeable future.
10. Detroit Lions: Mike Evans, WR, Texas A&M
Oh boy.
The Detroit Lions could use some help at cornerback, but wide receiver is also a position of need, and the potential of lining up Mike Evans across from Calvin Johnson is far too intriguing.
Evans' size and deep-threat ability would command safety attention and open things up even more for Megatron. That's a scary thought.
11. Tennessee Titans: Darqueze Dennard, CB, Michigan State
Jason McCourty is an extremely solid No. 1 cornerback, but Alterraun Verner is headed for free agency. That leaves Blidi Wreh-Wilson as the projected second cornerback on Ken Whisenhunt's defense.
The 2013 third-round pick is still a bit of an unknown, and even if he takes a significant step forward next season, the Titans will need depth at the position.
Darqueze Dennard, the 2013 Jim Thorpe Award winner, is not only a hometown favorite, but he's the best corner in this class.
12. New York Giants: Greg Robinson, OT, Auburn
Well, not really sure how that happened, but the New York Giants will take it.
The G-Men need help on the offensive line, and although Robinson is still a little bit raw in pass protection, he has top-five talent and potential, making him a steal here.
13. St. Louis Rams: Taylor Lewan, OT, Michigan
After grabbing a pass-rushing force with their first pick, this would be a nice place for the Rams to add some talent on the offensive line to help protect Sam Bradford.
Taylor Lewan doesn't have the biggest upside in the draft, but with the ability to play on either side of the line and help contribute right away, he is undoubtedly the third-best tackle in this class.

14. Chicago Bears: Ha-Ha Clinton Dix, S, Alabama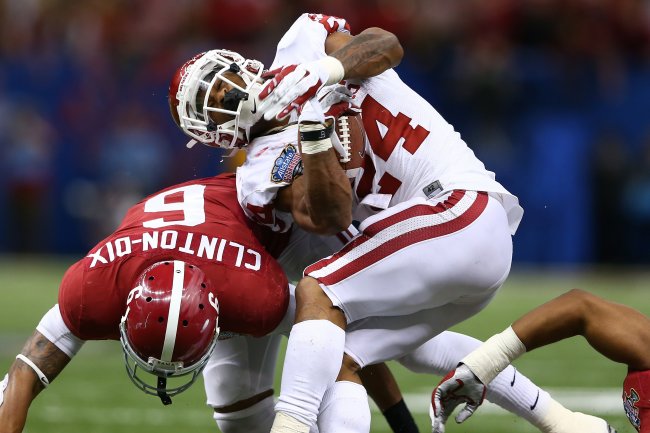 Streeter Lecka/Getty Images
After a year in which they gave up a whopping 394.6 yards per game (30th in the NFL), the Chicago Bears need help on all three levels of the defense.
That leaves plenty of potential options for Phil Emery. C.J. Mosley is enticing, but it may not be time to jump ship on Jon Bostic, who struggled as a rookie, quite yet.
As such, look for the Bears to address the secondary, especially with Major Wright set for free agency and Chris Conte looking terrible in 2013.
The class' top safety is a toss-up between Ha-Ha Clinton Dix and Calvin Pryor right now, but we'll stick with the Alabama stud, who Bleacher Report's Matt Bowen called the top prospect at the position:
Post at @BR_NFL: Breaking down #Alabama FS Ha Ha Clinton-Dix...Range, ball skills + game speed: http://t.co/skTPfUGNKU

— Matt Bowen (@MattBowen41) February 12, 2014
15. Pittsburgh Steelers: C.J. Mosley, MLB, Alabama
If C.J. Mosley falls this far, don't expect the Pittsburgh Steelers to spend a whole lot of time with the pick.
Mike Tomlin has several holes on his defense, but Mosley's combination of athleticism, intelligence and production suggests he'll be able to contribute right away—and on all three downs.
With Jarvis Jones, Lamarr Woodley and Jason Worilds (free agent) on the outside and Lawrence Timmons on the inside, the addition of Mosley would give the Steelers a scary linebacker corps.
16. Dallas Cowboys: Timmy Jernigan, DT, Florida State
Defense, defense and more defense. The Dallas Cowboys were a joke on that side of the ball in 2013, and a good way to fix that is to find players capable of creating penetration and disruption in the middle, which in turns helps everyone else on the outside.
Currently the 'Boys defensive tackles are far from formidable. Jason Hatcher is an upcoming free agent, and should he leave, they'll be left with Nick Hayden and Corey Irvin on the interior.
With the way this mock draft has played out, Dallas will get its choice at the position.
My top defensive tackle is Timmy Jernigan, who has some concerns with his conditioning and consistency but proved during the national championship that he can be an unstoppable force capable of making a living in the backfield.
17. Baltimore Ravens: Marqise Lee, WR, USC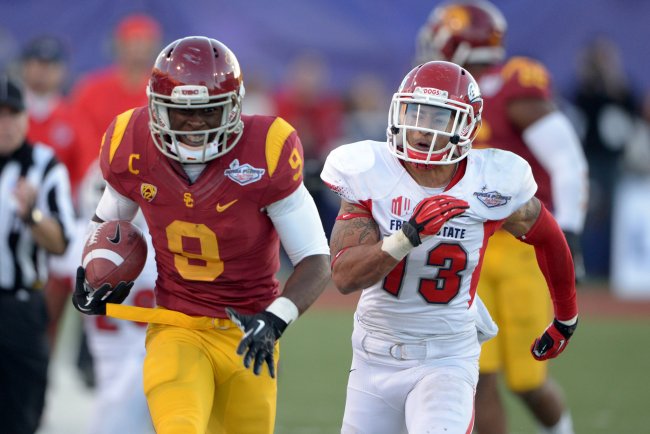 Kirby Lee-USA TODAY Sports
It certainly wasn't the entire problem, but the Baltimore Ravens offense took a major step back without Anquan Boldin in 2013. Marlon Brown showed a lot of potential during his rookie season, but an ideal passing attack would feature him as a No. 3 option with Torrey Smith and someone else on the outside.
Marqise Lee is a home run hitter. He can beat defenses over the top—especially with Joe Flacco's big arm—he has yards-after-the-catch ability and he can make an impact in the return game.
This might be slightly early for Lee, but he is a playmaker in every sense of the word.
18. New York Jets: Jace Amaro, TE, Texas Tech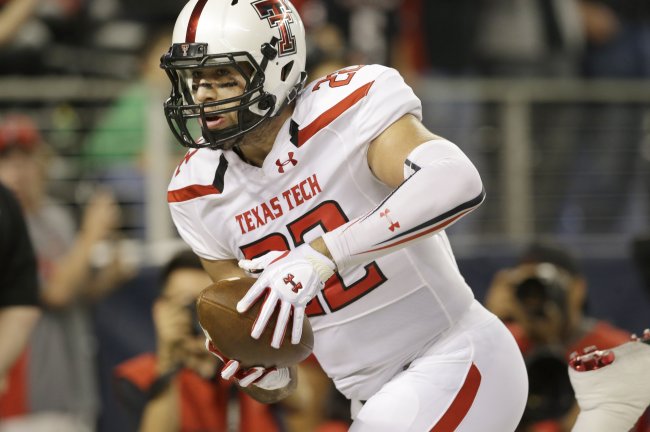 LM Otero/Associated Press
In complete opposite fashion of the Cowboys, the New York Jets need offensive help. Thanks to a silly-good defensive line, their defense was dominant, but Geno Smith needs help—everywhere.
Watkins, Evans, Lee and Ebron are already off the board, making this somewhat of a nightmare situation for John Idzik and Co.
Nevertheless, Amaro is an extremely talented tight end. While he needs improvement as a blocker, he is capable of lining up all over the field and giving Smith a consistent option in the passing game.
19. Miami Dolphins: Cyrus Kouandjio, OT, Alabama
Ryan Tannehill has loads of talent, but he's not going to last very long if he continues to play behind an offensive line that allows him to be sacked an absurd 58 times in a season.
The uncertain futures of Richie Incognito and Jonathan Martin doesn't help, either.
Alabama's Cyrus Kouandjio is a versatile tackle and very good in pass protection, something Tannehill desperately needs.
20. Arizona Cardinals: Anthony Barr, OLB, UCLA
I didn't really mean for Anthony Barr to fall this far, but that's just the way things shook out.
Although the Cardinals defense was extraordinary in 2013, they could use some help at outside linebacker across from John Abraham. Barr may be sliding because he's raw, and his film doesn't match his impressive stats, but his talent and upside is still evident.
He won't slip any further than this.
21. Green Bay Packers: Calvin Pryor, S, Louisville
The Packers may strongly consider a tight end if Ebron or Amaro fall to them here, but upgrading the defense is the bigger concern.
Although nose tackle is also a priority with B.J. Raji and Ryan Pickett hitting free agency, the secondary can't be overlooked, especially with Calvin Pryor still available.
A case can be made for Pryor—who still needs work in coverage but is an absolute missile to the ball—as the best safety in the draft, but either way, the Packers will be ecstatic to get him here.
22. Philadelphia Eagles: Louis Nix III, DT, Notre Dame

The Eagles are in a similar position as the Packers, looking to improve both the secondary and interior of the defensive line.
Although someone like Justin Gilbert will be intriguing here, Louis Nix is too good to pass up. The former Notre Dame star has a massive frame with sneaky solid athleticism and mobility.
Putting him in between the Eagles' dangerous edge-rushers is a tantalizing proposition.
23. Kansas City Chiefs: Zack Martin, OT, Notre Dame
Featuring a defense brimming with superstars, expect the Kansas City Chiefs to pay special attention to the offensive side of the ball in this draft.
Their first-round pick could certainly be spent on a wide receiver, but it will be more important to address the offensive line, where Branden Albert, Jon Asamoah and Geoff Schwartz are upcoming free agents.
Martin is a solid tackle, but as Mayock noted, via John McMullen, he has the potential to play anywhere across the offensive line:
Mayock: Notre Dame's Zack Martin can play all five positions in #NFL -- some teams see him as an All-Pro guard

— John McMullen (@JFMcMullen) February 18, 2014
That would be a tremendous help for the Chiefs.
24. Cincinnati Bengals: Justin Gilbert, CB, Oklahoma State

Leon Hall is coming back from a serious Achilles tendon injury, Terence Newman isn't getting any younger and Dre Kirkpatrick hasn't lived up to the hype.
The Bengals would be wise to go after a cornerback here, and Justin Gilbert, who led the Big 12 in interceptions and is also a fantastic return man, is the best available at the position.
25. San Diego Chargers: Jason Verrett, CB, TCU
Things get a little interesting here, as defensive tackle and cornerback are two areas of focus for the Chargers, but realistic targets Louis Nix and Justin Gilbert fly off the board in the previous three picks.
Nevertheless, Jason Verrett is hardly a consolation prize. The former TCU star has tremendous man-to-man cover skills along with the ability to help out in the run. Although he doesn't have overwhelming size, his quickness and toughness make him an ideal slot corner.
26. Cleveland Browns (via Indianapolis): Odell Beckham, WR, LSU
After grabbing Manziel with the first pick, it wouldn't be a terrible idea for the Browns to add another receiver opposite the dynamic Josh Gordon.
Kelvin Benjamin is an option here, but Odell Beckham's quickness and route-running ability, which make him a perfect option for slants, crosses and other yards-after-the-catch routes, complements Gordon's home run skill set a little better.
27. New Orleans Saints: Bradley Roby, CB, Ohio State
Keenan Lewis had a very solid 2013 season, but the Saints could still use some depth at the position, especially when you consider they have to face Cam Newton and Matt Ryan two times per year.
Bradley Roby is a bit of a boom-or-bust prospect, but he is a physical specimen with some very impressive athleticism. For now, we'll slot him here.
28. Carolina Panthers: Kelvin Benjamin, WR, Florida State
Cam Newton could really use some more weapons in the passing game, and Steve Smith isn't getting any younger, while Brandon LaFell and Ted Ginn Jr. certainly aren't the future at wide receiver.
Kelvin Benjamin is a tricky prospect. He has the size, physicality and speed to be a true threat on the outside or in the red zone, but he still needs some refinement.
There doesn't seem to be much middle ground with Benjamin right now, as scouts seem to either love him or hate him. At No. 28, though, the Panthers will have a tough time passing on him.
29. New England Patriots: Ra'Shede Hageman, DT, Minnesota

Vince Wilfork has been arguably the most dominant defensive tackle in the league for much of the past decade, but he's 32 years old, and recovering from an Achilles injury is no easy task. It's hard to imagine him being the same player once he returns.
RaShede Hageman at times looks like an unstoppable force, but as someone who can be painfully inconsistent, he needs to find the right coaching staff. That makes this the perfect fit, as Bill Belichick and Co. not only need a defensive tackel, but could get the most out of Hageman.
30. San Francisco 49ers: Stephon Tuitt, DL, Notre Dame
With news that the San Francisco 49ers are looking to keep Anquan Boldin, along with the fact that a slew of wide receivers are already off the board, the 'Niners can focus on bolstering their depth on the defensive line.
Stephon Tuitt can line up all over the defensive line, but he fits best as a 3-4 defensive end, making him a logical potential successor to Justin Smith.
31. Denver Broncos: Kyle Van Noy, OLB, BYU
The absence of guys like Von Miller, Derek Wolfe and others on the defensive side of the ball certainly played a big part in this, but there were at times this season when the Denver Broncos lacked a pass rush.
They are still looking to truly replace Elvis Dumervil, and Kyle Van Noy—who is extremely adept at rushing off the edge and fits Denver's scheme—makes a lot of sense at this spot.
32. Seattle Seahawks: David Yankey, OG, Stanford
Seattle proved that you can never have too many pass-rushers, and with Michael Bennett hitting free agency, it wouldn't be shocking if the 'Hawks continued to address that position, even with more pressing needs.
Still, for now, Seattle's biggest need is bolstering the interior of its offensive line, and if David Yankey—who Mike Mayock ranks as the draft's best guard—is still available, it will be tough for the Super Bowl champs to pass.

Not only is Yankey a physical, nasty run blocker who fits this team perfectly, but Pete Carroll has had a little bit of success with guys from Stanford too.