If Heather Moyse and Kaillie Humphries are going to be dethroned from their two-woman bobsled throne, Tuesday's opening runs made it clear it's going to take an awfully strong performance.
Moyse and Humphries finished their two runs with a combined time of 1:55.12, putting them in second place halfway through the competition. They are just 0.23 seconds behind Americans Lauryn Williams and Elana Meyers, a seemingly nonexistent separation on the surface that is consistent with bobsledding's history of razor-thin margins.
The entire field of qualifiers from top to bottom is separated by only 5.22 seconds. Only three pairs are more than three seconds behind Williams and Meyers. Zooming down the ice at insane speeds, where the slightest early break on a turn or slow reaction can be the difference between gold and going home empty-handed, it feels right.
But, in the land of the elite, it's looking increasingly like a two-sled race for gold. Americans Jamie Greubel and Aja Evans are within a second of their teammates, but it'll be a long sled (sorry) to make it up the leaderboard. Greubel and Evans are the only second-sled competitors in the top seven after the first two heats.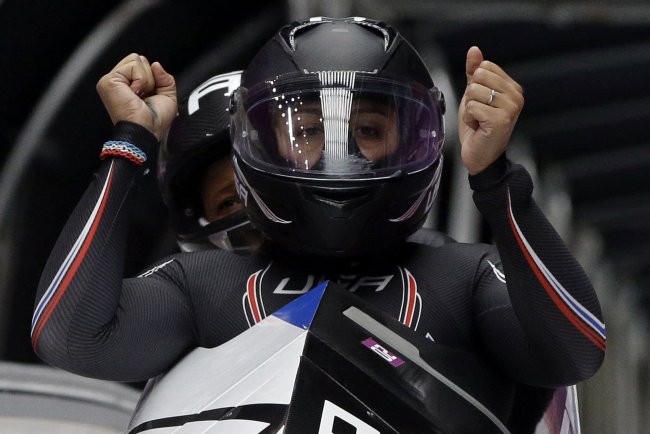 Dita Alangkara/Associated Press
For those unfamiliar, countries understandably match their best sledders with their fastest sled. That means not only are Greubel and Evans fighting a (very thin) talent discrepancy, but also their equipment is not quite as pristine.
That leaves quite the North American battle atop the standings, as just about everyone expected. The Associated Press was one of many publications to predict Moyse and Humphries and Williams and Meyers would battle to the end to separate gold from silver. And following their opening-round jaunts, all the competitors are falling right in line with expectation.
It's been an interesting time in Sochi for the Canadians. Moyse, 35, became a bit of a viral star on Sunday, when she became the latest to throw a barb in the direction of Russia's preparation for these Games. While it was done with a light heart and tongue firmly planted in her cheek, odds are bathing in a garbage can isn't what Moyse had in mind for her Olympic trip:
No bath tubs in the Mountain Village... So just chillin' in a garbage bin doing a hot Epsom salt 'bath'! #NoExcuses pic.twitter.com/HwdyaPUO7K

— Heather Moyse (@HeatherMoyse) February 16, 2014
Despite the less-than-ideal conditions, Moyse and Humphries like to keep their runs loose. They don't look at times. No, really. They don't.
"We don't really look at times so I don't even know how big the gap is. And we don't want to know," Humphries told The Canadian Press (via The Star). "We just try to have fun. Knowing where other people are just complicates that."
The strategy is certainly paying off thus far. Moyse and Humphries are perhaps the most decorated bobsledding duo currently in action, with numerous World Cup medals and World Championship medals to their name. They came in as a favorite for the Sochi Games thanks to their 2010 gold in Vancouver. The two-woman event is a relative infant on the Olympic side—it was introduced in 2002—but Moyse and Humphries still have the chance to be the to become the first repeat champions.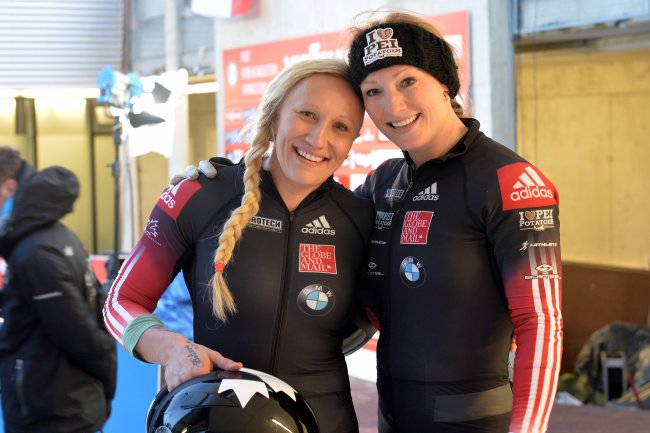 Kerstin Joensson/Associated Press
Moyse, also an accomplished rugby player, has also been pushing herself back from hip surgery. She told Gregory Strong of The Canadian Press last month that the injury made Sochi about more than just making history.
"Coming back and recovering from hip surgery, that has made it an even bigger challenge and one that has motivated me beyond all measure," Moyse said in a recent interview. "Sochi for me is a massive overcoming of an obstacle kind of thing for me."
Williams and Meyers are on their own jaunt with history. While almost the entirety of the U.S. bobsled team's coverage has been devoted to Lolo Jones, a high-profile Olympic hurdler who only recently picked up the sport and whose selection was the cause of controversy, Williams has her own similar story.
Only better.
Williams, 31, is (like Jones) a former Olympic track-and-field athlete. She won silver in the 100-meter sprint in the 2004 Athens Games and gold in the 100-meter relay in the 2012 London Games, helping set a world record in the process. Williams (like Jones) is only in the infancy of her bobsledding career.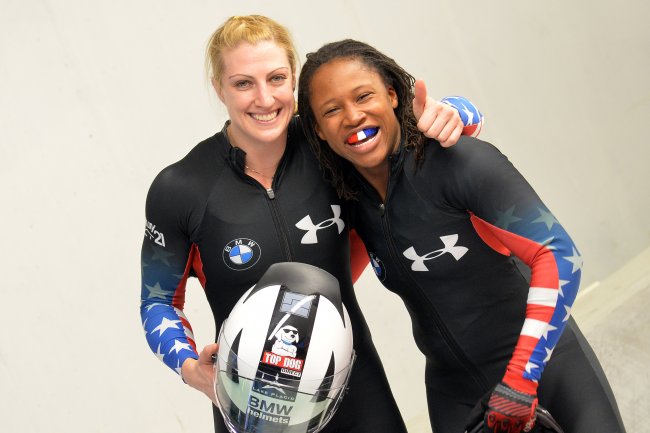 Kerstin Joensson/Associated Press
Following in the footsteps of Jones, Williams picked up the sport just six months ago. Now, she's on the precipice of becoming the first woman and second person in history to win an Olympic gold in both the Summer and Winter Games.
"I had no expectations coming into this," Williams said, via Craig Davis of the Sun-Sentinel. "I'm looking forward to [Wednesday], and if I'm a part of history, that's really cool, but the main thing is to help Elana get to the bottom as fast as possible."
So there you have it. Two teams. Two compelling backstories. Two heats to go. It's been a long road for both. From injury. From wildly different backgrounds. From sports performed in entirely different climates.
Now let's see what they've got.
Follow Tyler Conway on Twitter: