The 11th day of competition at the 2014 Winter Olympics saw the medal count race tighten between the most decorated nations in Sochi, Russia, amid a number of compelling events. Most of the action took place in the snow and on the slopes, but some scintillating speedskating provided a nice complement on the ice.
Several familiar themes dominated the headlines in terms of individuals and countries that continued to excel at their respective specialties. For example, the Dutch continued to crush speedskating, while Norway maintained its prowess as superior skiers when endurance and precision were paramount.
But kicking things off was France's Pierre Vaultier, who beat out homeland Russia's Nikolay Olyunin and USA bronze-medal winner Alex Deibold to capture gold in the men's snowboard cross finals. For a man who had torn his ACL just in December (h/t Jason Blevins of The Denver Post), it was a landmark occasion for the French thanks to Vaultier's extraordinary efforts, per Infostrada Sports:
#sochi2014 Pierre Vaultier (FRA) wins 1st Olympic gold for France in SBX event and France's 1st gold in Sochi in another sport than biathlon

— Infostrada Sports (@InfostradaGold) February 18, 2014
Vaultier's compatriot and Olympic Alpine skier Julien Lizeroux praised him—even using NSFW language in his linked Facebook post to emphasize his adulation:
Dear Mr Pierre Vaultier. What you did today is amazing? Incredible? Huge? No words can describe what you achieved... http://t.co/SSrVpBFI4z

— Julien Lizeroux (@JulienLizeroux) February 18, 2014
Speaking of Alpine skiing, the women's giant slalom runs were on deck after Vaultier's triumph. Slovenia's Tina Maze edged out Austrian Anna Fenninger for her second gold medal of the Sochi Games, while Viktoria Rebensburg of Germany settled for bronze.
New York Times correspondent Christopher Clarey noted the uncharted territory Maze has waded into in 2014 with her Olympic accolades:
Double gold in #Sochi for Tina Maze and tiny Slovenia, which now has won two Winter Olympic golds in its history

— Christopher Clarey (@christophclarey) February 18, 2014
As mentioned before, there is something about Norwegians and their penchant for having better stamina than their competitors. That was on display again in the men's 15-kilometer mass start biathlon, which Emil Hegle Svendsen won in a nail-biting finish with France's Martin Fourcade, who captured two prior biathlon golds in Sochi.
The NBC Olympics' official Twitter account captured a photo that did all the describing necessary to summarize just how close the two were at the end:
WHAT A FINISH! Photo finish in #biathlon! Check out how CLOSE this was: pic.twitter.com/67EFaPNsGy

— NBC Olympics (@NBCOlympics) February 18, 2014
Next on the schedule was the ladies' 3,000-meter relay finals in short-track speedskating, where South Korea came out on top with a time of 4 minutes, 09.498 seconds over Canada and Italy. NBC's Alex Goldberger wasn't surprised when Suk Hee Shim made the winning pass on the last of 27 laps at Iceberg Skating Palace:
The best women's short track skater in the world just won it for South Korea with an insane last-lap pass

— Alex Goldberger (@alexgoldberger) February 18, 2014
Norway continued in a native artistry that suits it well in the Nordic combined individual Gundersen LH/10-kilometer cross-country. The event combined both ski jumping and cross-country skiing, and resulted in Norwegians Joergen Graabak and Magnus Hovdal Moan seizing the gold and silver respectively.
Dennis Passa of the Associated Press documented what the 22-year-old Graabak had to say after his win, in which he accelerated ahead of a quintet of competitors down the final stretch.
"It's pretty obvious how I feel," said Graabak. "It's a bit surreal. I will need time to enjoy the moment. My tactic was to ski well and hopefully to stay with the top guys."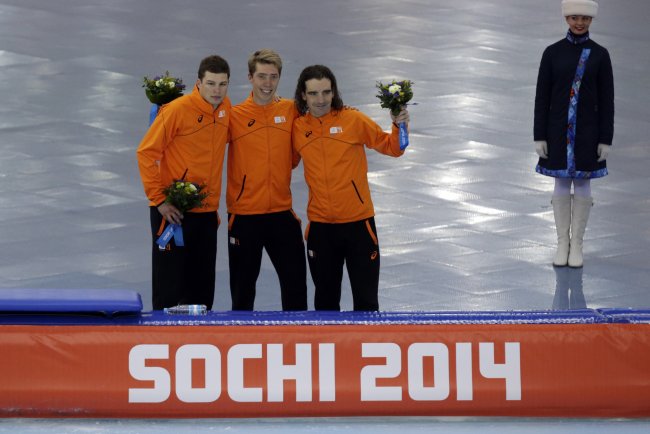 Matt Dunham/Associated Press
The Netherlands has simply creamed the competition in speedskating, and that was no different in the men's 1,000-meter event on Tuesday. An Olympic-record time saw Jorrit Bergsma win the gold—his second medal in Sochi—and his fellow Dutchmen joined him on the podium in silver medalist Sven Kramer and Bob De Jong respectively:
Here's your Dutch #Speedskating update: Another podium sweep for the Netherlands, including an Olympic record: pic.twitter.com/M6GUoR1Ygr

— NBC Olympics (@NBCOlympics) February 18, 2014
ESPN Stats & Info highlighted the significance of the Netherlands' accomplishments in the sport:
With 3 speed skating events left, NED has 19 of 27 medals, shattering single OLY rec for speed skating medals (13 in 1988 by East Germany)

— ESPN Stats & Info (@ESPNStatsInfo) February 18, 2014
To cap it all off, David Wise did for the USA in halfpipe skiing what Shaun White was unable to do for the Americans on the snowboard: Win a gold medal in Sochi.
This marked the first time halfpipe skiing was introduced at the Winter Games, but with three previous gold medals in the Winter X Games under his belt, Wise was considered the favorite. He didn't disappoint, either, with a score of 92.00 that beat out Canada's Mike Riddle (90.60) and Kevin Rolland of France (88.60).
Wise took to Twitter to express his appreciation for the support:
Wow! What a crazy night. Thanks everyone so much for the support! Stoked to share it with @mike_riddle and @KevinRolland1 two godfathers!

— David Wise (@mrDavidWise) February 18, 2014
#Ad I'll never forget this moment. Neli, I'm bringing you home a gold! #Proud American cc: @McDonaldsCorp pic.twitter.com/FWCed45yJH

— David Wise (@mrDavidWise) February 18, 2014
Mike Wise of The Washington Post was even at a loss for words to describe what his relative's gold medal meant to him:
Indescribable. Seeing a family member win a gold medal...Congrats @mrDavidWise, on the top of the halfpipe sking world tonight.

— Mike Wise (@MikeWiseguy) February 18, 2014
That's a fitting way to summarize the thrill the Olympians must feel when they ascend to the podium.
It was yet another day of thrilling finishes and unforgettable accomplishments on Tuesday, in which multiple countries capitalized on the opportunities ahead of them. Some made history even if their nations aren't legitimate competitors in the overall medal count, while others helped their favored homelands' cause.
Wednesday should offer comparatively captivating entertainment. The Winter Olympics are approaching their conclusion, as hard as that is to believe, and every event should be cherished from here on out since they only come around once every four years.
If the competitions that are already in the books in Sochi are any indication, the rest of the schedule will be gripping as can be.